Panel says space tourism prospects upbeat for 2003
BY JEFF FOUST
SPACEFLIGHT NOW
Posted: January 19, 2003

| | |
| --- | --- |
| | Moonwalker Buzz Aldrin. Photo: Jeff Foust |
Despite the well-publicized failure of a pop star to buy a seat on a Soyuz flight to the International Space Station, the young space tourism business is alive and well with a number of key developments scheduled to take place in the coming year.

A panel of experts, including former astronaut Buzz Aldrin and would-be space tourist Lori Garver, discussed the current status and future prospects of space tourism at a Washington Space Business Roundtable luncheon in Washington, DC, last Thursday.

"Space tourism has been discussed by space advocates really since before the first rockets got off the ground," noted Alan Ladwig, a former NASA official who is currently chief operating officer of Zero Gravity Corporation, a company that plans to offer zero-g aircraft flights from the US later this year. Ladwig noted a 1966 speech at the Goddard Memorial Symposium where one expert predicted a six-day round-trip journey to the Moon on a 35-passenger nuclear-powered ship would be available by around 2001 for $10,000 per person.

While no such vehicles exist, commercial space tourism did begin in 2001 with the flight of California businessman Dennis Tito to the International Space Station. That flight, along with a similar trip one year later by South African entrepreneur Mark Shuttleworth, proved that there was at least a small number of people with both the interest and the means to pay for journeys into orbit.

Lori Garver, also a former NASA official who is now vice president of DFI International, a Washington-based consulting firm, hoped to follow Tito and Shuttleworth and become the third commercial space tourist. Garver said she first seriously considered becoming a tourist after doing some work for a client who was considering a flight of his own. When that deal fell through, she said, people within both NASA and Rosaviakosmos approached her and asked her to find a replacement because they feared that, without a paying tourist, Russia would not be able to afford to continue building and launching Soyuz spacecraft, endangering the future of the ISS. "I really took this on largely because I felt so strongly that the program had to continue," she said.

When Garver decided to pursue the seat on the Soyuz, she also sought to validate an alternative business model for space tourism. Rather than rely on independently wealthy people with an interest in spaceflight, she sought to find sponsorships that would pay for her flight. This effort, dubbed the "AstroMom" project, intended to show that ordinary people, not just astronauts and the very rich, could fly in space.

Initially the effort went well. Garver said that by early 2002 the project had raised about half the money required for the flight through sponsorships, and had made good contacts with sponsors at the Winter Olympics in Salt Lake City in February 2002. However, complications arose when Lance Bass, member of the pop group NSync, also expressed an interest in the fall 2002 flight Garver was raising money for. Competition - for both the Soyuz seat as well as sponsorship money - raised two problems, Garver said. "It allowed the Russians to believe that they could charge higher prices, and ultimately sponsors were very confused about who was actually going."

Garver eventually settled for being the backup to Bass to allow his group time to raise the money for his flight. However, Bass was eventually dropped from the flight when his sponsors failed to provide Russia with the promised $20 million, and the Soyuz seat was instead used by a Russian cosmonaut.

That event, as well as the lack of any tourists candidates for the April 2003 Soyuz taxi flight to ISS, have raised questions about just how large the market is for orbital space tourism. However, a report published last fall by the Futron Corporation showed the market for space tourism may be much larger than once thought. That study, based on surveys of high-income individuals, showed that the market for orbital space tourism could reach 60 passengers and $300 million a year by 2021, with suborbital space tourism attracting 15,000 passengers and $700 million a year by the same time.

Those kind of numbers, as well as the existence of people like Tito and Shuttleworth who have paid for space travel, has proven convincing to many. Derek Webber, program manager at Futron, noted that space tourism was included as a promising future market in the relatively conservative final report of the Commission on the Future of the U.S. Aerospace Industry in November. "This is no longer a giggle area," Webber said. "This is in a blue-ribbon report."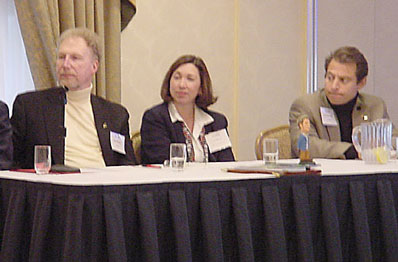 Panelists Webber, Garver, and Diamandis. Photo: Jeff Foust



Much of the recent progress in space tourism has been taking place on the suborbital side. The X Prize, in place since 1996 but only recently fully-funded, offers $10 million to the first private team to fly a suborbital reusable vehicle capable of carrying three people to an altitude of 100 kilometers twice within a two-week period. That prize has attracted considerable interest in space tourism, with more than 20 teams signing up to compete for the prize.

Peter Diamandis, chairman of the X Prize, revealed that four new teams will be announced in the coming week, three from the US and one from a foreign country (sources familiar with the project said that the fourth team is from Israel.) Although no team has come close to claiming the prize to date, Diamandis is optimistic that several teams are coming close. "There is a high likelihood that at least three, if not four, teams will be making human flights this year," he said. "We expect the winner of the competition in the next 12 to 18 months."

Diamandis is so certain that an X Prize winner is coming soon that he is thinking about future prizes. "The X Prize is thinking about the next step being an intercontinental or transoceanic vehicle of some kind," he said. Former astronaut and current space tourism advocate Buzz Aldrin had similar thoughts, borrowing from the three-dimensional x-y-z coordinate system. "Y is forward or downrange, and you'd like to demonstrate maximum range and take somebody somewhere," he said. "The Z vector is orbital."

Still, the challenge remains in building a vehicle that can carry passengers into space, however briefly, and prove that widespread space tourism is feasible, particularly to skeptical financiers. "If the X Prize can spark the excitement of the financial community, get them excited that this is the next big thing, and begin the flow of capital into the private sector," said Diamandis, "that's the biggest reward that the X Prize can have."






Earth Calendar
NEW! This amazing 2003 calendar features stunning images of mountain ranges, volcanoes, rivers, and oceans obtained from previous NASA space shuttle missions.


U.S. STORE

U.K. & WORLDWIDE STORE


Hubble Calendar
NEW! This remarkable calendar features stunning images of planets, stars, gaseous nebulae, and galaxies captured by NASA's orbiting Hubble Space Telescope.


U.S. STORE

U.K. & WORLDWIDE STORE

Hubble Posters

Stunning posters featuring images from the Hubble Space Telescope and world-renowned astrophotographer David Malin are now available from the Astronomy Now Store.


U.S. STORE

U.K. & WORLDWIDE STORE