Ariane 5 rocket issues keep Rosetta grounded indefinitely
BY SPACEFLIGHT NOW
Posted: January 14, 2003

| | |
| --- | --- |
| | Launch of Rosetta has been grounded in the wake of the December 11 failure of Ariane 5. Photo: ESA/CNES/Arianespace |
The European Space Agency's ambitious Rosetta comet explorer has been grounded indefinitely due to continuing concerns with the Arianespace Ariane 5 rocket that will launch the costly probe, forcing scientists to replan the mission for liftoff sometime in the future.

The heavy-lift rocket malfunctioned minutes into flight December 11, ultimately having to be destroyed over the Atlantic Ocean. Investigators determined the rocket's new Vulcain 2 first stage main engine nozzle suffered a cooling system leak and experienced stresses that engineers had not properly modeled, causing the botched launch.

Although Rosetta will fly atop a different version of the Ariane 5 with the older Vulcain 1, officials had already delayed Rosetta's evening liftoff on January 12 to allow time to review records and other factors in the upcoming launch.

But on Tuesday, officials said that too much work was left to do and Rosetta would not fly before the close of its current science launch window at the end of January.

"The Review Board called for Arianespace and all its partners to make sure, in the framework of a program for the resumption of Ariane 5 flights, that all Ariane 5 system qualification and review processes have been checked," ESA said in a statement.

Scientists said Rosetta had to be launched by the end of January to achieve the proper trajectory to Comet Wirtanen. The craft was to have used gravity assists from Earth and Mars over the course of its journey to reach the comet in November 2011.

After entering orbit around the comet, the Rosetta orbiter would release a small lander onto Wirtanen's icy nucleus.

Rosetta officials now must replan the mission, either selecting a new comet or finding a new trajectory to reach Comet Wirtanen. When Rosetta might launch is unknown.

"Arianespace and the European Space Agency, together with all interested parties, are now going to consult each other in order to determine arrangements for the soonest possible launch of Rosetta," the ESA statement said.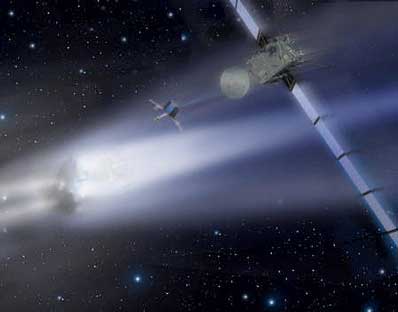 This artist's impression shows Rosetta, its lander and Comet Wirtanen. Credit: ESA






Apollo 17 DVDs
NEW! The final lunar mission to date, the journey of Apollo 17, occurred 30 years ago this month. The mission is captured in this spectacular six- and two-disc sets. Pre-order today and save!


U.S. STORE

U.K. & WORLDWIDE STORE


Apollo 8 leaves the cradle
NEW! The December 1968 journey of the Apollo 8 crew into lunar orbit is relived in this unique three-disc DVD set.


U.S. STORE

U.K. & WORLDWIDE STORE

Hubble Posters

Stunning posters featuring images from the Hubble Space Telescope and world-renowned astrophotographer David Malin are now available from the Astronomy Now Store.


U.S. STORE

U.K. & WORLDWIDE STORE

Hubble Calendar
NEW! This remarkable calendar features stunning images of planets, stars, gaseous nebulae, and galaxies captured by NASA's orbiting Hubble Space Telescope.


U.S. STORE

U.K. & WORLDWIDE STORE

New DVD
The conception, design, development, testing and launch history of the Saturn I and IB rocket is documented in this forthcoming three-disc DVD.


U.S. STORE

U.K. & WORLDWIDE STORE

The ultimate Apollo 11 DVD
NEW 3-DISC EDITION This exceptional chronicle of the historic Apollo 11 lunar landing mission features new digital transfers of film and television coverage unmatched by any other.


U.S. STORE

U.K. & WORLDWIDE STORE