Pettit replaces Budarin for space station spacewalk
BY WILLIAM HARWOOD
STORY WRITTEN FOR CBS NEWS "SPACE PLACE" & USED WITH PERMISSION
Posted: January 7, 2003


Astronaut Donald Pettit will replace cosmonaut Nikolai Budarin for a planned 6.5-hour spacewalk Jan. 15 with space station commander Kenneth Bowersox, NASA announced today. Budarin was declared ineligible for spacewalk duty because of an undisclosed medical issue.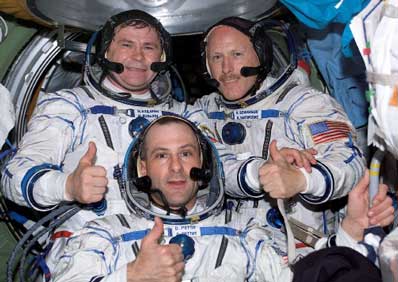 Pettit (center) will replace Budarin (left) during the upcoming spacewalk with Bowersox (right). Photo: NASA



NASA will not discuss an astronaut's medical history unless it causes a major impact to an ongoing mission. In this case, officials said, the problem, whatever it might be, does not threaten the ongoing mission of Expedition 6 commander Bowersox, flight engineer Budarin and science officer Pettit. It merely prevents Budarin from participating in the planned spacewalk.

The EVA originally was planned for Dec. 12, but the excursion was put on hold two days earlier because of an undisclosed medical issue involving one of the crewmates. That crew member obviously was Budarin. Whatever the issue was, it cropped up during or shortly after routine pre-spacewalk tool and suit checks.

"Pettit replaced Budarin because on-orbit medical data raised concerns among U.S. flight surgeons responsible for medical certification of spacewalk activity," NASA said in a statement released today. "This decision does not affect Budarin's other on-orbit duties. Due to medical privacy concerns, no further information will be made public. Both NASA and the Russian Aviation and Space Agency have agreed to the personnel change for the EVA."

The spacewalk has now been rescheduled for Jan. 15, the day before the shuttle Columbia's launch on an unrelated microgravity science mission.

The station astronauts will be awakened at 1 a.m. EST. Five minutes later, commands will be sent to move the station's motorized robot arm carrier platform from the left end of the lab's solar array truss back to a central position near the center of the beam.

The carrier was stranded in its current location in December, after it ran into a stowed antenna during its initial move down the port-side truss. While the obstruction was removed by two shuttle spacewalkers, there was not enough time left in their outing to monitor the carrier's move back to its central mounting point. And so, it was simply left where it was.

Assuming all goes well next week, Bowersox and Pettit will begin spacewalk preparations at 2:05 a.m. on Jan. 15. NASA television coverage will begin at 6 a.m. and the two astronauts will exit the station's Quest airlock module at 7 a.m. to begin the six-and-a-half-hour spacewalk.

NASA television will briefly break away from the spacewalk coverage at 9 a.m. to cover a countdown status briefing for Columbia's upcoming launch from the Kennedy Space Center. Airlock ingress is targeted for 1:20 p.m. with repressurization on tap at 1:35 p.m. Crew sleep is scheduled to begin at 4:30 p.m.

The goals of this spacewalk are relatively modest, consisting primarily of get-ahead tasks for upcoming shuttle assembly missions. But the timeline is being revised somewhat because Budarin is not qualified to operate the Canadarm2 space crane. Pettit originally planned to "drive" the crane about during the spacewalk to assist Bowersox and Budarin. That is no longer possible and the spacewalkers instead will complete their tasks manually. NASA managers say the impact of all this is minimal.

A news conference to go over details of the spacewalk is planned for 2 p.m. Jan. 14.