Chinese Shenzhou 4 capsule returns to Earth
BY STEPHEN CLARK
SPACEFLIGHT NOW
Posted: January 5, 2003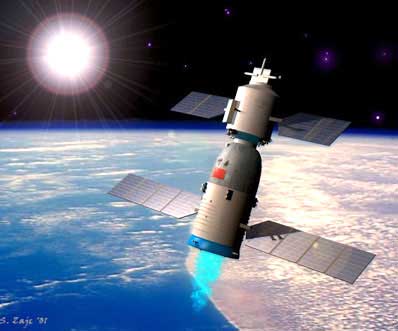 An artist's concept of Shenzhou. Image by Simon Zajc.



In what many believe is the final unmanned test flight of China's manned space program, Shenzhou 4 touched down Sunday at the end of a week-long mission that by all accounts went smoothly.

The parachuted landing occurred at approximately 1116 GMT (6:16 a.m. EST) in Inner Mongolia, the Chinese Xinhua news agency reported. This site is very near the place where the previous three Shenzhou missions also touched down.

Shenzhou 4 was launched a week ago on December 29 aboard a Long March 2F rocket from the Jiuquan launching center in China. During the flight, the capsule orbited 108 times -- a length shared with both the Shenzhou 2 and 3 test flights of January 2001 and March 2002, respectively. Shenzhou 1 flew in November 1999 and lasted one day.

The mission's scientific agenda included a number of experiments over a wide variety of disciplines ranging from physics to biology and medicine, and scientists told state-run media that all experiments performed as planned. A payload using microwave beams for remote sensing was also aboard.

Officials have said Shenzhou 4 is identical to a manned spacecraft, with life support systems included. The Chinese People's Daily reported that supplies such as food and other comfort and personal items were inside the capsule to make Shenzhou 4 a true dress rehearsal of a manned flight.

The People's Daily quoted Shenzhou's chief designer Qi Faren as saying Shenzhou 4 has all necessary systems to support a crew.

A group of yuhangyuans or "taikonauts" are in training for the first manned flight, and some even trained during a week-long program inside the Shenzhou 4 capsule prior to its launch.

With this information, many experts have concluded that Shenzhou 4 may be the final unmanned test of the prototype spacecraft. This feeling was at a climax last week when the China Daily newspaper cited Yuan Jie, director of the Shanghai aerospace center, as saying Shenzhou 5 will take place in the second half of 2003 with an unspecified crew inside.

This would be the culmination of a decade-long program to develop, test, and implement a manned Chinese space program, and the beginning of what the Chinese say is an ambitious plan for the program once it is in full swing.

Putting humans in space would make China only the third nation to achieve the feat, following in the footsteps of Russia and the United States.

Shenzhou 4's orbital module was left behind in space to continue operating for several more months. If like previous missions, propulsion and other systems tests will share the stage with more extensive scientific research to gather knowledge for future applications.