Boeing to build third Wideband Gapfiller Satellite
BOEING NEWS RELEASE
Posted: December 29, 2002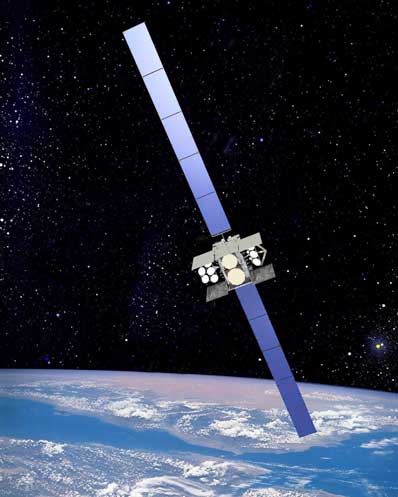 An artist's concept of Wideband Gapfiller Satellite. Photo: Boeing



Boeing Integrated Defense Systems, a unit of The Boeing Co., has been awarded a U.S. Air Force contract option to build a third satellite in the Wideband Gapfiller Satellite, or WGS, program.

Each WGS satellite provides the United States and its allies with increased space-based communications capability that augments current Defense Satellite Communications System, or DSCS, and Global Broadcast Service operations. The WGS is a key military satellite communications, or MILSATCOM, program being weaved into a Boeing integrated battlespace where real-time information is quickly and simultaneously made accessible to platforms, forces and commanders on the ground, at sea and in the air.

"Boeing is honored and very excited to have the opportunity to provide a third WGS satellite for the Air Force," said Randy Brinkley, president of Boeing Satellite Systems, the satellite-manufacturing arm of Boeing Integrated Defense Systems. "The WGS satellites will provide an enormous leap forward in satellite communications capability for the U.S. and allied forces, beginning with the first launch in mid-2004."

Boeing received funding to build the first two satellites in January 2002 for launches scheduled in 2004. The third satellite is scheduled to launch in 2005. The WGS contract includes options for as many as six Boeing 702 satellites and associated spacecraft and payload ground control equipment that is jointly funded with the U.S. Army. With the current option for the WGS F3 satellite, the total value of the contract is now approximately $660 million.

More than 1,000 people at Boeing's integrated satellite factory in El Segundo, Calif, anchor the Boeing team building the WGS. Additional Boeing resources from around the country and many key suppliers, including Spectrolab in Sylmar, Calif.; ITT in Colorado Springs, Colo.; Raytheon in Aurora, Colo.; Northrop Grumman Information Technology in San Pedro, Calif.; and Harris in Palm Bay, Fla., also support the program.

"The Boeing 702-based WGS is an exceptional platform that can evolve, with significant added capabilities, to cost-effectively provide military users with near-term transformational communications capabilities," said Richard H. Johnson, WGS program director at Boeing. "These enhancements would satisfy the rapidly changing needs of the military's communications architectures, including providing additional connectivity for intelligence, surveillance and reconnaissance from unmanned vehicles."

A unit of The Boeing Co., Boeing Integrated Defense Systems is one of the world's largest space and defense businesses. With headquarters in St. Louis, Boeing Integrated Defense Systems is a $23 billion business. It provides systems solutions to its global military, government and commercial customers.

It is a leading provider of intelligence, surveillance and reconnaissance; the world's largest military aircraft manufacturer; the world's largest satellite manufacturer and a leading provider of space-based communications; the primary systems integrator for U.S. missile defense; NASA's largest contractor; and a global leader in launch services.




Apollo 17 DVDs
NEW! The final lunar mission to date, the journey of Apollo 17, occurred 30 years ago this month. The mission is captured in this spectacular six- and two-disc sets. Pre-order today and save!


U.S. STORE

U.K. & WORLDWIDE STORE

Apollo 8 leaves the cradle
NEW! The December 1968 journey of the Apollo 8 crew into lunar orbit is relived in this unique three-disc DVD set. Pre-order today and save!


U.S. STORE

U.K. & WORLDWIDE STORE

Hubble Posters

Stunning posters featuring images from the Hubble Space Telescope and world-renowned astrophotographer David Malin are now available from the Astronomy Now Store.


U.S. STORE

U.K. & WORLDWIDE STORE

Hubble Calendar
NEW! This remarkable calendar features stunning images of planets, stars, gaseous nebulae, and galaxies captured by NASA's orbiting Hubble Space Telescope.


U.S. STORE

U.K. & WORLDWIDE STORE

New DVD
The conception, design, development, testing and launch history of the Saturn I and IB rocket is documented in this forthcoming three-disc DVD.


U.S. STORE

U.K. & WORLDWIDE STORE

The ultimate Apollo 11 DVD
NEW 3-DISC EDITION This exceptional chronicle of the historic Apollo 11 lunar landing mission features new digital transfers of film and television coverage unmatched by any other.


U.S. STORE

U.K. & WORLDWIDE STORE