Stunning views of Mt. Etna eruption from space station
NASA PHOTO RELEASE
Posted: November 6, 2002


On October 30, the International Space Station's Expedition Five crew was able to observe Mount Etna's spectacular eruption and photograph the details of the eruption plume and smoke from fires triggered by the lava as it flowed down the 3,350-meter (11,000-foot) mountain.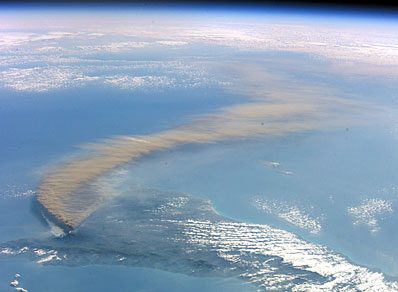 Mt. Etna as seen by crew aboard the space station. Photo: NASA



The wide view -- above -- shows the ash plume curving out toward the horizon, caught first by low-level winds blowing to the southeast, and to the south toward Africa at higher altitudes. Ashfall was reported in Libya, more than 350 miles away.

The lighter-colored plumes downslope and north of the summit -- pictured in the detailed view below -- are produced by forest fires set by lava flowing into the pine forests on the slope of the mountain. The detailed image provides a more three-dimensional profile of the eruption plume.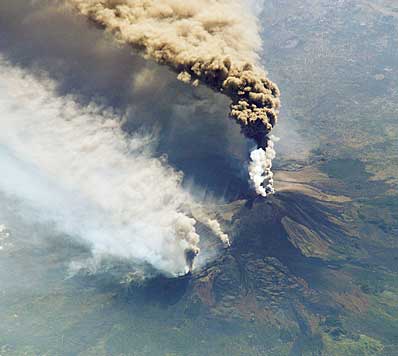 A stunning view of eruption taken by the station astronauts. Photo: NASA
SEE LARGER IMAGE



This was one of Etna's most vigorous eruptions in years. The eruption was triggered by a series of earthquakes on Oct. 27. Although schools were closed and air traffic was diverted because of the ash, no towns or villages were threatened by the lava flow. Both of these images are looking obliquely to the southeast over the island of Sicily.




Hubble Posters

Stunning posters featuring images from the Hubble Space Telescope and world-renowned astrophotographer David Malin are now available from the Astronomy Now Store.


U.S. STORE

U.K. & WORLDWIDE STORE

New DVD
The conception, design, development, testing and launch history of the Saturn I and IB rocket is documented in this forthcoming three-disc DVD.


U.S. STORE

U.K. & WORLDWIDE STORE

Apollo 16
NEW! The latest in Apogee Book's acclaimed NASA Mission Reports series features the Apollo 16 expedition to the lunar highland area of Descartes. Includes CD-ROM.


U.S. STORE

U.K. & WORLDWIDE STORE

Hubble Calendar
NEW! This remarkable calendar features stunning images of planets, stars, gaseous nebulae, and galaxies captured by NASA's orbiting Hubble Space Telescope.


U.S. STORE

U.K. & WORLDWIDE STORE

The ultimate Apollo 11 DVD
NEW 3-DISC EDITION This exceptional chronicle of the historic Apollo 11 lunar landing mission features new digital transfers of film and television coverage unmatched by any other.


U.S. STORE

U.K. & WORLDWIDE STORE