Volcanic eruption that rocked Ecuador seen from space
NASA-GSFC PHOTO RELEASE
Posted: November 4, 2002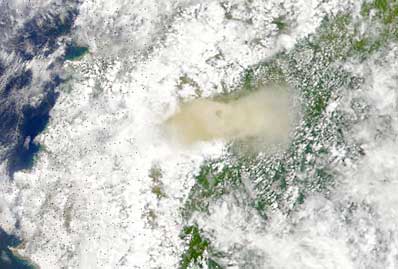 Credit: OrbImage/GSFC



Ecuador was put into a state of emergency after a volcano exploded, shooting a mushroom cloud nearly 10 miles into the sky. Located just east of the capital, Quito, El Reventador erupted Sunday November 3, 2002, after being dormant for 26 years.

NASA's Sea-viewing Wide Field-of-view Sensor (SeaWiFS) on board the Orbview 2 satellite captured this image of brown smoke shooting through the white clouds after the eruption.




Hubble Calendar
NEW! This remarkable calendar features stunning images of planets, stars, gaseous nebulae, and galaxies captured by NASA's orbiting Hubble Space Telescope.


U.S. STORE

U.K. & WORLDWIDE STORE

The ultimate Apollo 11 DVD
NEW 3-DISC EDITION This exceptional chronicle of the historic Apollo 11 lunar landing mission features new digital transfers of film and television coverage unmatched by any other.


U.S. STORE

U.K. & WORLDWIDE STORE

Hubble
Astronomy Now presents Hubble: the space telescope's view of the cosmos. A collection of the best images from the world's premier space observatory.


U.S. STORE

U.K. & WORLDWIDE STORE