Solid-fueled booster a step closer to Atlas 5 use
BY JUSTIN RAY
SPACEFLIGHT NOW
Posted: October 31, 2002


The redesigned Atlas 5 solid rocket booster has passed the first of two qualification test firings, giving Lockheed Martin officials confidence the new Aerojet-made motor will be ready for launches starting early next year.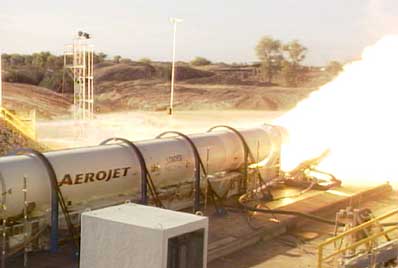 The solid rocket booster is test fired Wednesday in California. Photo: Aerojet



The next-generation Atlas 5 successfully flew its debut launch in August in the most basic of its various configurations -- liquid-fueled first and second stages and no strap-on solid-fueled boosters.

For future missions, the vehicle can be fitted with as many as five solid motors to provide additional thrust to loft heavier cargos into orbit. By adding one or more boosters, an Atlas 5 can be tailored to carry the specific payload on a given mission.

But the solid booster design suffered a failure during a firing in March because of a problem in the joint between the casing and nozzle. It was a "blessing" to catch the problem early in testing, officials say, because the subsequent efforts to resolve the situation have produced what is considered to be a better booster.

"We could have very easily had a successful motor firing on the last test, but we didn't and that was really a blessing in disguise because now we have a really, really robust design," said John Karas, vice president and deputy of Lockheed Martin's Atlas 5 program.

"We went from a seal design with very little grease and one O-ring to something that's got three thermal barriers and two O-rings now. We've bettered the design and made the design more robust to pressure, temperature and mechanical interfaces by a factor of two or three.

"Because of the major anomaly we had, it led us to go do (the redesign). We could have easily had a test success, declared victory and been done, and then had something creep up against us because of the marginality in the design and manufacturing process."
| | |
| --- | --- |
| | A portrait of the Atlas 5 family of 400 and 500 series rockets, some with solid rocket motors. Photo: Lockheed Martin |
With manufacturing trials and sub-scale firings completed, the new design was ready to be put to the test this week when a full-size, 67-foot long booster was strapped horizontally on a platform in Sacramento, California, and fired for 92 seconds at thrust levels ranging from 285,000 to 390,000 pounds.

The results indicate a successful step in proving that the booster -- known as the world's largest monolithic solid rocket motor -- will be fit for space flight in the first quarter of 2003.

"We had some pretty good confidence that the test firing was going to go good because the added mechanical testing, production pathfinders and sub-scale testing we did. But until you do it, you never know," Karas said.

"The first look at all data and the initial inspection looked like it was very, very nominal, just like we predicted and a great success."

Wednesday's firing had a number of objectives in addition to checking the redesign, Karas explained.

"The motor firing was a hot motor, meaning it was like 95 degrees. So it was the worst case, shortest duration firing that we will ever see. The next (firing) we will do, which is about five weeks from now in the first week of December, will be an absolute cold motor -- a 40 degree motor.

"We were also trying to validate our inhibitor. We want the thrust to come up very slowly, and that worked perfectly. We wanted to make sure and validate all the time traces and pressure traces. Those worked perfectly.

"And above all we wanted to make sure we have a very robust nozzle-to-case-joint interface, which looked like it worked perfectly after the redesign."
| | |
| --- | --- |
| | An inert solid rocket motor is lifted upright for pathfinder work in the Vertical Integration Facility. Photo: Lockheed Martin |
The December test is expected to be the final qualification firing.

Meanwhile, workers at Cape Canaveral have already practiced the procedures to hoist a solid motor into the Vertical Integration Facility -- the Atlas 5's assembly building at Complex 41 -- and mount the booster the first stage.

The pathfinder work, performed earlier this year using the first Atlas 5 rocket, tested connecting the inert booster to three of the rocket's five available attach points.

Lockheed Martin plans to do another pathfinder in the coming months using the second Atlas 5 rocket to rehearse attaching boosters to the remaining two slots. That next Atlas 5 rocket, designated AV-002, was recently stacked on the mobile launching platform.