Work underway at Cape for first Air Force EELV launch
BY SPACEFLIGHT NOW
Posted: October 21, 2002


The first all-military Evolved Expendable Launch Vehicle mission is taking shape at Cape Canaveral Air Force Station with the arrival of the Boeing Delta 4 booster and Lockheed Martin-built defense communications satellite payload.

The rocket's Common Booster Core first stage, with the RS-68 hydrogen-fueled main engine, traveled from its manufacturing plant in Alabama to the launch site aboard the Delta Mariner cargo ship last month. The image below shows the stage being driven through the Air Station's main gate en route to Complex 37.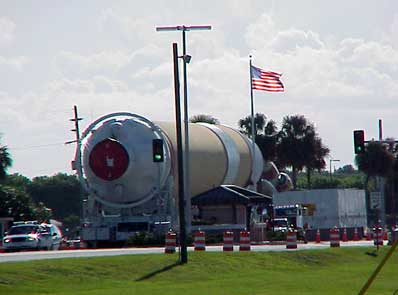 The massive first stage of the Delta 4 rocket rolls past the guard station at Cape Canaveral's south gate. Photo: Boeing



This Delta 4-Medium rocket, which also consists of a second stage and four-meter diameter nose cone, is scheduled for liftoff early next year from pad 37B carrying the Defense Satellite Communications System A3 (DSCS A3) spacecraft.

The rocket's two stages will be connected together in Boeing's Horizontal Integration Facility hangar at Complex 37 before rollout to the launch pad. An erector arm will lift the rocket upright to sit atop the pad's launch table. The satellite is brought to the seaside complex separately.

It will be the first EELV launch for the Air Force and the second Delta 4 flight overall. Boeing plans to debut the Delta 4 in mid-November carrying a commercial communications spacecraft for Paris-based operator Eutelsat.

Developed as part of the Air Force's Evolved Expendable Launch Vehicle program to ensure reliable and affordable access to space for the next couple decades, the Delta 4 and Lockheed Martin's Atlas 5 rockets are just coming online. Atlas 5 successfully flew its first launch on August 21, also carrying a Eutelsat payload.

Under an initial award of launch orders, Delta 4 received 22 Air Force missions and Atlas 5 got seven.
| | |
| --- | --- |
| | A DSCS 3 satellite during pre-flight testing at manufacturer facilities. Photo: Lockheed Martin |
The DSCS A3 satellite was recently shipped from Lockheed Martin's Missiles and Space Operations division to the Cape for the start of final testing and its launch campaign.

This spacecraft is the next-to-last in a series of 14 and will join 12 other DSCS satellites currently operating in a worldwide constellation 22,300 miles above Earth to provide uninterrupted secure voice and high data rate communications to its Department of Defense users.

It is also the third of four super high-frequency communications satellites to feature Service Life Enhancement Program (SLEP) upgrades.

The last DSCS 3 satellite, designated B6, will launch in mid-2003 aboard another Delta 4 and also feature the SLEP upgrades that provide increased downlink power and improved connectivity to its antennas.

Later this month, the first DSCS 3 satellite, A1, will mark 20 years in space. DSCS 3 A1 was launched on October 30, 1982 aboard a Titan 34D launch vehicle from Cape Canaveral. Each DSCS 3 satellite has a design life of 10-years. Several of the DSCS satellites on-orbit today have exceeded their design life expectancy and continue to serve.

The most recent DSCS launch was on October 19, 2000 using a Lockheed Martin Atlas 2A rocket.