Soyuz launch a failure
BY STEPHEN CLARK
SPACEFLIGHT NOW
Posted: October 15, 2002; Updated: 2:15 a.m. EDT October 16


An unmanned Soyuz rocket suffered a catastrophic malfunction seconds after liftoff from northern Russia Tuesday, plunging back to Earth where it killed one and injured eight others, local news reports said today.

Launch took place as scheduled at 1820 GMT (2:20 p.m. EDT) from the Plesetsk Cosmodrome. But something went wrong shortly after the rocket left the ground carrying an experiment-packed science spacecraft for the Russian and European space programs.

"Approximately 15 seconds after liftoff the rocket failed and fell back onto the launch pad where it exploded," scientists from European Space Agency said in a statement. Other reports indicate the failure occurred a bit later at 29 seconds after launch.

Russian news agencies say that at least one person -- draftee Ivan Marchenko -- was killed at the launch site when the disastrous event transpired. Eight more people suffered injuries and six were hospitalized, the Interfax news agency reported.

The launch pad was "partially destroyed" as debris fell down on it, Interfax said.

The cause of the failure is unknown, but a state commission will be tasked with an investigation to determine what led to the malfunction.

Tuesday's launch marked the 1672nd in the history of the Soyuz rocket family, dating back over 40 years. Before the failed flight, the Soyuz had amassed 75 consecutive successful launches, including 11 manned missions, according to Starsem, the company that commercially markets the Soyuz rocket.

The Soyuz rocket, albeit a different version, is slated to launch a replacement Soyuz lifeboat with a three-man crew to the international space station on October 28 from Baikonur Cosmodrome in Kazakhstan.

A NASA spokesman said it was too soon to tell if there would be an impact to the upcoming Soyuz launch plans. The station's lifeboat has to be swapped out every six months because onboard systems degrade over time.

Soyuz carried Foton craft
Strapped atop the booster was a large retrievable orbital platform, built to carry a suite of instruments and scientific experiments to space and back.

This 13th flight of a Foton craft was scheduled to last for about 15 days, when a recoverable capsule was to be jettisoned for return to Earth. Well over 1,000 pounds of scientific equipment was housed on-board the re-entry module of the 6.5 ton Foton M-1.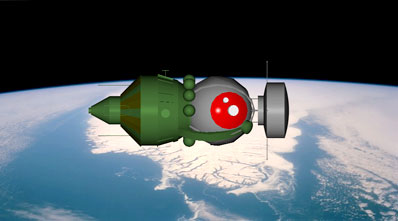 An artist's concept of the Foton spacecraft in orbit. Photo: ESA



A vast array of 44 experiments were planned to take advantage of the Foton M-1 mission, with represented scientific disciplines including fluid physics, biology and radiation exposure. Studies funded by the French and German space agencies were to investigate cellular biology and crystal growth. Other payloads included investigations into the changes that meteorites undergo as they enter Earth's atmosphere and a group of student-developed research projects.

Many of the payloads would have required commanding from ground controllers, while several others were to run autonomously.

Scientists and engineers planned to gain quick access to the experiments in two weeks -- shortly after its parachuted touchdown in the steppes along the Russian-Kazakh border in central Asia.

The Foton M-1 spacecraft featured three main modules -- a battery pack providing electrical power, a service module for attitude control and communications, and a re-entry capsule containing the scientific payload.

This was the first flight of the new Foton-M version, which features more battery capacity, better thermal control and an increased telemetry and commanding capability above earlier Foton spacecraft.

Partners in the mission were Russia, various European nations, Canada, the United States, Indonesia, and Japan.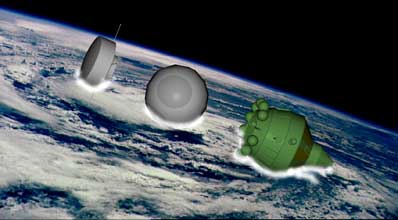 An artist's concept of the three sections of Foton separating in orbit. Photo: ESA