New Russian resupply ship en route to space station
BY SPACEFLIGHT NOW
Posted: September 25, 2002

| | |
| --- | --- |
| | The Soyuz rocket stands on the launch pad earlier this week, poised to carry Progress 9P. Photo: Energia |
One day after a used up Russian cargo freighter was discarded from the International Space Station, a new Progress ship blasted off from the Baikonur Cosmodrome today bound for a weekend linkup with the orbiting complex.

The Progress 9P was delivered into orbit atop a Soyuz rocket following a 1658 GMT (12:58 p.m. EDT) liftoff.

The replacement vessel will take a longer, four-day trek to the station. Docking is expected around 1507 GMT (1:07 p.m. EDT) Sunday.

The unmanned resupply ships haul food, spare parts, experiments and fuel to the International Space Station and its resident crews. The outpost is currently occupied by the Expedition Five crew of commander Valery Korzun, NASA science officer Peggy Whitson and flight engineer Sergei Treschev.

Russian flight controllers have put the old Progress 8P into an orbit away from the station. It undocked from the aft port of the Zvezda service module at 1359 GMT (9:59 a.m. EDT) Tuesday after a three-month stay, clearing the port for the arrival of Progress 9P.

The 8P freighter will remain in space for a couple weeks, using its onboard cameras to observe smog and smoke over northeastern Russia. Once the test is completed, the Progress will be deorbited, plunging back into the atmosphere to burn up harmlessly over the Pacific.

The Expedition Five crew packed Progress 8P with trash and unneeded items before its departure.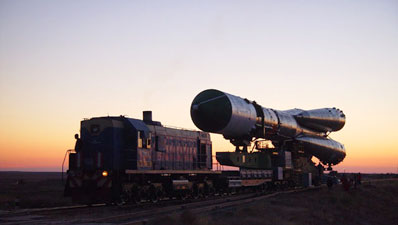 The Soyuz rocket is rolled to the launch pad with Progress 9P earlier this week. Photo: Energia