Shuttle repair approved; next launch Sept. 28
BY WILLIAM HARWOOD
STORY WRITTEN FOR CBS NEWS "SPACE PLACE" & USED WITH PERMISSION
Posted: August 1, 2002


As expected, NASA managers meeting Wednesday to review shuttle fuel line repair options tentatively agreed to implement a welding/polishing technique to fix tiny cracks in hydrogen flow liners just upstream of the orbiter's main engines, sources say. They also agreed on a previously proposed shuttle launch sequence, delaying the shuttle Columbia's 16-day science mission to at least late November, after two back-to-back space station assembly flights Sept. 28 and Nov. 2.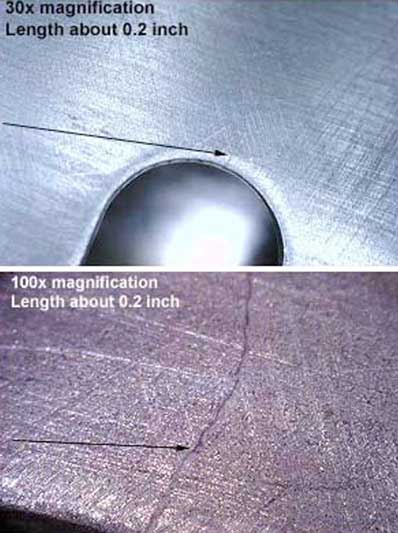 These images show a crack found on a liner in shuttle Discovery's main propulsion system. The top photo is magnified 30 times and the bottom photo is magnified 100 times. Photo: NASA

A final meeting is planned Friday to officially sign off on the new schedule, but no major changes are expected, according to officials familiar with the discussions. Shuttle program manager Ronald Dittemore plans to brief reporters on the return-to-flight strategy during a news conference Friday.
Assuming the repair work goes well, NASA hopes to resume shuttle flights by launching Atlantis Sept. 28 on a mission to deliver the first right-side outboard solar array truss to the international space station. The current processing schedule calls for Atlantis to be moved from its hangar to the Vehicle Assembly Building around Aug. 26. Rollout to the pad is targeted for around Sept. 3.
NASA managers originally targeted Sept. 26 for launch, but two days were added to the processing schedule to provide a bit of contingency time in case of problems fixing the cracks or getting the ship's engines intalled.
A 10-day Russian Soyuz taxi flight is scheduled for launch Oct. 22 to deliver a fresh lifeboat to the lab complex. The station's current Soyuz will reach its certified 200-day orbital lifetime limit Nov. 11. Because of flight control issues, NASA will not launch a shuttle while a Soyuz mission is underway.
Assuming the Soyuz mission gets off on time - and there are indications it could be delayed - NASA hopes to launch the shuttle Endeavour Nov. 2 on a flight to deliver the first left-side outboard solar array truss segment to the laboratory. The currrent processing schedule calls for Endeavour to be moved to the VAB at the end of September and out to the pad around Oct. 7.
In recent years, NASA would not allow a shuttle to be in orbit during the Leonids meteor shower, which peaks Nov. 19. That policy would have given NASA just four days or so to get Endeavour off the ground. But agency engineers have re-evaluated that policy and sources say the Leonids restraint likely will be waived this year.
Meteor showers aside, NASA is now targeting Nov. 29 as a "no-earlier-than" date for launch of the shuttle Columbia on a microgravity research mission featuring the first Israeli astronaut. If the Soyuz flight ultimately is delayed, Columbia's flight could slip to Jan. 16.
The shuttle fleet was grounded earlier this summer, after engineers discovered tiny cracks in internal fuel line baffles in all four of NASA's space shuttles. The concern was that if a crack worsened, a piece of debris could break off and get sucked into a main engine with possibly catastrophic results.
While some engineers believe the shuttles can be safely launched as is, NASA management opted to implement a welding repair technique to eliminate any chance the cracks could get worse.