Space shuttle flights off until at least September
BY WILLIAM HARWOOD
STORY WRITTEN FOR CBS NEWS "SPACE PLACE" & USED WITH PERMISSION
Posted: July 12, 2002



| | |
| --- | --- |
| | Scott Minnick, with United Space Alliance, places a fiber-optic camera inside the flow line on Endeavour. Minnick wears a special viewing apparatus that sees where the camera is going. Photo: NASA |
NASA's shuttle fleet will remain "grounded" until at least mid September and possibly longer because of small but potentially dangerous cracks in hydrogen feed lines in all four of the agency's orbiters.

But shuttle program manager Ronald Dittemore told reporters today he is optimistic that in the next few weeks engineers will either clear the shuttle fleet to resume flying as is or develop relatively straight forward repairs that will minimize the down time.

Even so, he said the next flight would not get off the ground before September even under the most optimistic scenario.

"If I made that decision today, you're talking about early September," he said.

In reality, sources say, the earliest a shuttle could be ready to fly is around Sept. 19.

NASA hopes to close out the year with three flights. First up was the shuttle Columbia, originally scheduled for launch July 19 on a 16-day microgravity research mission featuring the first Israeli astronaut.

Atlantis was next up, with a launch on Aug. 22 to deliver another solar array truss segment to the international space station. NASA planned to close out the year by launching the Endeavour in mid October to deliver another truss segment to the station, along with a fresh three-person crew.

The station's current crew - Expedition 5 commander Valeri Korzun, Sergei Treschev and Peggy Whitson - plans to return to Earth aboard Endeavour after four-and-a-half months in space.

The first hint that schedule was in trouble came during routine inspections of the shuttle Atlantis on June 17. Engineers discovered a small crack in a liner inside the 12-inch-wide liquid hydrogen feed line leading to main engine No. 1. Two more cracks in the same flow liner were found the next day.


| | |
| --- | --- |
| | With the engines removed from Endeavour, the aft compartment is exposed. At left center, Scott Minnick, with United Space Alliance, operates a fiber-optic camera inside the flow line. Other USA team members, right, watching the progress on a screen in front, are Gerry Kathka (with controls), Mike Fore and Peggy Ritchie. Photo: NASA |
Similar cracks then were found aboard Discovery and then Columbia, at which point Dittemore stopped processing for the July flight. Earlier this week, cracks were found in flow liners aboard Endeavour. While only Columbia's flight has been officially delayed at this point, Dittemore said he had no problem calling the fleet "grounded" until the crack issue is resolved.

The concern is that if a crack worsened in flight and a piece of debris broke off, it could get sucked into a main engine turbopump at high velocity, triggering a catastrophic failure.

Dittemore said today he is not as concerned as he was when the cracks were first discovered and that "it's clear we've been flying with these cracks for some period of time."

"My concern from a safety point of view has been diminished because of (tests and analyses) over the past several weeks," Dittemore said. "That's not to say I'm ready to go fly. I still need to understand more about these cracks and I still need to understand more about the potential for these cracks to grow."

Until then, he said, "we will not fly."

Eleven cracks were found in all, three each aboard Atlantis, Discovery and Columbia and two aboard Endeavour. Seven of the cracks were found in flow liners leading to a shuttle's No. 1 main engine, the one located directly under the ship's vertical stabilizer. The other four cracks were found in liners leading to the No. 2 engine position.

Six cracks were circumferential a five were axial. Five were discovered visually, two by ultrasound and four using eddy currents, an electrical test that can find areas of weakness in an alloy.

In addition, engineers found a similar crack in a main engine test article used to test fire shuttle engine clusters many years ago at the Stennis Space Center in Mississippi.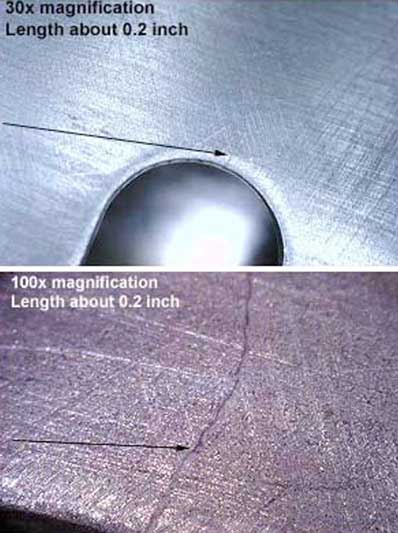 These images show a crack found on a liner in shuttle Discovery's main propulsion system. The top photo is magnified 30 times and the bottom photo is magnified 100 times. Photo: NASA



"Even though we've found cracks, it's not age related," Dittemore said. "Whether I've flown the vehicle 16 or 17 times or 30 times, the data appear to show the cracks are present and relatively about the same size."

He said the cracks could be the result of stress when the flow liners were initially installed or the result of some as-yet-unknown environmental factor that is present when the engines are running and supercold liquid hydrogen is flowing through the lines.

But engineers do not believe the cracks have grown significantly since they first developed. Even so, repair techniques are being developed to fix the cracks if engineers are unable to convince themselves it's safe to launch as is.

Those techniques include grinding out the cracks, welding them or attaching clamp-like couplers to strengthen a suspect area. Engineers believe any such repairs can be accomplished in place aboard each shuttle, without having to disassemble an orbiter's main propulsion system.

"Generally, I'm very optimistic we will be able to develop rationale that either says these cracks are safe to fly as is ... or we will be able to develop a repair technique," Dittemore said. "As soon as we determine that we are ready to proceed and re-install engines, it will take us approximately seven to eight weeks from that decision to launch."

But it's not yet clear which flight might be launched first. Dittemore said he plans to begin meeting with his space station counterparts next week to discuss various launch scenarios. Whether Columbia will remain first in line or whether a station flight will be moved up is not yet known.