Supply ship docks to the International Space Station
BY SPACEFLIGHT NOW
Posted: June 29, 2002

| | |
| --- | --- |
| | View from a camera on the nose of Progress during final approach to docking. Photo: NASA TV/Spaceflight Now |
An unmanned Russian supply ship made a successful automated docking to the International Space Station early Saturday, delivering a couple tons of cargo, equipment and propellant to the outpost.

After a three-day trek to reach the station, the docking probe on the nose of the Progress 8P freighter was captured by the aft port of the Zvezda service module at 2:23 a.m. EDT while flying over Central Asia. Hooks and latches then began engaging to firmly seal the ship to the station.

"Guys, congratulations. Everything is nominal," Russian flight controllers radioed the station's residents moments after docking.

"And we congratulate you," a crewmember replied.

The Expedition 5 crew -- commander Valeri Korzun, NASA astronaut Peggy Whitson and cosmonaut Sergei Treschev -- is three weeks into its scheduled four-and-a-half month stay aboard the station.

The crew was expected to open the hatchway to enter the Progress around 5:30 a.m. EDT. The work to unload the vessel's cargo will begin in earnest next week. The fuel supply carried aboard the Progress will be pumped into the station for use by the Russian maneuvering thrusters.

This is the eighth Progress launched to the international station.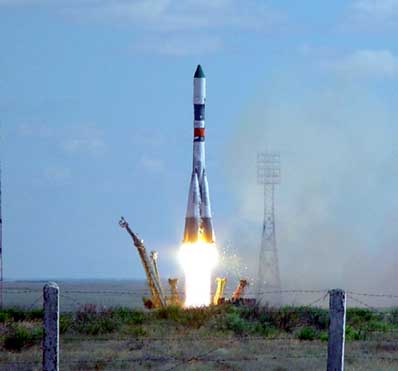 The Progress 8P blasts off from Baikonur Wednesday atop a Soyuz rocket. Photo: Energia