New supply ship en route to International Space Station
BY SPACEFLIGHT NOW
Posted: June 26, 2002


A cargo freighter loaded with tons of supplies and fuel for the International Space Station and it's three-person crew blasted off from Kazakhstan today on a three-day flight to the orbiting outpost.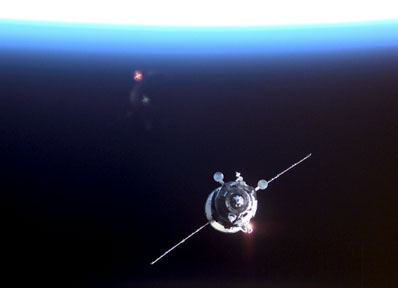 File image of Progress spacecraft in orbit. Photo: NASA



Liftoff of the Russian Progress 8P spacecraft atop a Soyuz rocket occurred at 0536:30 GMT (1:36:30 a.m. EDT) from Baikonur Cosmodrome.

Instead of the usual two-day trek from launch to docking, Russian flight controllers plan to use the cargo vessel in a test of the KURS automated rendezvous system. The test inserts an extra day into the timeline.

"Several of the previous automated rendezvouses they have seen a phenomenon (the Russians) refer to as 'antenna switching.' They want to go and have a better look at that," station flight director Bryan Lunney said.

"So what they are going to do is rendezvous the 8-Progress just behind the station on orbit, so it will be on negative velocity vector. It will be in a slightly higher orbit so over the day it is sitting there, it will fade slightly further back behind the station.

"They are going rendezvous essentially with a point about 30 km behind the space station and a little bit higher...maybe a kilometer or so...Being in a higher orbit, it will be going around slower and it will be a little bit further behind. It is just a way to ensure you have an opening rate between the two vehicles.

"When they are station-keeping back there, the space station will be placed in sun solar inertial reference attitude such that in appearance to the Progress the station will appear to rotate 360 degrees. When this is happening the automated rendezvous systems will be activated and they will be monitoring to see if this phenomenon occurs and gather data and troubleshoot what is going on there.

"(Progress) will drift back for a day or so before they initiate again the nominal rendezvous phase for the Progress using the automated systems. They wait a full day to get back over their full complement of ground sites."

If all goes well, the Progress will make its automated docking to the aft end of the station's Russian Zvezda service module around 0625 GMT (2:25 a.m. EDT) Saturday.

That rear docking port was freed up early Tuesday when the Progress 7P craft, loaded with trash and unneeded equipment, was unhooked and spring-ejected from the station at 4:26 a.m. EDT (0826 GMT). About four hours later, the ship plunged back into the atmosphere to burn up.

The station's new resident crew -- Expedition 5 commander Valeri Korzun, NASA astronaut Peggy Whitson and cosmonaut Sergei Treschev -- are settling into their 4 1/2-month mission. They arrived on the station June 7 aboard space shuttle Endeavour.