Astronomers find Jupiter-like weather on brown dwarfs
NASA-AMES NEWS RELEASE
Posted: May 26, 2002


For the first time, researchers have observed planet-like weather acting as a major influence on objects outside our solar system.

A team of scientists from NASA and the University of California, Los Angeles (UCLA), has found cloudy, stormy atmospheres on brown dwarfs, celestial bodies that are less massive than stars but that have more mass than giant planets like Jupiter. The discovery will give scientists better tools for interpreting atmospheres and weather on brown dwarfs or on planets around other stars.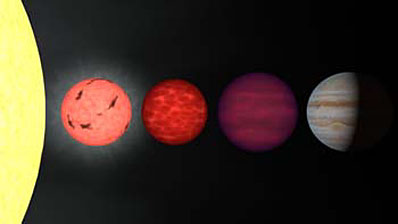 An artist's rendition shows the relative sizes and likely appearance from left to right of the sun, a very cool star, a warm brown dwarf, a cooler brown dwarf and finally Jupiter. Credit: Robert Hurt



"The best analogy to what we witness on these objects are the storm patterns on Jupiter," said Adam Burgasser, astronomer at UCLA and lead author of the study. "But I suspect the weather on these more massive brown dwarfs makes the Great Red Spot look like a small squall." Jupiter's Great Red Spot is a massive storm more than 15,000 miles across and with winds of up to 270 miles per hour. Burgasser teamed up with planetary scientist Mark Marley, meteorologist Andrew Ackerman of NASA Ames Research Center in California's Silicon Valley, and other collaborators to propose how weather phenomena could account for puzzling observations of brown dwarfs.

"We had been thinking about what storms might do to the appearance of brown dwarfs," Marley said. "And when Adam showed us the new data, we realized there was a pretty good fit." The team calculated that using a model with breaks or holes in the cloudy atmosphere solved the mysterious observations of cooling brown dwarfs.

Brown dwarfs, only recently observed members of the skies, are "failed stars at best," said Ackerman. Not massive enough to sustain the burning of hydrogen like stars, brown dwarfs go through cooling stages that scientists observe with infrared energy-detecting telescopes. They appear as a faint glow, like an ember from a fire that gives off both heat and light energy as it dims.

Astronomers expected brown dwarfs, like most objects in the universe, to grow steadily fainter as they cool. However, new observations showed that during a relatively short phase brown dwarfs appear to get brighter as they cool. The explanation lies in the clouds.

At least 25,000 times fainter than the sun, brown dwarfs are still incredibly hot, with temperatures as high as 2,000 degrees Kelvin (3,140 F). At such high temperatures, things like iron and sand occur as gases. As brown dwarfs cool, these gases condense in the atmosphere into liquid droplets to form clouds, similar to water clouds on Earth. As the brown dwarf cools further, there is a rapid clearing of the clouds caused by atmospheric weather patterns. As the clouds are whisked away by the storms, bright infrared light from the hotter atmosphere beneath the clouds escapes, accounting for the unusual brightening of the brown dwarfs.

"The model developed by the group for the first time matches the characteristics of a very broad range of brown dwarfs, but only if cloud clearing is considered," said Burgasser. "While many groups have hinted that cloud structures and weather phenomena should be present, we believe we have actually shown that weather is present and can be quite dramatic."

By using Earth's weather as a starting point, Ackerman helped the team work storms-that include wind, downdrafts and iron rain-into their calculations. "The astrophysicists needed some help understanding rain because it's not an important process in most stars," Ackerman said. "We used observations and simulations of terrestrial clouds to estimate the effect of iron rain on the thickness of an iron cloud."

The team's study, to be published in the June 1 issue of Astrophysical Journal Letters, will help researchers determine the make-up of atmospheres outside our solar system. "Brown dwarfs have traditionally been studied like stars, but it's more of a continuum," Marley said. "If you line a mug shot of Jupiter up with these guys, it is just a very low-mass brown dwarf." Brown dwarfs are a training ground for scientists to learn how to interpret observations of planet-like objects around other stars, he said. "Everybody wants to find brown dwarfs that are even colder and have water clouds just like Earth. Once we find those, that will be a good test of our understanding."

NASA, the National Science Foundation and the Hubble Postdoctoral Fellowship funded this study and supplied much of the data. Other collaborating institutions include Vanderbilt University, Nashville, Tenn.; Washington University, St. Louis; U.S. Naval Observatory, Washington, D.C.; and California Institute of Technology, Pasadena, Calif.




New patch!

The official astronaut patch for the planned October shuttle mission to the International Space Station is now available from the Astronomy Now Store!


U.S. STORE

U.K. & WORLDWIDE STORE

DVD is here!
The first in a series of space DVDs is now available from the Astronomy Now Store. Relive shuttle Columbia's March flight to refurbish the Hubble Space Telescope in spectacular DVD quality.


U.S. STORE

U.K. & WORLDWIDE STORE

The Apollo 14 Complete Downlink DVD set (5 discs) contains all the available television downlink footage from the Apollo 14 mission. A two-disc edited version is also available.


U.S. STORE

U.K. & WORLDWIDE STORE

NEW! Mission Report
Apollo 11 - The NASA Mission Reports Vol. 3 is the first comprehensive study of man's first mission to another world is revealed in all of its startling complexity. Includes DVD!


U.S. STORE

WORLDWIDE STORE