Boeing rolls out first government Delta 4 rocket
BY JUSTIN RAY
SPACEFLIGHT NOW
Posted: May 23, 2002


The second Boeing Delta 4 rocket, destined to fly the Air Force's first Evolved Expendable Launch Vehicle mission, has rolled off the assembly line in preparation for blastoff in November.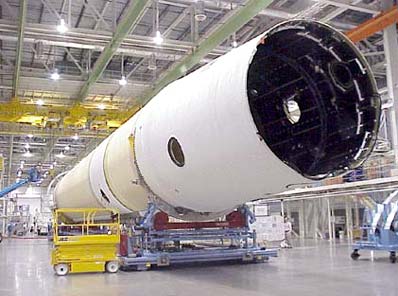 The Common Booster Core first stage for the Delta 4 rocket that will fly the inaugural Air Force EELV mission. Photo: Boeing



The Delta 4 and rival Lockheed Martin Atlas 5 rocket families have been developed over the past few years as part of the U.S. government's EELV program with the goal of reducing launch costs and ensuring reliable access to space. The two rockets are key to the companies' aspirations in the lucrative commercial satellite launch market while also serving as the next-generation for the government's spacelift needs.

Both new rockets are poised for their maiden launches this summer from Cape Canaveral, Florida, each carrying commercial communications satellites for Paris-based Eutelsat.

During a ceremony this week at Boeing's rocket manufacturing plant in Decatur, Alabama, government and industry leaders celebrated the completion of the second Delta 4 for its use to launch the Defense Satellite Communications Systems-B6 military spacecraft for the Air Force. Liftoff is currently targeted for November 13 from the Cape.

"Several years ago, we made a commitment to provide the Air Force with a new launch system that would address its future needs in space," said Gale Schluter, vice president and general manager for Boeing Expendable Launch Systems. "Today we are delivering on our promise. We have invested in the nation's need for assured access to space, by developing a launch system capable of carrying nearly any payload into any orbit."

"We are looking forward to demonstrating the true dual-use nature of the Delta 4 launch vehicle when this booster delivers a critical Department of Defense (DoD) communications satellite to orbit later this year," said Col. Susan Mashiko, Systems Program Office director for EELV. "That launch will mark the beginning of a new era in DoD space launch."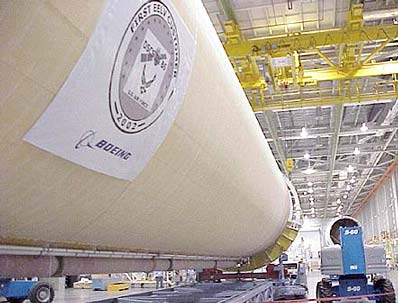 A sign on the side of the government's first Delta 4. Photo: Boeing






DVD is here!
The first in a series of space DVDs is now available from the Astronomy Now Store. Relive shuttle Columbia's March flight to refurbish the Hubble Space Telescope in spectacular DVD quality.


U.S. STORE

U.K. & WORLDWIDE STORE

The Apollo 14 Complete Downlink DVD set (5 discs) contains all the available television downlink footage from the Apollo 14 mission. A two-disc edited version is also available.


U.S. STORE

U.K. & WORLDWIDE STORE

NEW! Mission Report
Apollo 11 - The NASA Mission Reports Vol. 3 is the first comprehensive study of man's first mission to another world is revealed in all of its startling complexity. Includes DVD!


U.S. STORE

WORLDWIDE STORE