NASA satellite sees swath of tornado destruction
NASA NEWS RELEASE
Posted: May 6, 2002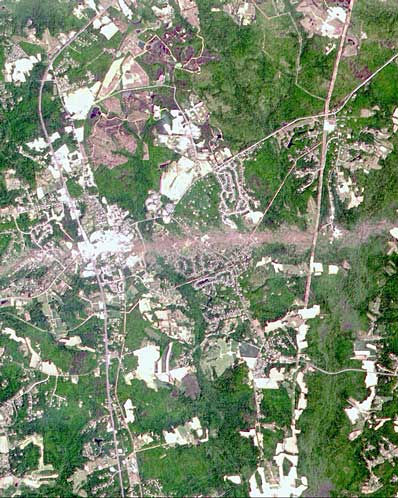 Image courtesy Lawrence Ong, EO-1 Mission Science Office, NASA GSFC



A number of severe thunder storms swept through the mid-Atlantic states on April 28, bringing high winds, hailstones, and heavy rains to many areas. The intense storms spawned at least two tornadoes, one of which was classified as an F5 funnel cloud--the most severe category, with winds in excess of 260 miles per hour (425 km per hour). The powerful tornado touched down in southern Maryland and ripped through the town of La Plata, destroying most of the historic downtown. The twister--the strongest ever recorded to hit the state and perhaps the strongest ever recorded in the eastern U.S.--flattened everything in its path along a 24-mile (39 km) swath running west to east through the state.

The tornado's path can be seen clearly in this panchromatic image acquired on May 1 by the Advanced Land Imager (ALI), flying aboard NASA's EO-1 satellite. La Plata is situated toward the lefthand side of this scene and the twister's swath is the bright stripe passing through the town and running eastward 6 miles (10 km) toward the Patuxent River beyond the righthand side of the image. This stripe is the result of the vegetation flattened by the storm. The flattened vegetation reflects more light than untouched vegetation.

EO-1 is the first Earth observing satellite launched as part of NASA's New Millennium Program. This program is designed to spearhead development and testing of a new generation of satellite remote sensing technologies for future Earth and space science missions. The ALI is designed to improve upon and extend the measurement heritage begun by the Landsat series of satellites well into the 21st Century.