New Jason 1 oceanography satellite releases first data
NASA/JPL NEWS RELEASE
Posted: March 1, 2002


Following an in-depth performance review by NASA and the French Centre National d'Etudes Spatiales, the Jason 1 oceanography satellite has been declared ready for operational service.

With the initiation of its operations phase, Jason has begun to generate its first science products on its mission to monitor global climate interactions between the sea and the atmosphere. Initial maps of sea-level anomalies, significant wave height and ocean wind speed confirm the health of the spacecraft science instruments and the mission's ability to meet its data turnaround requirements.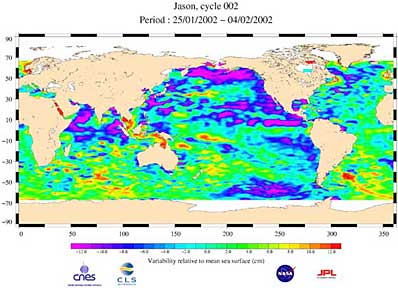 Jason 1 data map of sea-surface height variability. Credit: NASA/JPL



Team managers from the French Space Agency's Satellite Control Center in Toulouse, France, and NASA's Jet Propulsion Laboratory, Pasadena, Calif., report Jason's satellite, payload and ground segment are all functioning properly. This declaration paves the way for the start of the mission's scientific validation phase.

"Our first assessments show a surprising level of accuracy, exceeding that of Jason's predecessor, Topex/Poseidon," said Dr. Lee-Lueng Fu, Jason project scientist at JPL. "The mission's ambitious goal of determining the satellite's altitude with one-centimeter (.39 inches) accuracy therefore appears within reach. The first altimetry products also show a close match with measurements acquired by Topex/Poseidon."

Launched December 7, 2001, from Vandenberg Air Force Base, Calif., Jason will continue Topex/Poseidon's observations of ocean surface topography for monitoring world ocean circulation, studying interactions of the oceans and atmosphere, improving climate predictions and observing events like El Nino.

The excellent results of Jason's on-orbit checkout mean the next phase of the mission can now begin. Science data will be distributed to the mission's science team, and work will begin to conduct a precise scientific assessment of product quality and to cross-calibrate Jason and Topex/Poseidon products. Following completion of this six- month scientific validation phase, science data products will be released to the public.

JPL, a division of the California Institute of Technology in Pasadena, manages the U.S. portion of the mission for NASA's Office of Earth Science, Washington, D.C.