Canadian astronaut Steve MacLean picked for flight
CANADIAN SPACE AGENCY NEWS RELEASE
Posted: February 26, 2002


Allan Rock, Minister of Industry and Minister responsible for the Canadian Space Agency (CSA), announced Monday that Canadian Astronaut Steve MacLean will join a distinguished international group and fly aboard the Space Shuttle Endeavour in April 2003.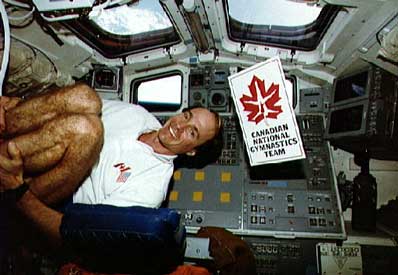 Steve MacLean floats on the flight deck of Columbia during his one previous space flight. Photo: NASA



The crew for the STS-115 mission, to which astronaut MacLean is assigned, will complete another assembly phase of the International Space Station (ISS). During four spacewalks, Steve MacLean and three other astronauts will add trusses to the Station and deploy solar array panels.

"Today, Canada continues its innovation and leadership in space sciences and I congratulate Steve MacLean for being Canada's representative on this future space mission," said Minister Allan Rock. "The International Space Station is a beacon for excellence and a unique laboratory where astronauts and scientists from all over the world cooperate for the good of humanity."

"It is a privilege and an honour to take part in such a complex mission. I am particularly pleased with the opportunity to go outside the station on two spacewalks." MacLean noted that this possibility did not exist when he made his first space flight in 1992. "In addition, being the first Canadian to operate Canadarm2 and its Mobile Base will certainly be an emotional moment for me."

"The CSA is playing a significant role in the scientific and economic development of our country through its team of astronauts, including Steve MacLean, and is a source of inspiration and motivation for our youth," said Marc Garneau, President of the CSA. "Through various meetings and presentations in schools following their participation in strategic missions, young Canadians are inspired and shown that with perseverance it is possible to reach one's objectives, to fulfill one's dreams."

With a Doctorate in Physics from York University, Steve MacLean performed his first spaceflight aboard the Shuttle Columbia in 1992. During that flight, as Canadian Payload Specialist, he carried out a series of Canadian experiments. Since then, he has been Chief Science Advisor for the International Space Station and Director General of the Canadian Astronaut Program. After his training as a NASA mission specialist ended in 1998, he was appointed to technical tasks at NASA. In May 2002, he will serve as Lead CapCom on the STS-111 mission, and then will devote himself exclusively to his training for the STS-115 mission.

Minister Rock recently released Canada's Innovation Strategy. Innovation is about turning ideas and knowledge into new products, new services, and new ways of doing things. It's about changing and improving the way Canadians live, work and learn. It's about creating opportunity for our children. CSA Astronaut Steve MacLean continues to pursue excellence through space science and research for the benefit of humanity. Steve MacLean is one of our innovation champions, an inspiration and role model for youth. 

STS-115 mission objectives
- Delivery and installation of two truss segments (P3 and P4) One of the main objectives of Mission STS-115 is the delivery and assembly of truss segments P3 and P4. The continuation of the truss segment will enable the mobile transporter to move along the width of the ISS. Once completed, the ten pre-integrated truss segments will reach a total length of 95 metres.

- Delivery and deployment of two new solar arrays (4A and 2A) During this mission, the crew will deliver and install two additional solar arrays increasing the ISS voltage capability. This will be the third of a total of four sets of solar arrays to be installed on the ISS. Each pair of wings spans about 75 metres.

- Four spacewalks will take place during the 10-day mission Two teams of astronauts will perform a total of four spacewalks during the mission. As a mission specialist, Canadian Space Agency Astronaut Steve MacLean is scheduled to take part in two of these spacewalks. One of the main tasks performed by the astronauts will be the installation and connection of two truss segments. They will also install and deploy two solar arrays.