Scientists seek second generation space plants
NASA-MSFC STATUS RELEASE
Posted: February 18, 2002


The Advanced Astroculture experiment was successfully activated Wednesday to learn whether seeds from plants grown aboard the International Space Station last year will grow normally and produce second-generation space seeds.

"We are growing Arabadopsis seeds during Expedition Four just as we did on Expedition Two," said Dr. Weijia Zhou, WCSAR director and principal investigator for the experiment. "These will be second-generation Arabadopsis plants produced from the seeds produced by those first-generation space-grown plants. Additionally, we are going to sample the plant tissue and preserve it for RNA and DNA analysis after returning to the ground. Hopefully it will provide important information regarding the impact of low gravity on the plant gene expression. We and our commercial partner are looking forward to a successful mission, and we appreciate the support we are receiving from the crew and mission support teams on the ground."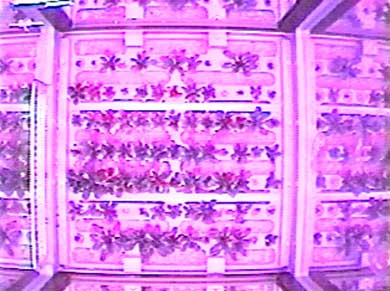 Arabidopsis plants grown earlier aboard the station. Seeds from those plants are now being grown. Photo: Wisconsin Center - Space Automation and Robotics



Arabadopsis thaliana is a member of the same family as cabbages and radishes. Scientists are using the species to evaluate plant life support technologies, its seed-to-seed life cycle and compare the genetic makeup of space-grown plants with those grown on Earth.

This experiment was developed by the Wisconsin Center for Space Automation and Robotics (WCSAR) and is managed by NASA's Space Product Development Program at Marshall Space Flight Center. WCSAR's commercial partner, Space Explorers Inc., is using the experiment in its Internet-based space education programs. It produces a school kit that allows students to design, conduct and analyze the experiment and compare data through an online student experiment database. The program is being marketed to kindergarten through high school classes worldwide and is used in hundreds of schools. The product also will be sold retail for home schools and consumers.

Also on Wednesday, Commander Yury Onufrienko and Flight Engineer Carl Walz completed their Crew Interactions surveys. Flight Engineer Dan Bursch is slated to do his survey on Thursday. The crew also checked radiation levels on the EVA Radiation Monitoring badges that will be worn in U.S. EVA suits during spacewalks, including oen planned for February 20.

The Earth Knowledge Acquired by Middle School Students (EarthKAM) experiment was deactivated Sunday, Feb 10. During six days of operations, the EarthKAM camera fixed in a Russian Service Module window downlinked 844 images for middle schools around the world. Eighteen schools were active during this period. Another round of observations is planned for later in the expedition. Pictures we have received so far using the 180mm lens are clear and wonderfully detailed. The science team reports that participating students were amazed at the increased level of detail resulting from the lens swap from a 50 mm lens to a 180 mm lens. All schools have successfully received images back, and continue to submit photo requests at an increasing rate.

The Experiment on Physics of Colloids in Space began a 72-hour run Sunday studying its slow fractal sample. Fractal clusters appear to be growing slowly and will form an interconnecting gel sometime later.

Checkout of the Zeolite Crystal Growth furnace was completed Friday, Feb. 8. Zeolites have a rigid crystalline structure similar to a honeycomb. While a sponge is squeezed to release water, zeolites give up their contents when they are heated or under a reduced pressure. Zeolites can absorb liquids and gases such as petroleum or hydrogen but remain hard as a rock. They form the backbone of the chemical processes industry, and most of the world's gasoline is produced or upgraded using zeolites. Research could make them more efficient. In space, larger zeolites with fewer defects may be produced for easier study.

"The ZCG furnace check out went off flawlessly with commands sent from Marshall as well as a remote site in Ohio," said Dr. Al Sacco, Jr., principal investigator with the Center for Advanced Microgravity Materials Processing at Northeastern University in Boston, Mass. "The ZCG team and our industrial partners look forward to processing our zeolite samples during Expedition Four following their launch on STS-110 in April. These commercially important materials are being investigated by our partners in the petrochemical, petroleum and electronic industries."

The crew completed the Human Research Facility Ultrasound functional checkout on Thursday and Friday. This checkout ensured that all HRF Ultrasound hardware on-orbit is functioning properly, supporting plans for future use of the device for both experimental and space medicine applications. The checkout also tested the on orbit capability of downlinking still images from the Ultrasound for the first time.

Also on Friday, one growth cylinder inside the Protein Crystal Growth Single-locker Thermal Enclosure System was activated to begin crystallization.

Geographical targets for the Crew Earth Observation program this week included fires that accompany the dry season in the Congo-Zimbabwe region of Africa, smog over the Mediterranean region, vegetation along the Somalia coast, aerosols in the Ohio River Valley, pre-El Nino water levels in Lake Poopo in Bolivia, and coral reefs and atolls in the Tuamotu Archipelago in the South Pacific.

Editor's Note: The Payload Operations Center at NASA's Marshall Space Flight Center in Huntsville, Ala., manages all science research experiment operations aboard the International Space Station. The center is also home for coordination of the mission-planning work of a variety of international sources, all science payload deliveries and retrieval, and payload training and payload safety programs for the Station crew and all ground personnel.