Industry team to design air-breathing rocket engine
NASA-MSFC NEWS RELEASE
Posted: December 21, 2001


A new design contract, to be awarded today by NASA's Marshall Space Flight Center in Huntsville, Ala., is expected to lead to development by 2006 of a ground test version of an air-breathing rocket engine for a next-generation hypersonic flight vehicle.

The industry team that will design the engine -- known collectively as the Rocket Based Combined Cycle Consortium, or RBC3 -- includes the Rocketdyne Propulsion and Power business of the Boeing Co., of Canoga Park, Calif.; Aerojet of Sacramento, Calif.; and Pratt & Whitney of West Palm Beach, Fla.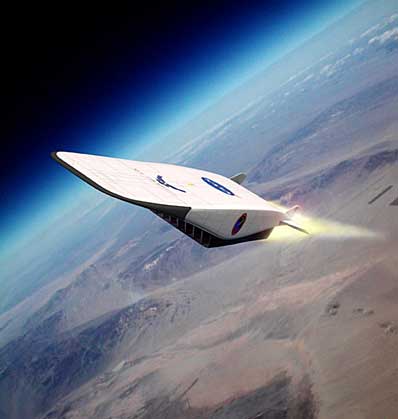 An artist's rendering of NASA's X-43C hypersonic flight vehicle that will be powered by an air-breathing rocket engine. Credit: NASA



The radical new engine project is called the Integrated System Test of an Air-breathing Rocket, or ISTAR. The flight-like engine system will be designed to accelerate a self-powered vehicle to more than six times the speed of sound, demonstrating all modes of engine operation.

The $16.6 million contract award covers Phase One of the project, which requires completion of conceptual system design and subsystem testing by November 2002. Phase Two, ground testing of the flight-weight engine system, is scheduled to begin in 2006. The engine would be demonstrated in flight by the end of the decade.

The project is funded by NASA, which expects to spend approximately $140 million over six years.

NASA is pursuing air-breathing propulsion in an effort to make future space transportation safer, more reliable and significantly less expensive than today's missions. Spacecraft powered by air-breathing rocket engines would be completely reusable, able to take off and land at airport runways and ready to fly again within days.

The engine would get its initial power boost from specially designed rockets in a duct that captures air, an arrangement that improves performance about 15 percent above conventional rockets. Once the vehicle has accelerated to more than twice the speed of sound, the rockets are turned off and the engine relies solely on oxygen in the atmosphere to burn its hydrogen fuel. When the vehicle has accelerated to more than 10 times the speed of sound, the engine converts to a conventional rocket-powered system to propel the craft into orbit.

Air-breathing -- or rocket-based, combined cycle -- propulsion is a concept dating to the 1960s. The Marshall Center began pursuing the technology for space-based applications in 1996, and started testing air-breathing rocket engine components in 1997. During that time, NASA's industry partners built and tested several alternative engine configurations.

Now, at NASA's request, the Rocket Based Combined Cycle Consortium -- which signed an official teaming agreement in March 2001 -- is working to preserve the U.S. high-speed space propulsion industrial base. Over the last four years, alternative engine configurations have undergone more than 360 tests to help define requirements for an integrated engine system. Two of these engines have accumulated more than one hour of test time each -- the most accrued on any rocket-based, combined-cycle system. Through this testing, engineers have demonstrated the performance of the engine in all its operating modes and transitions between various modes.

"Testing conducted over the last four years proves that air-breathing propulsion is a viable concept for reaching NASA's goals of making space transportation radically safer, more reliable and more affordable," said Steve Cook, deputy manager of the Marshall Center's Advanced Space Transportation Program, which leads U.S. space transportation technology development activities.

"This is an exciting opportunity to leverage the technical expertise our industry partners have amassed in decades of jet engine and rocket propulsion testing and airframe integration, and I believe it will significantly improve space transportation," Cook said.

The engine will be designed to power a vehicle measuring about 14 feet (4.2 meters) wide and more than 30 feet (9 meters) long. NASA's Langley Research Center in Hampton, Va., leads the vehicle definition effort.

NASA is the nation's premier agency for development of reusable launch vehicle technologies. NASA's Marshall Space Flight Center is leading this effort, which is aimed at enabling dramatic improvements in the safety, cost and reliability of future space transportation systems.

To accomplish its goals, the Marshall Center partners with other NASA centers, the U.S. Department of Defense, cutting-edge industry leaders and the nation's finest academic institutions to realize its ambitious Space Transportation goals.