NASA names crew to STS-111 space station mission
NASA NEWS RELEASE
Posted: July 4, 2001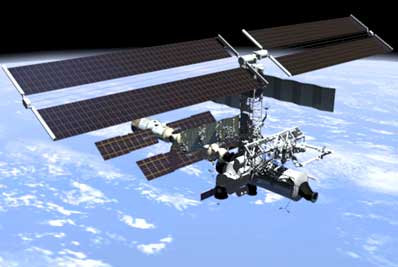 The international space station as it should look at completion of STS-111. Photo: NASA



NASA has named three astronauts to the crew of space shuttle mission STS-111, scheduled to launch in 2002 to deliver a new International Space Station resident crew and a Canadian-built mobile base for the orbiting outpost's robotic arm. STS-111 is also the second space shuttle mission dedicated to delivering research equipment to the space platform.

Veteran space shuttle commander Kenneth D. Cockrell will command Endeavour on the mission. Paul Lockhart (Lt. Col., USAF) will serve as pilot and Franklin Chang-Diaz, Ph.D., will be a mission specialist. French Space Agency astronaut Philippe Perrin (Lt. Col., French Air Force) previously was named an STS-111 mission specialist.

During STS-111 Chang-Diaz and Perrin will perform two spacewalks to install the Canadian Mobile Base System for the station's robotic arm. The system will allow the arm to travel up and down the station truss to aid in station maintenance and assembly tasks.

Cockrell will be making his fifth space flight. He flew once as a mission specialist, once as a pilot and twice as commander. Lockhart, selected as an astronaut in 1996, has held technical positions in the Astronaut Office Spacecraft Systems and Operations Branch and will be making his first space flight. Chang-Diaz will be making his seventh space flight, as many as any astronaut in history. Perrin, after service in the French Navy and as a test pilot in the French Air Force, was selected as an astronaut in 1996 and is making his first space flight.

Also flying aboard Endeavour to the space station will be the station's fifth resident crew. The Expedition Five crew comprises Commander Valeri Korzun (Col., Russian Air Force) and Flight Engineers Peggy Whitson, M.D., and Sergei Treschev. Returning to Earth aboard Endeavour will be the Expedition Four crew, Commander Yuri Onufriyenko (Col., Russian Air Force) and Flight Engineers Carl Walz (Col., USAF) and Dan Bursch (Capt., USN).