Next Pegasus rocket launch remains grounded
BY JUSTIN RAY
SPACEFLIGHT NOW
Posted: June 8, 2001

| | |
| --- | --- |
| | Artist's concept of HESSI satellite orbiting Earth. Photo: NASA |
It will be June 20 at the earliest before NASA's HESSI solar imaging satellite is hauled into space by an Orbital Sciences Pegasus XL rocket as the investigation continues into last Saturday's X-43A launch failure, officials said Friday.

The $85 million mission of the High Energy Solar Spectroscopic Imager will begin with a 10-minute ride to orbit aboard the three-stage, air-launched Pegasus booster. The rocket will be dropped from the belly of an L-1011 carrier jet about 60 miles off the Florida coast in a mission originating from the runway at Cape Canaveral Air Force Station.

Originally slated for launch on Thursday, HESSI was postponed to next Tuesday, and then to Thursday, before NASA officials decided to bump the mission until after a Lockheed Martin Atlas rocket lifts off from Cape Canaveral on June 19.

Both the Pegasus and Atlas require support from the Air Force-controlled Eastern Range at Cape Canaveral, but the vast tracking and communications network can only support one launch every 24 hours.

Engineers plan to work through the weekend reviewing data recorded during the brief X-43A launch to determine why the Pegasus booster lost control and had to be destroyed seconds into flight over the Pacific Ocean.

NASA and Orbital Sciences want to know what caused the mishap to ensure the same problem won't threaten the success of HESSI's launch.

And while the data studies continue, a deadline of June 23 is looming to get HESSI launched before internal batteries on the Pegasus expire and have to be replaced. That swap out work would require the rocket be returned to its home base of Vandenberg Air Force Base in California, delaying the launch even further.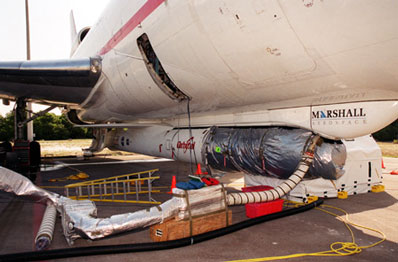 Orbital's L-1011 carrier aircraft at Cape Canaveral with Pegasus rocket and HESSI attached to its belly. Photo: NASA-KSC



When the launch does occur, it will be four hours later in the day than first planned to avoid a conflict with European air traffic control over the rocket's second stage impact zone.

The daily launch window was supposed to extend from 10 to 11 a.m. EDT. But that has been changed to 2 to 3 p.m. EDT, with a preferred Pegasus drop time of 2:05 p.m. EDT.

The Europeans had objected to clearing a stretch of airspace during the time the spent second stage rocket motor would fall into the Atlantic near the Azores island chain.

The airspace is busy with planes carrying tourists to the islands for the summer holiday travel season.

A compromise was reached by delaying the launch until later in the day when the airspace will be quieter. Officials say such a shift in launch time won't hurt the HESSI mission.