Space shuttle launch schedule under review
BY WILLIAM HARWOOD
SPACEFLIGHT NOW
Posted: January, 23, 2001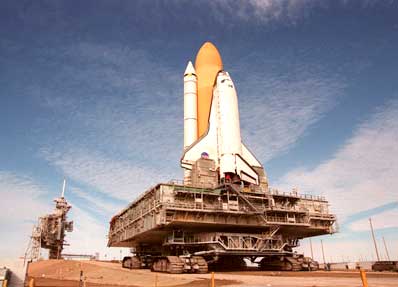 Space shuttle Atlantis heads up the incline at launch pad 39A. Photo: NASA-KSC



NASA managers are assessing a revised shuttle launch schedule that delays two space station assembly flights by several weeks and pushes one flight by the veteran shuttle Columbia into next year.

The schedule is not yet official, but the plan was reviewed by shuttle program manager Ronald Dittemore on Monday. While exact target dates may change slightly, the general outline is expected to win approval.

The new launch schedule calls for seven flights in 2001, all devoted to space station assembly except a lone flight by Columbia in mid November. And it's not yet clear what Columbia will be carrying.

Currently undergoing repairs and refurbishment in Palmdale, Calif., NASA had hoped to launch Columbia on a science mission -- STS-107 -- in August and then on Hubble Space Telescope Servicing Mission 3B in early December, a flight known as mission STS-109.

As it now stands, Columbia will make just one flight this year, in mid November, and NASA is still assessing whether STS-107 or STS-109 will get the nod.

In the near term, NASA is gearing up to launch shuttle Atlantis and the U.S. laboratory module, Destiny, on Feb. 6. Originally scheduled for launch Jan. 18, STS-98 was delayed twice, first to Jan. 19 and then to no earlier than Feb. 6, by work to inspect suspect cables in the ship's two solid-fuel boosters.

But the flight likely will slip an additional day to Feb. 7, which would permit a rendezvous and docking on the third day of the mission. As it now stands, a launch on Feb. 6 would require a flight-day four rendezvous, which NASA wants to avoid if possible.

The next flight in the sequence, STS-102 with shuttle Discovery, had been targeted for launch March 1 to carry the station's second full-time crew into orbit along with supplies and additional equipment for the lab's outfitting.

But given Atlantis' delay to Feb. 6, STS-102 is expected to be delayed to around March 8 to allow more time between the end of Atlantis' mission and the start of Discovery's.

Shuttle mission STS-100 with Endeavour is next up and remains on track for launch April 19 as already planned to ferry the station's Canadian-built robotic arm into orbit.

But the next flight in the sequence, STS-104, is expected to slip from May 17 to no earlier than June 7. The goal of the mission, carried out with shuttle Atlantis, is to attach the station's main airlock.

The primary reason for the slip is the delay getting Atlantis off the ground for STS-98 and to avoid what NASA calls a "beta angle cutout," a period when the angle between the station's orbit and the sun is not favorable for solar power generation.

In domino fashion, the next station assembly flight -- STS-105 -- is expected to slip from June 21 to at least July 12. And because of another beta angle cutout that begins on July 17, the flight ultimately could be delayed into early August.

The shuttle Endeavour returns to space Oct. 4 as previously scheduled for mission STS-108, the first in a series of space station utilization flights. Columbia then will close out the year with a flight in mid November.

Columbia is scheduled to return to the Kennedy Space Center from Palmdale around Feb. 23. Engineers say they will need 210 days of horizontal processing to prepare the ship for its next mission and that a launch will not be possible before Nov. 15.

But that date does not take other shuttle processing "flows" and launches into account or a potentially dangerous meteor shower in November. As a result, NASA has not yet settled on a target date for Columbia's return to space.