Chinese capsule launched on second unmanned test flight
BY SPACEFLIGHT NOW
Posted: January 9, 2001 at 2100 GMT


China took another step towards manned space travel today by launching its second prototype capsule on a demonstration flight.

The unmanned Shenzhou 2 spacecraft, with several animals aboard, was successfully launched into the planned orbit around Earth by a Long March rocket on a several-day excursion. Liftoff occurred at 1700 GMT (12 p.m. EST) from the Jiuquan Satellite Launch Center, China's oldest launching base located in northwestern part of the country.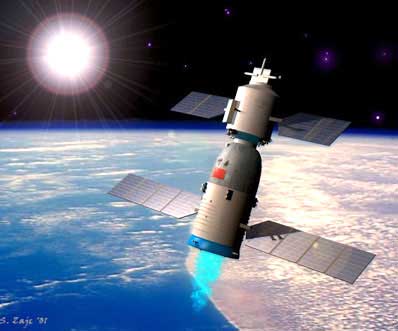 An artist's concept of Shenzhou in orbit. Image by Simon Zajc.



Today's launch comes 14 months after a similar unmanned test flight of the capsule design, which appears largely based upon the Russian Soyuz craft.

Chinese President Jiang Zemin sent a congratulatory message to the scientists, workers and People's Liberation Army servicemen involved in the manufacture and launch of the spacecraft, the Xinhua news agency said.

The duration of the Shenzhou 2's stay in orbit is not yet clear, but Xinhua reported the spaceship was expected to return to Earth "in a few days." The first flight in November 1999 lasted less than a day.

Authorities say the Shenzhou 2 mission would include a variety of experiments, including life sciences, space materials, astronomy and physics research. The craft is carrying several unidentified animals.

Chinese officials have publicly stated that they would launch a person inside a Shenzhou-derived capsule by 2005. Such an achievement would make China just the third country -- behind Russia and the U.S. -- to put a human in space.

The Shenzhou design has been surrounded by a shroud of secrecy, but it is known that the Chinese government purchased a scaled-version re-entry module of the Russian Soyuz manned capsule from Soyuz-builder RKK Energia.

The Shenzhou orbiter does show several tell-tale signs of similarity between itself and the Soyuz, such as the presence of solar arrays and the spacecraft containing three separate modules, although more detailed looks reveal several differences.