Commercial eye-in-the-sky appears lost in launch failure
BY STEPHEN CLARK
SPACEFLIGHT NOW
Updated: November 21, 2000

| | |
| --- | --- |
| | Artist's concept of QuickBird 1. Photo: EarthWatch |
A commericial U.S. eye-in-the-sky satellite launched by a Russian Cosmos rocket on Monday failed to reach orbit according to news reports from Moscow and U.S. tracking data.

The QuickBird 1 craft lifted off at about 2300 GMT on Monday aboard a Russian Cosmos-3M rocket from Plesetsk Cosmodrome, but signals from the satellite were not picked up as planned by ground stations. The $60 million satellite was to be operated by Colordao-based EarthWatch Inc.

U.S. tracking data reported the satellite's initial orbit as approximately 78x610 kilometers and lists the orbit as now "decayed".

The Interfax news agency has quoted a Russian Aerospace Agency spokesman as saying that QuickBird 1 was "effectively lost."

Reports said the second stage of the Cosmos-3M shutdown too early.

The failure of the QuickBird 1 launch is a major blow to EarthWatch, which lost its first satellite EarlyBird 1 four days after its December 24, 1997 launch due to a problem with its power system.

EarthWatch is developing a network of satellites to image different regions of the Earth for a variety of commercial applications, including environmental monitoring, land management, mapping, agriscience studies, and disaster monitoring.

QuickBird 1 was planned to orbit in a circular perch 590 kilometers high, inclinated 66 degrees to either side of the equator. This inclination allows unique imaging times.

From orbit, QuickBird 1 was to collect both one-meter resolution digital black-and-white imagery and four-meter resolution digital color images. These high resolution images were to be taken by the QuickBird instrument, a high resolution camera, during orbital day-time.

Digital images taken from orbit will rival aerial photography in terms of both cost and possible economic and scientific applications.

The spacecraft was manufactured by Ball Aerospace and Technologies, Corp., of Boulder, Colorado. Ball provides launch integration and on-orbit commissioning of QuickBird 1 from the time QuickBird 1 arrived at Plesetsk at the end of October. "This milestone is a significant achievement for not only EarthWatch but also Ball Aerospace. We are pleased with Ball's ability to produce a world-class imaging satellite. Our relationship with Ball Aerospace will enable us to put the only two one-meter satellite constellation into orbit making EarthWatch the largest commercial collector of earth imagery," said Herb Satterlee, President and CEO of EarthWatch.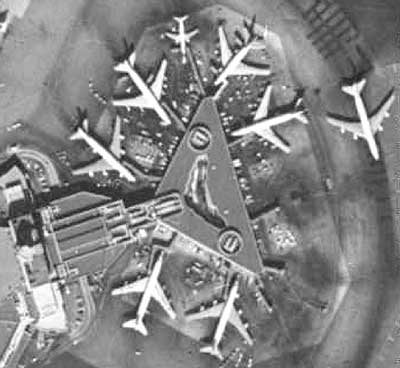 Simulated QuickBird 1-meter panchromatic imagery of San Francisco Airport. Photo: EarthWatch



At launch, QuickBird 1 weighed approximately 950 kg. The satellite had a design life- of 5 years.

EarthWatch works with Ball Aerospace, Kodak, and Fokker Space in the development of the QuickBird family of satellites. QuickBird 1 was to be followed in the middle of 2001 by the launch of QuickBird 2.

EarthWatch's faces stiff competition from two other Earth-imaging companies.

ORBIMAGE, a subsidiary of Orbital Sciences, already has the OrbView-1 and OrbView-2 satellites in orbit, and also holds distribution rights to the Canadian RADARSAT-2's radar-produced images. ORBIMAGE is planning at least two more satellites for its constellation.

Space Imaging, another company taking commercial images from the final frontier, uses six satellites to collect its images. It also suffered the loss of its first dedicated IKONOS satellite. It also has agreements to distribute images from other satellites.

The Cosmos-3M is provided by launch services provider United Start Corporation. The rocket features two stages. The first stage is powered by two RD-216 engines that burn unsymmetrical dimethyl hydrazine (UDMH) and nitric acid. The second stage employs a single, re-startable engine that burns the same fuel combination as the first stage. The Cosmos-3M is around 90 feet tall and just over 6 feet in diameter.