NOAA using commercial satellite to study coral reefs
SPACE IMAGING NEWS RELEASE
Posted: November 20, 2000


Space Imaging, the world's only company to offer commercially available one-meter satellite imagery, announced that the National Oceanic and Atmospheric Administration (NOAA, Washington, D.C.) and its partners in coral reef mapping have purchased more than $350,000 of CARTERRA imagery collected by the IKONOS satellite. The imagery will be used to map, measure and, potentially, monitor U.S. shallow-water coral reef ecosystems in the Caribbean and the Pacific Rim.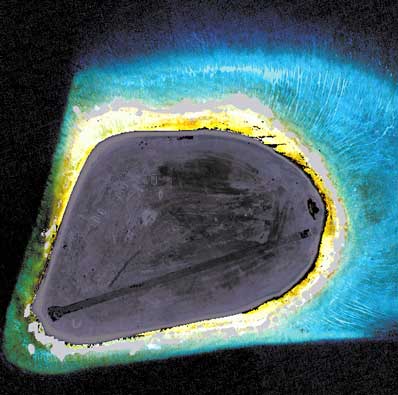 This four-meter Ikonos image of Baker Island, located approximately 1,650 miles southwest of Honolulu, Hawaii, is being used by NOAA to monitor the coral reef ecosystem surrounding the island. Baker Island is about 1.6 square kilometers in size. Visible on the island is an abandoned airstrip. Photo: spaceimaging.com



NOAA's study is a result of an executive order signed by President Clinton on June 11, 1998. The intent of Executive Order 13089 is to "preserve and protect the biodiversity, health, heritage, and social and economic value of U.S. coral reef ecosystems and the marine environment." The IKONOS remote sensing satellite was launched in September 1999 and provides NOAA with a new technology to understand the coral reef habitat.

The Executive Order also established the U.S. Coral Reef Task Force. In March, the Task Force released a National Action Plan to Conserve Coral Reefs, which 'lays out a carefully considered, science-based road map to healthy coral reefs for generations to come.'

Dr. Steve Rohmann, a physical scientist for NOAA, and colleagues from other federal, state, university and private organizations have nearly completed coral reef mapping activities in the U.S. Caribbean and are initiating similar activities in Hawaii, especially the northwest Hawaiian Islands. More than 60 percent of the United States' coral reef ecosystems are located in the Hawaiian archipelago. Of the estimated 17,000 square kilometers of coral reef areas in U.S. waters, only about eight percent have been meticulously mapped. Rohmann's project includes the use of IKONOS one-meter resolution panchromatic and four-meter resolution multispectral imagery to evaluate and map these areas. NOAA research has shown that IKONOS imagery has been found to have a depth penetration of up to 30 meters in clear water.

"The IKONOS satellite can be pointed to minimize sun glint over water and maximize sunlight penetration and bottom feature visibility," said Rohmann. "That capability, combined with its spatial and spectral resolution, makes IKONOS a powerful tool in any effort to produce accurate, georeferenced maps of coral reef ecosystems."

Buck Island Reef National Monument, located 1.5 miles off the northeast side of the island of St. Croix in the U.S. Virgin Islands, clearly shows an extensive underwater coral reef ecosystem. Photo: spaceimaging.com



Rohmann goes on to say that, "Regardless of the imagery source, mapping coral reef ecosystems is a challenging proposition. Waves, clouds, materials suspended in the water, water depth and sunlight affect the ability to see, much less identify bottom features. In many cases, little is known about the islands and atolls where coral reefs occur. As a result, any effort to characterize the bottom features of these remote locales will take time. Mapping coral reefs also requires funding. In Fiscal Year 2000, NOAA received approximately $1 million to map coral ecosystems. At this time, it is uncertain what we will receive in FY2001."

Satellite technology from IKONOS holds promise for other coral reef-related activities. Monitoring the condition or health of coral reef ecosystems over time is an important application of high-resolution satellite imagery. Another untested use of high-resolution satellite imagery is the assessment of the impact of hazardous material spills and shipwrecks on coral reefs.

Government-sponsored agencies, the media and consumers are beginning to realize that in the year since its launch, IKONOS has proven its use as a valuable tool for numerous applications. Some of the satellite's business applications include emergency response and rescue, agricultural mapping and planning, city planning, forestry, commercial and residential real estate, and a variety of uses in provincial, state and local government.