Space station truss segment one step closer to launch
BY STEPHEN CLARK
SPACEFLIGHT NOW
Posted: July 27, 2000

| | |
| --- | --- |
| | The P1 truss in testing at Marshall. Photo: NASA/MSFC |
A day after the Zvezda service module and the other two components of the international space station already in orbit latched together high above Asia, a separate, but related team of technicians and engineers half-a-world away pulled another piece of the project out of its clean room high bay.

After spending the last few years in a clean room at the Marshall Space Flight Center in Huntsville, Alabama, the P1 truss segment -- the second to be shipped thus far -- was loaded onto a trailer and transported down the main highway that runs the length of the space center and the adjoining Redstone Arsenal. The destination, Redstone Army Airfield, then Kennedy Space Center, and ultimately space.

The P1 truss departed the high bay at around 5:00 a.m. EDT on Wednesday, July 26, for the 45-minute trip to the airfield. The segment was loaded aboard NASA's Super Guppy cargo plane over the course of the next few hours. The Super Guppy took off from the main runway at around 9:00 a.m. EDT.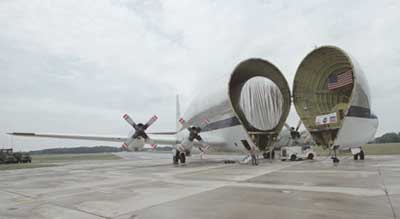 NASA's Super Guppy cargo plane at Marshall. Photo: NASA



The Super Guppy landed at KSC's Shuttle Landing Facility (SLF) at around mid-day. It was unloaded from the large airplane and transported to the Operations and Checkout Building clean room, where it will stay for most of its pre-launch processing.

During the upcoming two years of processing, KSC and Boeing technicians will integrate a radiator wing that includes three radiator units. Each of the radiators will aid in the thermal conditioning of the station. Other items that will be installed onto the assembly will include power generators, computers, a grapple fixture to be used by the shuttle's robotic arm, and a UHF antenna. The truss also features a rail system to be used by the Canadian-supplied station robot arm as it slides back and forth along the P1 truss to help out in ISS assembly.

The P1 truss segment has a length of around 45 feet and a width of around 16 feet and will weigh around 32,000 pounds when launched aboard the space shuttle in early 2002. Once in orbit, the P1 will be positioned on the immediate port side of the center truss segment -- S0 -- making it the third truss segment of 10 to be integrated into the ISS structure. Each of the 10 truss segments will serve as part of the "backbone" of the space station, holding the structure and its massive solar arrays together.

The truss segments are built by Boeing under contract from NASA at the Marshall Space Flight Center (MSFC) in Huntsville, Alabama.