Cosmos-3M rocket launches with three satellites
BY STEPHEN CLARK
SPACEFLIGHT NOW
Posted: June 28, 2000 (updated 0917 GMT, June 29)

| | |
| --- | --- |
| | The SNAP-1 nanosatellite. Photo: SSTL |
A trio of satellites for Russia, China and the United Kingdom soared into Earth orbit today aboard a Cosmos-3M rocket.

Liftoff occurred on schedule at 1037 GMT (6:37 a.m. EDT) from the Plesetsk Cosmodrome in far northern Russia. The spacecraft were later deployed into a 400-mile high (650 km) sun-synchronous orbit, project officials said.

The main payload of the mission is the Russian Nadezhda-M COSPAS/SARSAT military navigation satellite. It will be used with several similar satellites to locate ground, air and sea traffic in distress. These spacecraft also work within the international system for search and rescue.

Although these satellites are built and mostly used by the Russian Ministry of Defense, civilians will also have limited access. Nadezhda spacecraft are built by AKO Polyot.

The other two satellite passengers carried by the Cosmos rocket, SNAP-1 and Tsinghua-1, have different purposes but should remain close to each other even after arriving in space. Both were built by Surrey Satellite Technology Ltd. of the United Kingdom.
| | |
| --- | --- |
| Tsinghua-1 and SNAP-1 spacecraft in a launch site clean room. Photo: SSTL | |
The first Surrey Nanosatellite Applications Platform, or SNAP-1, is a 6.5 kg spacecraft with advanced GPS navigation, computing, propulsion and attitude control technologies. Its primary mission is to rendezvous with Tsinghua-1 satellite, demonstrating orbital formation flying for the first time.

Officials say such a high-flying ability could eventually lead to developing a way to de-orbit space trash. Nanosatellites, meanwhile, could be used for scientific research by launching swarms of spacecraft or providing high risk technologies in space cheaply.

SNAP-1 will also feature state-of-the-art navigation systems, a new attitude control system and cutting edge cameras capable of imaging other satellites.

The Tsinghua-1 satellite was built by SSTL for Beijing's Tsinghua University. This microsatellite is a demonstrator for a planned constellation of five similar spacecraft that would provide worldwide imaging of disaster areas. Tsinghua-1 is also slated to conduct communications research in low-Earth orbit.

SNAP-1 will link up with Tsinghua-1 to test its new propulsion and imaging systems.

Ground controllers at TsingHua University reported they received telemetry from Tsinghua-1 about seven hours after launch and all looked normal. Surrey's mission control made contact with SNAP-1 at 0140 GMT on Thursday.

"The telemetry indicates that all parameters are nominal," said Dr. Craig Underwood of SSTL. "As you can imagine the team here is delighted with the dual success of the SNAP-1 and Tsinghua-1 satellites. We are now in the process of commissioning the spacecraft and their payloads."

SSTL works from the Surrey Space Center at the University of Surrey. The company's satellites serve both the commercial sector and the university's students.

The Cosmos-3M rocket is built by NPO Polyot of Russia. It is a two-stage design with a re-startable second stage. The vehicle is just under 90 feet in height. The first stage is powered by an RD-216 engine that is fueled by Nitric acid and Unsymmetrical Dimethylhydrazine (UDMH), a form of hydrazine. The second stage is fueled by the same propellant mixture.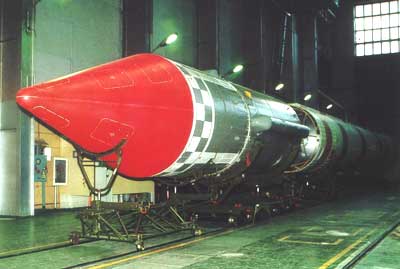 Cosmos-3M rocket. Photo: SSTL