Much-anticipated launch of space station module set
BY WILLIAM HARWOOD
SPACEFLIGHT NOW
Posted: June 26, 2000

| | |
| --- | --- |
| | An artist's concept of the Zvezda module (left) docked to Zarya (middle) and Unity (right). Photo: NASA |
Russian space managers meeting in Moscow today tentatively cleared the international space station's long-delayed Zvezda command module for launch July 12 atop a Proton rocket.

But NASA sources said the spacecraft will not be fueled for flight until after a modified Proton, similiar to the one earmarked for Zvezda, chalks up a successful mission July 5.

Zvezda will provide the station's propulsion and provide crew quarters for the lab's initial three-person crews. The module is running more than two years behind schedule because of Russian funding problems and, more recently, trouble with the Proton rocket needed to launch it.

Engine modifications were made in the wake of two catastrophic launch failures last year. NASA managers and their Russian counterparts then agreed to wait until the modified Proton had flown twice before committing Zvezda to flight.

The first flight was successfully carried out June 6 when a modified Proton boosted a Russian communications satellite into orbit. The second flight is scheduled for 3:40 a.m. Moscow time on July 5 (7:40 p.m. EDT; 2340 GMT on July 4) from the Baikonur Cosmodrome. The payload is a Russian military communications satellite called Geyser.

At a general designers review today in Moscow, Russian managers said the Zvezda module and its Proton are in good shape and ready for flight. But the command module will not be fueled for launch until after the Geyser satellite's Proton has successfully completed its mission.

Assuming that flight goes well, the Zvezda module will be fueled later that same day, mated with its Proton rocket on July 6 and rolled to the launch pad July 7 for final preparations.

Liftoff is targeted between 8:37 a.m. and 9:05 a.m. Moscow time (12:37 a.m. and 1:05 a.m. EDT; 0437-0505 GMT). The exact launch time will be set later, based on final analysis of the space station's actual orbit.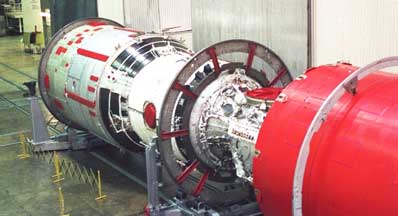 The Zvezda module pictured at the Energia integration plant in Moscow before shipment to Baikonur. Photo: NASA

Zvezda must be off the ground by July 14 or the flight will be delayed to around Aug. 8 because of a requirement to ensure maximum sunlight on the space station's solar arrays during the final phase of docking.
Docking will take place two weeks after Zvezda's launch. But the new module will play a passive role in the final docking sequence, which will be carried out by the station's Russian-built Zarya module.
Russian flight controllers want Zarya's batteries to be fully charged for the final rendezvous sequence, a requirement that is driving Zvezda's launch window.
While July 14 has long been thought to be a "drop dead" launch date for July, Russian managers indicated today it may be possible to launch Zvezda a day or two later than that if absolutely necessary.
While there are no technical problems with the command module or its Proton launchers, ground processing at the Baikonur Cosmodrome is extremely tight because of the July 5 Geyser launch.