New GOES-11 weather satellite snaps first image
NASA/NOAA NEWS RELEASE
Posted: May 19, 2000


The nation's newest weather satellite, GOES-11, has sent back its first image from space, the Commerce Department's National Oceanic and Atmospheric Administration (NOAA) and NASA announced Thursday.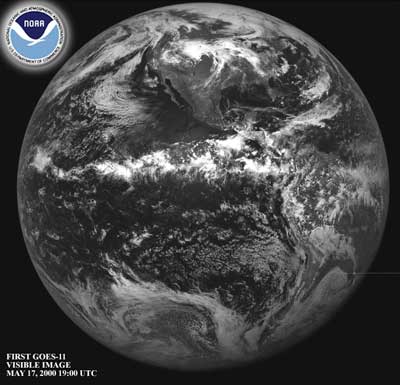 First image from GOES-11. Photo: NOAA



GOES-11, a geostationary weather satellite that takes images of clouds and reads the amount of moisture in the atmosphere, sent back a clear, crisp image from its vantage point 22,300 miles in space. The GOES-L satellite was launched on May 3 from Cape Canaveral Air Force Station, Fla., and became GOES-11 on May 11.

"The image clearly demonstrates that these important observations will continue to be provided," said Gerry Dittberner, NOAA's GOES program manager. "Fine-scale meteorological features stand out clearly; it's right on the mark."

The GOES-11 will be stored in orbit and will replace either GOES-8 or GOES-10 as needed. "GOES" stands for Geostationary Operational Environmental Satellite. GOES-11 is scheduled to reach its final geosynchronous orbit on May 21.

These satellites are operated by the National Environmental Satellite, Data, and Information Service in Suitland, Md. After the satellites complete on-orbit checkout, NOAA assumes responsibility for command and control, data receipt, and product generation and distribution. The GOES spacecraft are a critical component of the ongoing National Weather Service modernization program, aiding forecasters in providing more precise and timely forecasts.

NASA's Goddard Space Flight Center (Greenbelt,Md.) manages the design, development and launch of the spacecraft. NASA's Kennedy Space Center in Florida is responsible for government oversight of launch operations and countdown activities. NOAA's Systems Acquisition Office provides programmatic and acquisition guidelines to both Goddard and Kennedy. GOES-L, built by Space Systems/Loral, a subsidiary of Loral Space and Communications Ltd., was launched on an Atlas IIA rocket, built by Lockheed Martin. The on-board meteorological instruments for GOES-L include an imager and a sounder manufactured by ITT Industries Aerospace/Communications Division.