OrbView-1 satellite marks 5th anniversary in orbit
ORBIMAGE NEWS RELEASE
Posted: April 9, 2000

| | |
| --- | --- |
| | Artist's conception of OrbView-1. Photo: Orbimage |
Orbital Imaging Corporation, an affiliate of Orbital Sciences Corporation and a leading global provider of satellite-delivered Earth imagery products and services, says its OrbView-1 atmospheric imaging satellite has successfully completed its fifth year in space. Launched on April 3, 1995, OrbView-1 provides the world's first broad-area cloud-to-cloud lightning data. Originally planned as a low cost, six-month experiment, OrbView-1 has provided NASA with information in support of its atmospheric research program for over five years. To date, OrbView-1 has completed over 26,000 orbits of the Earth, traveling over 700 million miles.

OrbView-1's payload consists of two sensors: an Optical Transient Detector (OTD) provided by NASA's Marshall Space Flight Center, and an atmospheric monitoring instrument (GPS/MET) sponsored by the National Science Foundation and the University Consortium for Atmospheric Research. The OTD sensor maps atmospheric lighting strikes and has provided NASA with information important to the understanding of severe weather patterns. The GPS/MET sensor has proven that the signals from the GPS satellite constellation used for precision navigation can also be used to provide important atmospheric data. The success of the GPS/MET sensor has further validated the concept of using space-based sensors to improve worldwide weather prediction.

The OrbView-1 program is the result of a unique government-industry partnership between ORBIMAGE and NASA. Under this arrangement, NASA provided the OTD sensor for use on OrbView-1 and ORBIMAGE agreed to conduct an initial six-month experiment of the sensor. NASA's cost for data under this program over the past five years has totaled approximately $7.2 million.

Mr. Gilbert D. Rye, President and CEO of ORBIMAGE, said, "Both NASA and Orbimage have benefited from our collaboration on OrbView-1. OrbView-1's low-cost system architecture provides customers, including NASA, with near real-time data access. OrbView-1 has also helped us to establish the operational side of our business, from our satellite operations center to our production and image processing facilities, prior to the launch of our high-resolution imagery satellites."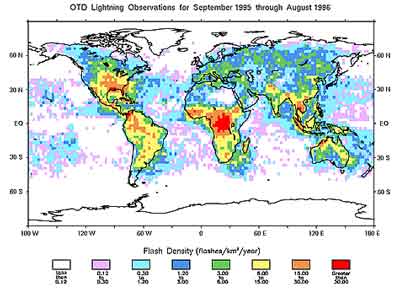 Between September 1, 1995 and August 31, 1996, the OTD observed nearly 1 million lightning flashes worldwide. The lightning flash densities (flashes per square kilometer per year) shown on the image have been calculated statistically using OTD data from more than 400 separate 3 minute observations of each location on the earth. From this information, it is now estimated that over 1.2 billion lightning flashes (intracloud plus cloud-to-ground) occur around the world every year. Most of the lightning is in the InterTropical Convergence Zone (ITCZ) over the continents, and there is far more lightning over the land masses than over the oceans. This results from the stronger vertical motions in continental clouds than in oceanic clouds. Photo: NASA



Orbimage has successfully applied this same government-industry approach to its OrbView-2 satellite, which provides ocean color data to the NASA SeaWiFS Project and other commercial customers. Under a five-year contract, the cost to NASA for OrbView-2 data is significantly less than it would have spent on a government-owned satellite.

Today, Orbimage and its prime satellite contractor, Orbital Sciences Corporation, are building upon this experience in developing Orbimage's OrbView-3 and OrbView-4 high-resolution satellites. The companies have also entered into a unique arrangement with the U.S. Air Force for the incorporation of a hyperspectral sensor on OrbView-4 to support the Air Force's Warfighter-1 Program. OrbView-4 will also provide the world's first commercially available hyperspectral imagery.






NewsAlert
Sign up for Astronomy Now's NewsAlert service and have the latest news in astronomy and space e-mailed directly to your desktop (free of charge).