NEAR Shoemaker shows the importance of lighting
JHU/APL PHOTO RELEASE
Posted: April 8, 2000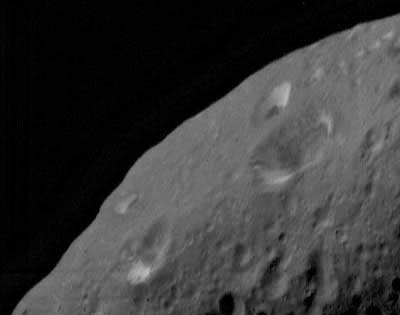 Asteroid Eros. Photo: JHU/APL



The way in which Eros' craters are illuminated makes a big difference in their appearance in images from NEAR Shoemaker. This image was taken March 8, 2000, from a range of 205 kilometers (127 miles). In the foreground, craters are obliquely illuminated. The brightness differences between Sun-facing and shaded slopes bring out the morphologic details in the asteroid's surface. In the background the Sun is nearly overhead, and the lack of shadows makes details appear subdued. But these "high-Sun" conditions bring out inherent brightness differences in surface materials, such as the bright walls in the four craters near the center of the image.

Built and managed by The Johns Hopkins University Applied Physics Laboratory, Laurel, Maryland, NEAR-Shoemaker was the first spacecraft launched in NASA's Discovery Program of low-cost, small-scale planetary missions. See the NEAR web site for more details.




Other coverage
Moving closer -- Probe completes maneuver to lower orbit.



Eros at sunset -- Asteroid's irregular shape gives stunning vistas at sunset.



Eros the movie -- NEAR Shoemaker's first of several planned "flyover movies" of Eros.



Flashy sun -- Solar flares light Eros' surface.




NewsAlert
Sign up for Astronomy Now's NewsAlert service and have the latest news in astronomy and space e-mailed directly to your desktop (free of charge).