Lockheed Martin receives more RD-180 engines
Russian-built engines for Atlas 3
LOCKHEED MARTIN NEWS RELEASE
Posted: Jan. 20, 2000


Lockheed Martin Astronautics has announced the arrival of three more RD-180 Russian-built engines at its Waterton Facility near Denver, Colo. The engines will be readied for assembly on Atlas 3 boosters. The RD-180 engine system will be used to power Lockheed Martin's Atlas 3 boosters as well as the company's next-generation Atlas 5 rockets.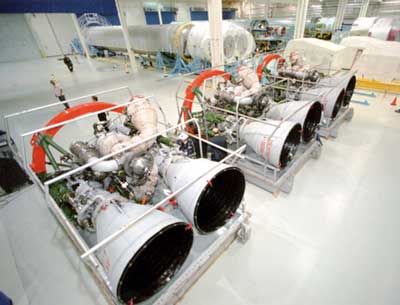 Three RD-180 engines sit side-by-side in Lockheed Martin facilities this week. The engine on the right, T-4, will power the AC-202 rocket into orbit later this year. Photo: Lockheed Martin



Through the RD AMROSS joint venture established by Pratt & Whitney, a division of United Technologies, and NPO Energomash of Khimky, Russia, the RD-180 engines were built, tested and inspected at NPO Energomash's facilities in Khimky prior to shipment to the United States. The engines arrived at Astronautics' Launch Vehicle Final Assembly Building near Denver, Colo., on December 31.

"We inspected all three engine containers on Jan. 3 and they are in good condition. The RD-180 engines are world-class propulsion systems and that's why we chose them for our next-generation Atlas boosters," said John C. Karas, vice president of Astronautics' EELV/Atlas 5 program.

These are the second, third and fourth RD-180 flight engines delivered to Lockheed Martin by RD AMROSS, which produces the engines exclusively for Lockheed Martin's Atlas 3 and Atlas 5 launch vehicles. Before shipment from Khimky, each engine is test fired for 200 seconds at 5 different thrust levels to ensure the engines are ready. In addition, the engines are given commands that represent conditions that will be seen in flight.
| | |
| --- | --- |
| The double-bell RD-180 engine is seen on the AC-201 rocket during pre-launch processing at Cape Canaveral Air Station last year. Photo: Lockheed Martin | |
The first flight engine has already been installed on AC-201, an Atlas 3A launch vehicle. AC-201's booster is at Cape Canaveral Air Station, Fla., and will be the first Atlas 3 configuration which will fly a commercial communications satellite from Space Launch Complex 36B this coming April.

"We are very pleased to make these engine deliveries and appreciate Lockheed Martin's commitment to the RD-180. We are looking forward to providing continued support to Lockheed Martin for the Atlas 3/Atlas 5 vehicles and a successful first flight this year," said Robert Monaco, president of RD AMROSS.

The RD-180 engines arrived in containers onboard an Aeroflot IL 76 aircraft, which is similar to a U.S. C-141. Final receiving inspection will occur in the near term. Each steel container is approximately 15 feet long by 12 feet wide by 10 feet tall, with a total weight (container and engine) of approximately 20,000 lbs. Each RD-180 engine weighs approximately 12,000 lbs.

With one of the industry's longest running mission success strings, Atlas/Centaur rockets have flown a total of 46 consecutive successful missions - a string that began back in 1993.
| | |
| --- | --- |
| | An RD-180 engine undergoes a test firing last year in the United States. Photo: NASA |
Lockheed Martin developed its new, more powerful Atlas 3 launch vehicles to meet the growing needs of the commercial and government satellite market. The even more powerful Atlas 5 launch vehicles are being developed to meet the needs of the U.S. Air Force's Evolved Expendable Launch Vehicle (EELV) program and the future needs of commercial and government satellite customers worldwide.

Astronautics is an operating unit of Lockheed Martin's Space Systems headquartered in Bethesda, Md. Astronautics designs, develops, tests and manufactures a variety of advanced technology systems for space and defense. Chief products include interplanetary spacecraft and other space systems, space launch systems and ground systems.

Headquartered in Bethesda, Maryland, Lockheed Martin is a global enterprise principally engaged in the research, design, development, manufacture and integration of advanced-technology systems, products and services. The Corporation's core businesses are systems integration, space, aeronautics, and technology services. Employing more than 160,000 people worldwide, Lockheed Martin had 1998 sales surpassing $26 billion.




NewsAlert
Sign up for Astronomy Now's NewsAlert service and have the latest news in astronomy and space e-mailed directly to your desktop (free of charge).