Mir nursed backed to life as Progress prepares for launch
BY ANATOLY ZAK
RussianSpaceWeb.com
Posted: January 22, 2000

| | |
| --- | --- |
| | Mir glides silently through space high above the planet. Photo: NASA |
The Mir space station's main computer is up and running after several days of off-line caused by the failure of the electrical system onboard the station. The Salyut-5B computer, responsible for controlling the attitude of the more than 100-ton orbital outpost, was successfully reactivated by flight controllers on Friday.

However, mission control's attempts to activate six of Mir's 12 electrically driven reaction wheels, known as gyrodines, failed last week.

The six gyrodines, located in the Kvant-1 module slowed down and stopped only few orbits after they were reactivated last week. There were no attempts to restart six additional gyrodines installed on Kvant-2 module.

Engineers are currently evaluating what caused the gyrodines to unexpectedly stop and do not expect to make another attempt to activate them before the arrival of the cargo ship to the station.

Without gyrodines, mission control will have to use Mir's thrusters to orient the station in space, consuming precious propellant.

Representatives of RKK Energia said that the problems with gyrodines would not affect the planned docking between the station and the Progress M1-5 cargo ship or the plans to de-orbit Mir at the beginning of March.

The officials also said that the temperature inside Mir's modules is gradually normalizing after reaching its peak last week. The higher than normal temperature inside Mir believed to be responsible for fluctuations in the station's electrical circuits and the resulting shutdown of the control system onboard. Currently, the temperature inside the station is as high as 36 degrees C.

In the meantime, today personnel at Baikonur Cosmodrome have resumed a two-day process of preparing for the launch of the Progress M1-5 cargo ship toward the station. Launch preparation were put on hold as ground controllers tackled the problems onboard Mir. Liftoff is scheduled for January 24 at 0428:40 GMT (11:28:40 p.m. EST on 23rd).

The Progress M1-5 will serve as the "burial craft" for Mir. It will use its propulsion system and fuel to nudge the station out of its orbit to a fiery reentry into the Earth atmosphere. The station is currently circling the Earth at the altitude of about 295 kilometers.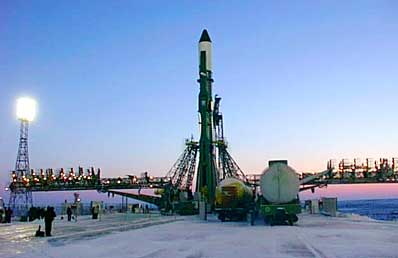 The Soyuz-U stands poised for blastoff from Baikonur. Photo: Energia