Minotaur lofts experimental satellite for U.S. military
BY STEPHEN CLARK
SPACEFLIGHT NOW
Posted: May 19, 2009


A Minotaur rocket made a twilight ascent into space from Virginia's Eastern Shore Tuesday evening, successfully carting an experimental satellite into orbit to begin a year of tactical military exercises on the final frontier.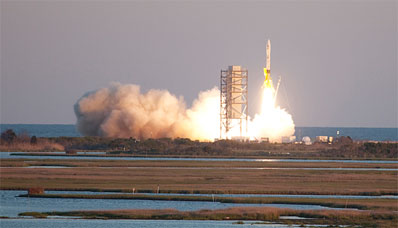 Minotaur rocket lifts off. Credit: NASA



The 69-foot-tall Minotaur 1 booster lit its first stage and barreled into the sky at 7:55 p.m. EDT (2355 GMT) from the Mid-Atlantic Regional Spaceport at Wallops Island, Va.

The flight was delayed two weeks after bad weather and technical problems triggered three scrubs. The unavailability of range tracking equipment pushed the launch back another 11 days.

The four-stage rocket reached a 264-mile-high orbit about 9 minutes after liftoff, and then began a one-by-one sequence of deploying its payloads.

The Air Force's TacSat 3 satellite separated from the Minotaur's fourth stage about 12 minutes after liftoff.

NASA's PharmaSat biology research spacecraft was released next. PharmaSat is a 10-pound satellite loaded with yeast cells in 48 microscopic sample containers in a fully-functional miniature laboratory.

PharmaSat was deployed 22 minutes after liftoff from a self-contained deployment system called a P-POD. The bread loaf-sized satellite contacted a ground station later Tuesday night, confirming it was in good shape following the launch.

"After a spectacular launch as a hitchhiker on the TacSat 3 mission, we made contact with PharmaSat and confirmed that the spacecraft deployed successfully," said Bruce Yost, PharmaSat mission manager at NASA's Ames Research Center.

Engineers will check out the spacecraft's systems before beginning the experiment on PharmaSat's yeast cultures.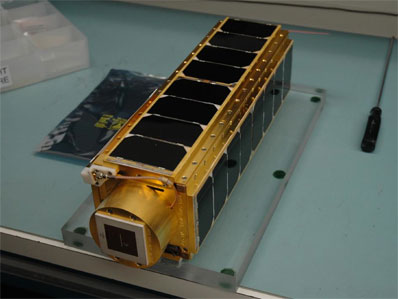 PharmaSat is pictured here fully assembled, covered in solar panels. Credit: NASA/ARC/Christopher Beasley



"The objective of the mission is to incubate yeast in space in a microgravity environment, and then challenge them with some antifungal chemicals and to see how affective those antibiotics are in space," Yost said.

Engineers will trigger the growth of the yeast and later apply antibiotics to observe the yeast's reaction, a process expected to last about four days, according to Yost.

Experiments aboard the international space station have indicated yeast and other organisms are more virulent in space.

Data from PharmaSat will help scientists determine the best way to treat infections in astronauts in space, Yost said.

The Minotaur also carried three tiny CubeSats: CP6 for California Polytechnic State University, HawkSat 1 for the Maryland-based Hawk Institute for Space Sciences, and AeroCube 3 for the Aerospace Corporation.

The status of the CubeSats could not be confirmed late Tuesday night.

TacSat 3 carries a high-resolution imager and user-friendly software that will attempt to show officials the value of responsive spacecraft to lower-ranking military commanders leading troops on the battlefield.

"We hope to chart a fundamentally new paradigm of space support for the military," said Tom Cooley, TacSat 3 program manager.

Instead of primarily a tool for military brass and intelligence agencies, future more affordable satellites could be directly employed by soldiers fighting in far-flung war theaters.

Conceived in 2004 and originally scheduled to launch in 2007, TacSat 3 has endured several years of delays due to problems with spacecraft equipment, including the satellite's star tracker, flight software and avionics system.

The 880-pound satellite is managed by the Air Force Research Laboratory at Kirtland Air Force Base, N.M. It is part of the Department of Defense's Operationally Responsive Space program, which aims to develop, test and integrate low-cost space technologies onto tactical battlefields.

TacSat 3 is the second TacSat payload to reach space. TacSat 2, launched from Wallops in 2006, completed more than a year of operations last year.

"The TacSat program is a stepping stone for delivering operationally relevant space capabilities to joint force commanders, all the while inserting mature technologies that support our national security interests," said Peter Wegner, director of the ORS office.

The goal of the ORS initiative is to one day field satellites that are always "on-call" to soldiers in war zones.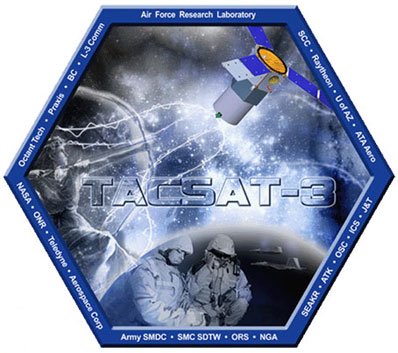 The TacSat 3 logo. Credit: Air Force



Partners in the TacSat 3 project include AFRL, ORS, the Army Space and Missile Defense Command, the Office of Naval Research, and the National Geospatial Intelligence Agency.

TacSat 3's primary instrument is a high-resolution hyperspectral imager called ARTEMIS, which stands for the Advanced Responsive Tactically Effective Military Imaging Spectrometer.

Military leaders envision instruments like ARTEMIS will eventually be fielded in operational war theaters, allowing lower-ranking tactically-minded commanders to rapidly request and receive information on enemy troops and equipment.

The instrument was built by Raytheon Co. and the TacSat 3 bus was provided by ATK.

Precursor hyperspectral imagers have flown on airborne and satellite platforms. The Hyperion instrument was launched in 2000 aboard NASA's Earth Observing 1 remote sensing test satellite.

Hyperion was designed for scientific and civilian applications. ARTEMIS includes about 400 spectral bands, while Hyperion can convert incoming light into 220 bands.

Hyperspectral sensors work by breaking light into its components, which allows analysts or software programs to map the chemicals or minerals in an image.

Officials are not disclosing the spatial resolution of the ARTEMIS imager, but managers said the instrument will be able detect ground features as subtle as specific types of paint.

The satellite will participate in Army exercises later this year to showcase its ability to receive commands from the battlefield, gather imagery, and downlink the results to soldiers in the field, officials said.

"When the satellite breaks the horizon, the commander is able to uplink the location that they're interested in. The satellite autonomously calculates how to make that collection with the best advantage, collects it, processes the data on board, and compares the data that's collected to spectra that the Army is interested in," Cooley said.

Programmers will load the spectra, or the signature of light reflected from objects on the ground, on the satellite's computers so they can automatically compare target information to files stored on-board.

"There is a library of spectra that are pre-loaded on the satellite. They might say, for instance, they're looking for a particular type of paint. We have the spectra of that paint on the satellite," Cooley said.

Commanders on the ground will receive raw imagery or a text message with the latitude and longitude of the object's location, according to Cooley.

TacSat 3 should be able to complete these activities in less than 10 minutes as the satellite circles more than 250 miles overhead.


| | |
| --- | --- |
| | An artist's concept of the TacSat 3 spacecraft. Credit: Air Force |
Military officials believe agile satellites with high-resolution imagers could provide crucial information on target detection and identification, battlefield preparation and combat damage assessments.

The exercises will help officials determine the military usefulness of highly responsive space systems, which could be implemented in large satellite constellations in the future to provide global coverage.

"We'll just basically sit back and watch how useful it was to them and what the impact was," Wegner said.

The military expects TacSat 3 will operate for at least a year.

The satellite also carries the Navy's Satellite Communications Package and an Air Force plug-and-play avionics package called the Space Avionics Experiment.

The communications payload will gather observations from sea buoys and transmit the information to a ground station to be relayed to warfighters.

"By the end of that first year, we're going to have a really good assessment of the operational utility of this kind of system," Wegner said.

The Army has long been pushing for a satellite with tactical direct-tasking capability, but TacSat 3 must prove its usefulness before the Pentagon orders an operational satellite, Cooley said.

"Our goal is that the technology will be of sufficient interest that the DOD will elect to move forward and transition this type of technology into their toolbox, but that remains to be seen," Cooley said.

Another demo satellite, TacSat 4, is scheduled to launch in September on a Minotaur 4 rocket flown from Kodiak Island, Alaska.

The TacSat 1 mission is in limbo after development problems and rocket delays slipped the mission nearly five years. The satellite was supposed to have tested an Internet protocol router that would have distributed visible and infrared imagery to military commanders.

The future of TacSat 1 rests with ongoing launch contract negotiations and studies of "resource issues," sources said.

TacSat 5 is in the early phase of development for a launch in 2012.

ORS officials are already beginning to move TacSat-tested technologies into operational satellites, but Wegner said the military may continue with the TacSat program for more research missions.

"It is conceivable that given the budget and direction, we could be working on a TacSat 6 all the while working the ORS Sat or operational satellites," Wegner said.

Wegner said a key lesson learned so far from TacSat missions stem from supply chain difficulties that have caused delays in several satellites.

Officials last year approved the first operational ORS mission, called ORS Sat 1, for launch from Wallops in another Minotaur 1 next year.

ORS Sat 1 will carry an optical sensor modified from a camera used by the U-2 spy plane.

That launch will be the next orbital mission staged from Wallops, aboard another Minotaur 1, officials said.

The second operational ORS satellite will likely host an imaging radar payload designed to provide troops with an all-weather night vision view from space.