Minotaur rocket makes sunrise ascent from Virginia
BY STEPHEN CLARK
SPACEFLIGHT NOW
Posted: December 16, 2006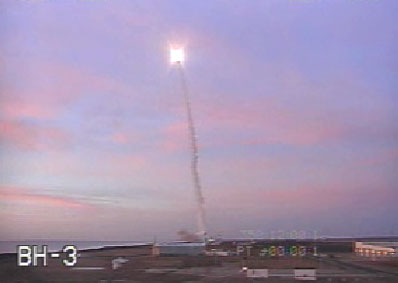 The Minotaur rocket launches at sunrise. Credit: Wallops TV



Virginia's Wallops Island hosted its first space launch in seven years this morning when a Minotaur rocket blazed a trail into orbit with a U.S. Air Force demonstration satellite.

Liftoff of the 69-foot tall booster occurred at 7:00 a.m. EST (1200 GMT) from the Mid-Atlantic Regional Spaceport on the southern tip of Wallops Island, Va.

The four-stage booster flew toward the rising Sun as it headed southeast away from the U.S. East Coast. Deployment of the TacSat 2 primary payload came 11 minutes after launch, according to the NASA Wallops Flight Facility.

NASA's tiny GeneSat 1 research craft was released into space ten minutes later, and controllers later confirmed they had received the first signals from the nanosatellite.

The diminutive satellite will conduct a four-day series of biological tests to observe the behavior of E. coli bacteria in space. The samples are housed within a miniature laboratory inside the craft.

The Minotaur was targeting a circular orbit about 255 miles high with an inclination of around 40 degrees.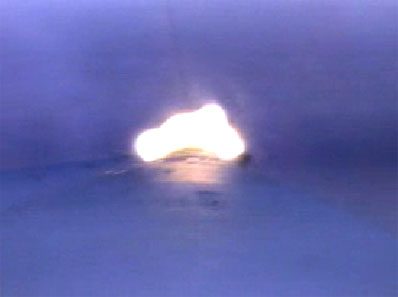 An external video camera mounted to the Minotaur rocket looks down at Earth during launch. Credit: Wallops TV



The mission marked the first rocket flight into orbit from Wallops since 1999, when an air-launched Pegasus rocket hauled seven communications satellites into space. The last ground-based space launch attempt was more than 11 years ago, and the most recent successful orbital launch before Saturday was in 1985.

Saturday's launch was postponed from Dec. 11 after last-minute concerns with TacSat 2's flight software. Engineers spent much of the week analyzing the issue before finally clearing the satellite for launch.

Managed by the Air Force Research Laboratory, TacSat 2 is a test bed for potential tactical applications for future military satellites. The 814-pound spacecraft was built by MicroSat Systems, Inc., and the program's partners come from every branch of the U.S. armed forces.

TacSat 2's mission is slated to last from six to 12 months, and controllers plan to declare the craft operational after just one day of test and checkout procedures. The project is designed to demonstrate an accelerated manufacturing process and launch schedule with a rapid transition to normal operations after the satellite is delivered to orbit, according to the Air Force Research Laboratory.

The Air Force's Joint Warfighting Space initiative seeks to transform the military's role in space to include a fleet of tactical satellites that can serve troops more quickly than current programs.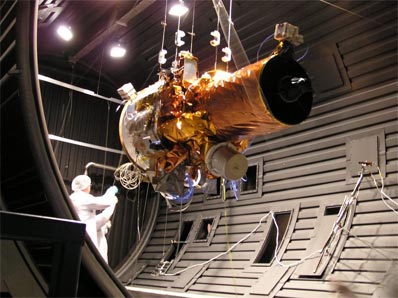 The TacSat 2 craft undergoes pre-flight testing. Credit: Air Force



Another objective of the initiative is to "operationalize" space to benefit deployed military forces, according to a 2005 presentation by Air Force Brig. Gen. Larry James, former vice commander of the Space and Missile Systems Center.

Officials also hope the program will eventually demonstrate the ability to rapidly launch satellites as necessary, decreasing preparation time from weeks to hours.

TacSat 2 is the first in a series of planned spacecraft to put the goals of the Joint Warfighting Space initiative to the test.

TacSat 1 is scheduled for launch on a Falcon 1 rocket next year, while another Minotaur will launch TacSat 3 in late 2007. TacSat 4 could follow in 2008.

These satellites will conduct further tests for the Joint Warfighting Space program.

Loaded with 11 experiments, the microsatellite will attempt to respond to tactical requests from military forces deployed in the field. TacSat 2 carries a 20-inch optical telescope that should be able to produce photos of targets soon after orders are given by military commanders.

Imagery will be downlinked to a ground site at the U.S. Naval Air Warfare Center facility at China Lake, Calif. Officials hope this experiment will lead to reduced response times for image requests from deployed troops.

"TacSat 2 will directly benefit the troop on the ground," said Neal Peck, TacSat 2 program manager. "By demonstrating that it can communicate directly with the China Lake facility, TacSat 2 can directly talk to any common data link compatible ground station across the globe."

Also among TacSat 2's experiments are an ion thruster, a global positioning system occultation receiver and an experimental thin film solar array. The spacecraft also features software for autonomous operations, according to an Air Force written statement.