The Mission






Rocket: Minotaur 1
Payload: NFIRE
Date: April 24, 2007
Window: 0648-0703 GMT (2:48-3:03 a.m. EDT)
Site: Wallops Island, Va.






Spaceflight Now +





Subscribe to Spaceflight Now Plus for access to our extensive video collections!
How do I sign up?
Video archive

Pegasus/AIM preview

An air-launched Pegasus rocket will loft NASA's AIM satellite into orbit to study mysterious clouds at the edge of space. On the eve of launch, officials held these briefings from Vandenberg Air Force Base, California.

Mission | Science

The Sun in 3-D

NASA's twin STEREO spacecraft have made the first three-dimensional images of the Sun. Scientists unveil the images in this news conference held April 23.

Play

Hubble turns 17

The Hubble Space Telescope was launched in April 1990, opening a new window on the universe that has revolutionized our understanding of the cosmos.

Full report

Flight of Gemini 3

The first manned flight of Project Gemini launched on March 23, 1965 with pioneering astronauts Gus Grissom and John Young. Take a look back!

Play

Apollo 9: Spider flies

Apollo 9 put the lunar landing module Spider through the stresses of spaceflight while orbiting Earth. This documentary looks back with astronauts Jim McDivitt, Dave Scott, and Rusty Schweickart.

Play

Expedition 15 coverage
The Russian Soyuz spacecraft with Expedition 15 cosmonauts Fyodor Yurchikhin and Oleg Kotov, along with tourist Charles Simonyi, fly to the space station.

Full coverage

STS-61: Fixing Hubble

One of the most daunting yet crucial human spaceflights occurred in December 1993 as the crew of shuttle Endeavour embarked on a mission to repair the Hubble Space Telescope.

Play

STS-51: Crew report

Narrating a highlights film from their STS-51 mission, the astronauts from Discovery's September 1993 flight describe launching an advanced communications satellite and a German telescope.

Play

The Flight of Apollo 7

This documentary looks back at Apollo 7, the first manned flight of the Apollo program. Apollo 7 was designated as the essential engineering test of the spacecraft before the ambitious lunar missions could be attempted.

Play

Become a subscriber
More video







Missile research spacecraft soars into orbit from Virginia
BY JUSTIN RAY
SPACEFLIGHT NOW
Posted: April 24, 2007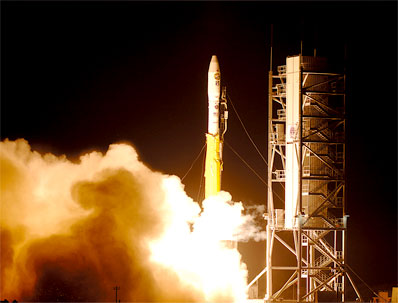 Minotaur launches with NFIRE. Credit: NASA



A data-gathering research satellite for the U.S. missile defense program successfully launched into space from the Virginia coast aboard an Orbital Sciences Minotaur 1 rocket early this morning.

The Missile Defense Agency's Near Field Infrared Experiment, or NFIRE, spacecraft lifted off from the Mid-Atlantic Regional Spaceport on Wallops Island at 2:48 a.m. EDT (0648 GMT).

An initial countdown Monday was scrubbed by a ground support equipment problem.

The Minotaur's first minutes of flight were powered by two left-over motor stages from decommissioned Minuteman 2 intercontinental ballistic missiles. They propelled the rocket on the way to space before two additional solid-propellant stages from Orbital's commercial air-launched Pegasus rocket program each fired to achieve the desired orbit of 135 by 245 nautical miles with an inclination of 48.2 degrees to the equator. 

The 1,089-pound spacecraft was deployed from the rocket about 9 minutes after liftoff, becoming the 25th satellite deployed by Minotaur.

It marked the 13th Minotaur program flight since 2000, including seven missions using the Minotaur 1 satellite-launching version and six suborbital Minotaur 2 missile test boosters flown for the military.

"We are now focused on the three upcoming Minotaur launches in the second half of this year, including two Minotaur 2 long-range target vehicles scheduled for (Missile Defense Agency) flights this summer from Vandenberg Air Force Base, California, and another Minotaur 1 mission scheduled to be launched from Wallops late in the year carrying the Air Force's TacSat 3 spacecraft," said Ron Grabe, Orbital's executive vice president and general manager of its Launch Systems Group.


| | |
| --- | --- |
| | Minotaur launches with NFIRE. Credit: NASA |
The orbiting NFIRE spacecraft will observe those future Minotaur 2 missile launches as a key part of its sensor research.

"The primary mission of the NFIRE satellite is to collect high and low resolution images of a boosting rocket to improve understanding of exhaust plume phenomenology and plume-to-rocket body discrimination," the Missile Defense Agency says.

In addition to the dedicated "fly by" imaging opportunities, NFIRE aims to take advantage of other targets, such as aircraft, rocket launches and other missile tests from a viewing distance of 60 to 600 miles.

Forest fires, volcanoes and ground-based rocket engine tests are on NFIRE's observation list for the two-year mission as well.

"The MDA will use this data to validate and update the models and simulations that are fundamental to missile defense applications. A secondary objective of the experiment is to collect hyper-temporal short wave infrared and visible data for assessing early launch detection and tracking capability," according to the agency.

The satellite's main payload is called the Track Sensor Payload. The secondary experiment onboard was provided by the German government to test laser communications for missile defense applications, officials said.

"This mission has been in the works for almost five years now, and it was impressive to watch the rocket fly into the night sky," said Col. Sam McCraw, Minotaur/NFIRE mission director and Space Test Group commander from Kirtland Air Force Base, New Mexico.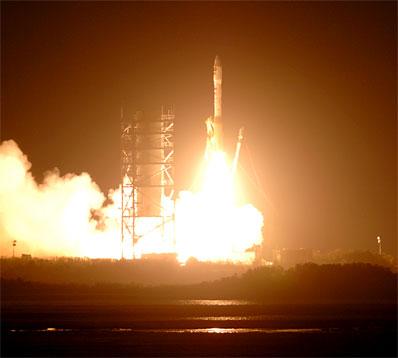 Minotaur launches with NFIRE. Credit: NASA