NewsAlert





Sign up for our NewsAlert service and have the latest news in astronomy and space e-mailed direct to your desktop.


Privacy note: your e-mail address will not be used for any other purpose.





Spaceflight Now +





Subscribe to Spaceflight Now Plus for access to our extensive video collections!
How do I sign up?
Video archive

Phoenix landing preview

Less than two weeks before the Phoenix spacecraft arrives at Mars, this previews the landing and the planned science on the planet's surface.

Presentation | Q&A

STS-82: In review

The second servicing of the Hubble Space Telescope was accomplished in Feb. 1997 when the shuttle astronauts replaced a pair of instruments and other internal equipment on the observatory.

Play

STS-81: In review

The fifth shuttle docking mission to the space station Mir launched astronaut Jerry Linenger to begin his long-duration stay on the complex and brought John Blaha back to Earth.

Play

Discovery rolls out

Discovery travels from the Vehicle Assembly Building to pad 39A in preparation for the STS-124 mission.

Play

STS-124: The programs

In advance of shuttle Discovery's STS-124 mission to the station, managers from both programs discuss the flight.

Play

STS-124: The mission

A detailed preview of Discovery's mission to deliver Japan's science laboratory Kibo to the station is provided in this briefing.

Part 1 | Part 2

STS-124: Spacewalks

Three spacewalks are planned during Discovery's STS-124 assembly mission to the station.

Play

STS-124: The Crew

The Discovery astronauts, led by commander Mark Kelly, meet the press in the traditional pre-flight news conference.

Play

Discovery to VAB

For its STS-124 mission, shuttle Discovery was transferred from its hangar to the Vehicle Assembly Building for attachment to a fuel tank and twin solid rocket boosters.

Transfer | Hoist

Complex 40 toppling

The Complex 40 mobile service tower at Cape Canaveral's former Titan rocket launch pad was toppled using explosives on April 27.

Play

Become a subscriber
More video







Data link between Phoenix and MRO restored
BY WILLIAM HARWOOD
STORY WRITTEN FOR CBS NEWS "SPACE PLACE" & USED WITH PERMISSION
Posted: May 27, 2008


A UHF radio aboard NASA's Mars Reconnaissance Orbiter suffered a transient glitch Tuesday, preventing engineers from relaying the day's flight plan to the Phoenix lander, parked near the red planet's northern polar cap. In the absence of fresh instructions, the lander executed stored commands to snap additional pictures of its surroundings while engineers worked to resolve the MRO problem. Late Tuesday, the radio was back in operation, NASA reported on its Phoenix mission web site, and a fresh set of images was relayed back to Earth.

"NASA's Mars Reconnaissance Orbiter successfully received information from the Phoenix Mars Lander Tuesday evening and relayed the information to Earth," said the NASA update. "The relayed transmission included images and other data collected by Phoenix during the mission's second day after landing on Mars."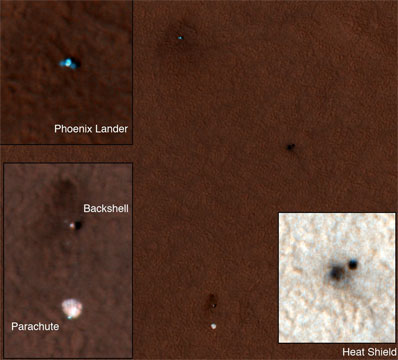 Credit: NASA/JPL-Calech/University of Arizona
See larger image here



During a news briefing earlier today, NASA also unveiled spectacular new images from MRO showing Phoenix sitting on the ruddy surface of Mars, its two solar arrays clearly visible, along with the spacecraft's discarded heat shield and parachute. The parachute, still attached to the lander's supporting back shell, also is visible in ground-level shots from Phoenix as a bright white object near the martian horizon.

The images from MRO are remarkably sharp, clearly showing how the heat shield bounced when it hit the surface and the effects of Phoenix's descent engines, which disturbed the soil around the lander as it settled to the surface.

The UHF radio problem was more of a frustration than a real concern. Phoenix also can communicate with Earth through NASA's Mars Odyssey orbiter and Odyssey already was scheduled to relay fresh commands to Phoenix on Wednesday. So instead of relaying the day 3, or sol 3, command sequence Wednesday, engineers will re-send the sol 2 sequence, which is focussed on additional images for a panorama and the initial steps to unlimber Phoenix's 7.7-foot-long robot arm.

"When this transient event occurred, the Mars Reconnaissance Orbiter is programmed to turn that radio off," Fuk Li, a senior Mars program manager at NASA's Jet Propulsion Laboratory in Pasadena, Calif., said during an afternoon briefing. "This occurred sometime this morning and we were going to uplink the set of events Phoenix would be doing. Because of that transient event, those uplinks were not accomplished. Phoenix is healthy, everything is fine. It's running out a sequence of commands that is pre-stored on board. The MRO team is in the process of analyzing what happened. They are also in the next several hours trying to turn that UHF radio back on and hopefully everything will be back to normal."

The radio was turned back on Tuesday afternoon and while the cause of the problem remains a mystery, the radio successfully relayed fresh pictures and other data back to Earth during an evening communications session around 8:30 p.m. EDT.

Earlier today, Smith passed along the first weather report from Phoenix, data collected by instruments supplied by the Canadian Space Agency. The temperature at the landing site ranges from minus 22 degrees Fahrenheit to a bitterly cold minus 112 degrees. Atmospheric pressure was 8 millibars, about 1 percent of Earth's, and winds from the northeast blew across the spacecraft at 20 mph.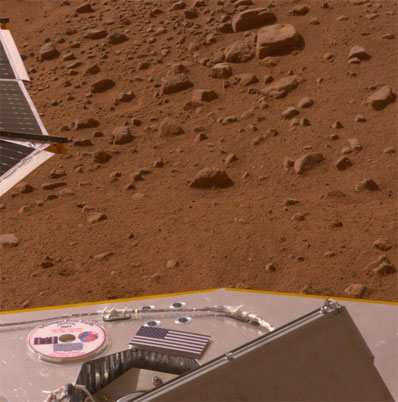 Credit: NASA/JPL-Calech/University of Arizona



"Finally, we have a picture that we released yesterday," Smith said. "It's our memorial weekend picture, it shows the American flag (on the lander's upper deck), it also shows our mini DVD that was put onto the deck (of the lander) and was provided by the Planetary Society and contains 250,000 names of interested people who really wanted to support our mission and get their names on Mars. And it also has a library of Mars-relevant books that are inside this DVD.

"This DVD will be there for a very long period of time and on the DVD it says, "astronauts please take this with you." And that's for future astronauts who may come to the polar region of Mars who knows how far in the future, maybe in the next century, we hope, maybe 5,000 years from now, maybe 100,000 years from now. But some day, somebody will come and take that DVD and be able to read the books in our little library.

"So we're very proud to be making such progress," Smith said. "It's only been a day and a half since we landed, we're already getting a good sense of what the space is around our lander. ... We're really feeling very positive about this mission and can't wait to start interacting with the soil and doing our scientific investigations."

Flight controllers hope to begin digging in the frigid martian soil next week.


Additional coverage for subscribers:


VIDEO: TUESDAY'S PICTURE AND UPDATE BRIEFING PRESENTATION | Q&A


VIDEO: MONDAY AFTERNOON'S UPDATE PRESENTATION | Q&A


VIDEO: HOW MARS ORBITER GOT THE PARACHUTE PHOTO PLAY



VIDEO: PHOENIX LANDS ON MARS! PLAY


VIDEO: MIDNIGHT POST-LANDING BRIEFING PRESENTATION | Q&A


VIDEO: POST-LANDING INTERVIEW WITH MARS PROGRAM DIR. PLAY


VIDEO: POST-LANDING INTERVIEW WITH PRINCIPAL INVESTIGATOR PLAY


VIDEO: POST-LANDING INTERVIEW WITH PROJECT MANAGER PLAY



VIDEO: SUNDAY'S PRE-LANDING STATUS PRESENTATION | Q&A


VIDEO: SATURDAY STATUS BRIEFING PRESENTATION | Q&A


VIDEO: ENTRY, DESCENT AND LANDING EXPLAINED PLAY


VIDEO: ANIMATION OF PHOENIX MISSION WITH NARRATION PLAY


VIDEO: HIGHLIGHTS FROM MARS ROVER SPIRIT'S LANDING PLAY


VIDEO: HIGHLIGHTS FROM MARS ROVER OPPORTUNITY'S LANDING PLAY


VIDEO: THURSDAY STATUS BRIEFING PRESENTATION | Q&A


VIDEO: LANDING PREVIEW BRIEFING PRESENTATION | Q&A



VIDEO: PHOENIX LAUNCHES! PLAY


VIDEO: POST-FLIGHT COMMENTS FROM LAUNCH MANAGER PLAY


VIDEO: WIDE-SCREEN FROM PATRICK AFB CAMERA PLAY


VIDEO: TRACKER FOLLOWS ROCKET TO MECO PLAY


VIDEO: LAUNCH AS SEEN FROM THE PRESS SITE PLAY


VIDEO: PAD'S MOBILE GANTRY ROLLED BACK FOR LAUNCH PLAY


VIDEO: NARRATED HIGHLIGHTS OF PHOENIX CAMPAIGN PLAY


VIDEO: NARRATED HIGHLIGHTS OF ROCKET CAMPAIGN PLAY


VIDEO: THE PRE-LAUNCH NEWS CONFERENCE PLAY


VIDEO: OVERVIEW OF PHOENIX MISSION TO MARS PLAY


SUBSCRIBE NOW