NewsAlert





Sign up for our NewsAlert service and have the latest news in astronomy and space e-mailed direct to your desktop.


Privacy note: your e-mail address will not be used for any other purpose.





Spaceflight Now +





Subscribe to Spaceflight Now Plus for access to our extensive video collections!
How do I sign up?
Video archive

Phoenix landing preview

Less than two weeks before the Phoenix spacecraft arrives at Mars, this previews the landing and the planned science on the planet's surface.

Presentation | Q&A

STS-82: In review

The second servicing of the Hubble Space Telescope was accomplished in Feb. 1997 when the shuttle astronauts replaced a pair of instruments and other internal equipment on the observatory.

Play

STS-81: In review

The fifth shuttle docking mission to the space station Mir launched astronaut Jerry Linenger to begin his long-duration stay on the complex and brought John Blaha back to Earth.

Play

Discovery rolls out

Discovery travels from the Vehicle Assembly Building to pad 39A in preparation for the STS-124 mission.

Play

STS-124: The programs

In advance of shuttle Discovery's STS-124 mission to the station, managers from both programs discuss the flight.

Play

STS-124: The mission

A detailed preview of Discovery's mission to deliver Japan's science laboratory Kibo to the station is provided in this briefing.

Part 1 | Part 2

STS-124: Spacewalks

Three spacewalks are planned during Discovery's STS-124 assembly mission to the station.

Play

STS-124: The Crew

The Discovery astronauts, led by commander Mark Kelly, meet the press in the traditional pre-flight news conference.

Play

Discovery to VAB

For its STS-124 mission, shuttle Discovery was transferred from its hangar to the Vehicle Assembly Building for attachment to a fuel tank and twin solid rocket boosters.

Transfer | Hoist

Complex 40 toppling

The Complex 40 mobile service tower at Cape Canaveral's former Titan rocket launch pad was toppled using explosives on April 27.

Play

Become a subscriber
More video







NASA managers elated with successful landing
BY WILLIAM HARWOOD
STORY WRITTEN FOR CBS NEWS "SPACE PLACE" & USED WITH PERMISSION
Posted: May 26, 2008


The Phoenix lander that touched down on Mars Sunday appears healthy and should be ready to begin digging for ice within a week or so, NASA officials said early Monday, after engineers complete initial checkout and collect more photos to help characterize the landing site.
| | |
| --- | --- |
| | On of the first color images from Phoenix shows a strip of the frigid terrain. Credit: NASA/JPL-Caltech/University of Arizona |
The first batch of pictures from Phoenix, collected shortly after touchdown, showed the craft's fully deployed solar arrays, a landing leg and various shots of the nearby surface, a flat, pebble-strewn landscape marked by shallow polygonal ridges stretching away to the horizon and a striking absence of any large rocks or hills.

Color pictures of the Phoenix landing site are available here and here.

The landing site was chosen specifically because it was flat and free of large rocks and boulders to improve the odds of a successful landing. While the region appears relatively featureless to the untrained eye, Principal Investigator Peter Smith said it was exactly what he wanted and that he is confident Phoenix's robot arm will be able to reach a layer of ice believed to be within a few inches of the surface.

"I know it looks a little like a parking lot, but that's a safe place to land, by gosh, and there aren't any big rocks!" Smith said, describing the initial photos. "I think we really nailed it. That makes it exactly the place we want to be because underneath this surface, I guarantee you, is ice. There is ice under this surface. You don't see any ice, but it's down there.

"Over the next few days, (the lander's camera will) be getting the whole scene filled in. We've only looked at one little sliver of the martian surface but it's exactly what we wanted and I couldn't be more pleased. This is a scientist's dream, right here on this landing site."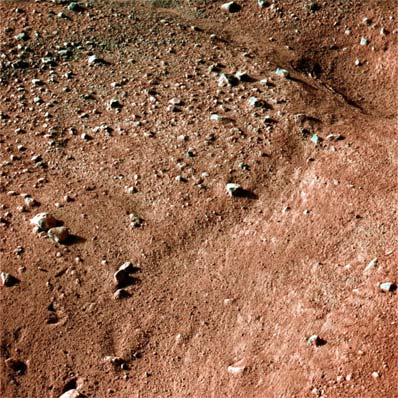 A polygonal pattern in the ground near NASA's Phoenix Mars Lander, similar in appearance to icy ground in the arctic regions of Earth. Credit: NASA/JPL-Caltech/University of Arizona.



NASA Administrator Mike Griffin praised the navigation team at the Jet Propulsion Laboratory for guiding Phoenix to what amounts to a pinpoint landing after a 422-million-mile voyage.

"Today you had a chance to watch a team in action making something that's incredibly hard to do look easy," he said. "Accuracy at entry interface had to be well inside 20 kilometers (12.5 miles) of error after a (679)-million-kilometer, round numbers, trip from Earth to Mars. That's something like fewer than one part in 10 million of accuracy. Very few things that human beings do in any walk of life are as precise and accurate as one part in 10 million. And that's the kind of accuracy and precision with which navigation is done here at JPL, at one of the technical pinnacles of the space business."

Ed Weiler, NASA's associate administrator for space science, said before entry that a rocket-powered landing on Mars was extremely difficult and that more than half the missions sent to the red planet ended in failure.

"I've been accused of being, perhaps, too cautionary by saying this wasn't a trip to grandma's house and these guys made it look so easy," he said. "I'll admit, they made it look easy. But let me remind you of the math. Before tonight, 55 percent of all landing attempts on Mars had failed. After tonight, 50 percent had failed. If you consider that routine, that's your choice.

As for the accuracy of Phoenix's navigation, Weiler said it was roughly equivalent to hitting a golf ball in New York and sinking a hole in one 10,000 miles away in Sydney, Australia

"That's not a bad shot," he said.

JPL Director Charles Elachi quickly chimed in, reminding Weiler "you have to remember that hole is moving!"

"Many people thought this would not be possible, that we would not be able to succeed," Elachi continued. "All of us knew this was a very risky mission. But tonight, this team made history and they will be remembered forever as the first people to explore the polar region of Mars. There is no telling what discoveries will be seen over the next 90 days."

Phoenix Project Manager Barry Goldstein said earlier that Sunday's landing was "better than we could have possibly wished for, everything we wanted in the telemetry, everything locked up the way we wanted. Over and over again, we rehearsed all the problems and none of them occurred. It went perfectly, just the way we designed it."

Over the next few days, while engineers check out Phoenix, collect more pictures and gear up for science operations, NASA's Mars Reconnaissance Orbiter will fly over the landing site and attempt to get pictures showing Phoenix on the surface. A 120-degree section of an eventual panorama shot by Phoenix's main camera is expected to be available Tuesday. The robot arm also is scheduled to be unlimbered Tuesday, but digging will not commence until the landing site has been photographed in detail to determine the best possible places to begin he search for ice.

"We don't claim to be able to dig down, layer by layer, through ice," Smith said. "But we can sample ice for sure. We have a rasp in the back, it's actually the kind of tool used by ice carvers, ice sculptors, so it'll cut the hardest ice. It throws the chips into the back of the scoop. We've practiced this and we know we can do it. (The ice chips) go into the ovens to be baked and if there's any organic material in it it'll come out as a vapor and we'll analyze the vapor."


Additional coverage for subscribers:


VIDEO: PHOENIX LANDS ON MARS! PLAY


VIDEO: MIDNIGHT POST-LANDING BRIEFING PRESENTATION | Q&A


VIDEO: POST-LANDING INTERVIEW WITH MARS PROGRAM DIR. PLAY


VIDEO: POST-LANDING INTERVIEW WITH PRINCIPAL INVESTIGATOR PLAY


VIDEO: POST-LANDING INTERVIEW WITH PROJECT MANAGER PLAY



VIDEO: SUNDAY'S PRE-LANDING STATUS PRESENTATION | Q&A


VIDEO: SATURDAY STATUS BRIEFING PRESENTATION | Q&A


VIDEO: ENTRY, DESCENT AND LANDING EXPLAINED PLAY


VIDEO: ANIMATION OF PHOENIX MISSION WITH NARRATION PLAY


VIDEO: HIGHLIGHTS FROM MARS ROVER SPIRIT'S LANDING PLAY


VIDEO: HIGHLIGHTS FROM MARS ROVER OPPORTUNITY'S LANDING PLAY


VIDEO: THURSDAY STATUS BRIEFING PRESENTATION | Q&A


VIDEO: LANDING PREVIEW BRIEFING PRESENTATION | Q&A



VIDEO: PHOENIX LAUNCHES! PLAY


VIDEO: POST-FLIGHT COMMENTS FROM LAUNCH MANAGER PLAY


VIDEO: WIDE-SCREEN FROM PATRICK AFB CAMERA PLAY


VIDEO: TRACKER FOLLOWS ROCKET TO MECO PLAY


VIDEO: LAUNCH AS SEEN FROM THE PRESS SITE PLAY


VIDEO: PAD'S MOBILE GANTRY ROLLED BACK FOR LAUNCH PLAY


VIDEO: NARRATED HIGHLIGHTS OF PHOENIX CAMPAIGN PLAY


VIDEO: NARRATED HIGHLIGHTS OF ROCKET CAMPAIGN PLAY


VIDEO: THE PRE-LAUNCH NEWS CONFERENCE PLAY


VIDEO: OVERVIEW OF PHOENIX MISSION TO MARS PLAY


SUBSCRIBE NOW