Tension builds for today's Phoenix landing on Mars
BY WILLIAM HARWOOD
STORY WRITTEN FOR CBS NEWS "SPACE PLACE" & USED WITH PERMISSION
Posted: May 25, 2008


Quickly picking up speed as Mars' gravity tightens its grip, NASA's Phoenix lander is hurtling toward the red planet for a nerve-wracking seven-minute parachute- and rocket-powered descent to the surface to dig for buried ice and clues about the habitability of the martian polar environment. Touchdown is expected at 7:53 p.m. EDT.

"At about 8:30 this morning Pacific time, relative to the surface, we were traveling at 6,300 miles per hour," said Project Manager Barry Goldstein. "(At 12:30 p.m.) we'll be up to about 8,500 miles per hour. Over the next four-and-a-half hours as we accelerate into the Mars gravity, it's going to be pulling us all the way up to 12,700 miles per hour as we approach the Mars atmosphere. So it takes us eight hours to get up to 12,700 miles an hour and then we have seven minutes to take that velocity down to zero."

Goldstein jokingly calls it "seven minutes of terror." But it's no joke, and that seven minutes likely will determine the fate of the $420 million mission.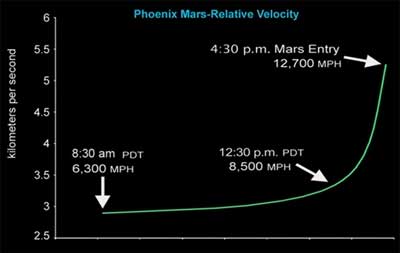 The relative velocity of Phoenix and Mars as the planet's gravity pulls it in. Credit: NASA TV



Principal Investigator Peter Smith said today that it was a bit like the old joke about a window washer who slips off his scaffolding and falls toward the pavement below. On the way down, someone asks how he's doing and the window washer replies "OK, so far."

"It's OK so far," Smith told reporters as the Phoenix spacecraft neared Mars, "and we have a parachute and we have a rocket pack. And we're going to land safely on Mars. The sky is clear, we've been watching the weather, everything is set for us, we have a sunny day. The rest of the day is, I think, just watching and waiting. ... We have sent all the commands we're going to send to the spacecraft, we're just kind of watching it go in."

Early today, engineers at the Jet Propulsion Laboratory in Pasadena, Calif., decided not to order a final course-correction rocket firing after an analysis of the craft's trajectory showed it was heading straight for the sweet spot in its target landing zone.

"We're coming in exactly where we thought we were yesterday and so things are looking good," Goldstein said.

Now all the Phoenix team can do is watch and wait. And bite their nails. Mars is 171 million miles from Earth and radio signals from the spacecraft will take 15.3 minutes to reach anxious flight controllers at JPL. The fate of the long-awaited mission is in the hands of its flight computer and the martian environment.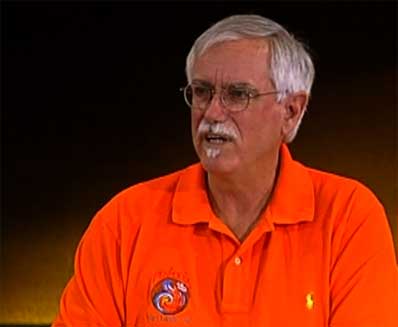 Phoenix Principal Investigator Peter Smith speaks at today's news conference. Credit: NASA TV



"What's the scariest moment for me? It's if we lose signal during descent," Smith said. "So if you see me freak out it's because we've lost the signal and we don't know what that means! If we get the signal all the way to the surface we're doing to be very happy, there's going to be tremendous cheers in the mission control room and ... that's what I expect to happen."

After separating from its interplanetary cruise stage, Phoenix will slam into the upper atmosphere of Mars at 7:46 p.m. Flight controllers hope to receive telemetry from the lander, relayed through the Mars Odyssey orbiter, throughout the descent. In addition, a radio telescope at Green Bank, W.Va., will be listening to the lander's carrier frequency as a backup.

A detailed entry and landing timeline is posted here.

"Approximately 14 minutes before touchdown, seven minutes before entry, the vehicle separates from its cruise stage," Goldstein said at a recent briefing. "At this point, we lose X-band, or direct, communication and all of our communication to the vehicle is now coming through the relay orbiters, Odyssey and the Mars Reconnaissance Orbiter. In real time, we'll be receiving data from Odyssey and doppler only (from Phoenix via Greenbank) at this point, or engineering data only at this point."

"We enter the Mars atmosphere in seven minutes and we're now traveling at 12,600 miles per hour relative to the surface of Mars. We spend four minutes going through the atmosphere, taking out 94 percent of the energy."

It's heat shield blazing at up to 2,600 degrees Fahrenheit, Phoenix will be subjected to a jarring deceleration of 9.2 times the force of Earth's gravity as it plunges toward the ground, using atmospheric friction to slow down enough to permit deployment of its main parachute at an altitude of 7.8 miles.

"By the time the heat shield has done its job, we're down to 1,100 miles per hour at which point we fire a mortar and you'll see the parachute deploy. Sixteen thousand pounds of force is what we tested that parachute to at peak force. It rides on the parachute for approximately three minutes, depending on various conditions - atmospheric density and other conditions - and about 10 seconds after we deploy the parachute is when the heat shield deploys."

Following heat shield jettison, the craft's three landing legs will unfold and snap into place and an altimeter will begin bouncing radar beams off the ground to supply critical altitude and velocity data to Phoenix's electronic brain. Within another few moments, the craft will be descending more or less directly toward the landing site, its forward velocity reduced to a relatively slow drift as it falls under its parachute.

At an altitude of about 3,215 feet and a velocity of 125 mph, the 900-pound lander will fall free of its parachute-supported backshell and within a half second, its computer will fire up 12 small rocket engines, pulsing them on an off as required to stabilize the craft, move it away from its now-discarded parachute and slow it enough for a successful landing.

At an altitude of 100 feet, the descent velocity should be a constant five miles per hour and the computer will re-orient the five-foot-wide craft as required to ensure its solar arrays, once deployed, are properly positioned to maximize power generation.

And then, if all goes well, Phoenix will drop to the surface at 7:53:52 p.m. EDT, plus or minus 46 seconds.

"After touchdown, we wait approximately 15 minutes before the solar arrays are deployed," Goldstein said. "We're waiting for the dust we will undoubtedly kick up settles down on the surface so it doesn't obscure the solar arrays. One thing that's important to note, since we are communicating with Odyssey and (Mars Reconnaissance Orbiter), they are passing overhead. So approximately one minute after touchdown we'll start losing communication with the vehicle. So it won't be until an hour and a half after touchdown that we get confirmation of solar array deployment."

If all goes well, engineers will have confirmation of a successful touchdown in near realtime. But they will have to wait for Odyssey to loop around the planet again before they'll have a chance to download stored data, including pictures of the deployed solar arrays, landing legs and, possibly, a shot of the martian horizon. That communications window opens at 9:43 p.m. and closes at 10:02 p.m. NASA plans to hold a news briefing at midnight EDT.

See the May 22 story for a detailed overview of the Phoenix mission.


Additional coverage for subscribers:


VIDEO: SATURDAY STATUS BRIEFING PRESENTATION | Q&A


VIDEO: ENTRY, DESCENT AND LANDING EXPLAINED PLAY


VIDEO: ANIMATION OF PHOENIX MISSION WITH NARRATION PLAY


VIDEO: HIGHLIGHTS FROM MARS ROVER SPIRIT'S LANDING PLAY


VIDEO: HIGHLIGHTS FROM MARS ROVER OPPORTUNITY'S LANDING PLAY


VIDEO: THURSDAY STATUS BRIEFING PRESENTATION | Q&A


VIDEO: LANDING PREVIEW BRIEFING PRESENTATION | Q&A



VIDEO: PHOENIX LAUNCHES! PLAY


VIDEO: POST-FLIGHT COMMENTS FROM LAUNCH MANAGER PLAY


VIDEO: WIDE-SCREEN FROM PATRICK AFB CAMERA PLAY


VIDEO: TRACKER FOLLOWS ROCKET TO MECO PLAY


VIDEO: LAUNCH AS SEEN FROM THE PRESS SITE PLAY


VIDEO: PAD'S MOBILE GANTRY ROLLED BACK FOR LAUNCH PLAY


VIDEO: NARRATED HIGHLIGHTS OF PHOENIX CAMPAIGN PLAY


VIDEO: NARRATED HIGHLIGHTS OF ROCKET CAMPAIGN PLAY


VIDEO: THE PRE-LAUNCH NEWS CONFERENCE PLAY


VIDEO: OVERVIEW OF PHOENIX MISSION TO MARS PLAY


SUBSCRIBE NOW