Curiosity adds backward driving to repertoire
BY STEPHEN CLARK
SPACEFLIGHT NOW
Posted: February 24, 2014


Engineers have started driving the Curiosity rover in reverse on Mars in a bid to reduce wear on the robot's six wheels, which show damage from climbing over sharp rocks on its trek across the red planet.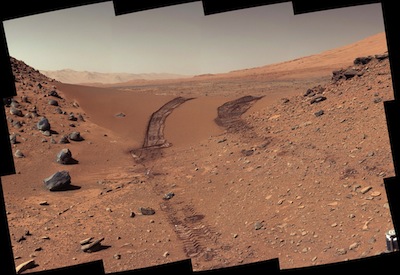 This look back at a dune that NASA's Curiosity Mars rover drove across was taken by the rover's Mast Camera (Mastcam) during the 538th Martian day, or sol, of Curiosity's work on Mars (Feb. 9, 2014). Credit: NASA/JPL-Caltech/MSSS

The one-ton rover is heading for a science waypoint at the intersection of different rock layers, where scientists may employ Curiosity's drill to collect a sample from inside a rock for analysis with the craft's miniaturized on-board laboratory.
Responding to accelerated wear and tear on the rover's six wheels, engineers altered Curiosity's path to avoid rocky terrain, taking the rover over a three-foot-high sand dune Feb. 9 and on to smoother ground to protect the aluminum wheels.
The rover completed a 329-foot backward drive Feb. 18 on the mission's first long trek in reverse, according a status report issued by NASA's Jet Propulsion Laboratory.
"We wanted to have backwards driving in our validated toolkit because there will be parts of our route that will be more challenging," said Jim Erickson, Curiosity's project manager.
Officials expect driving backward will reduce damage to the rover's wheels.
"After we got over the dune, we began driving in terrain that looks like what we expected based on the orbital data," Erickson said. "There are fewer sharp rocks, many of them are loose, and in most places there's a little bit of sand cushioning the vehicle."
Curiosity's odometer sat at 5.2 kilometers, or about 3.2 miles, after the backward drive last week.
The rover's next destination is an intermediate waypoint nicknamed "Kimberley" about a kilometer ahead, where several rock types come together, according to orbital data.
After stopping at Kimberley, managers will resume Curiosity's driving toward Mount Sharp, a three-mile-high peak thought to harbor clay minerals deposited by water long ago.
"We have changed our focus to look at the big picture for getting to the slopes of Mount Sharp, assessing different potential routes and different entry points to the destination area," Erickson said. "No route will be perfect; we need to figure out the best of the imperfect ones."
Follow Stephen Clark on Twitter: @StephenClark1.


Additional coverage for subscribers:


VIDEO: THE MARS SCIENCE LAB FULL LAUNCH EXPERIENCE PLAY | HI-DEF


VIDEO: ATLAS 5 ROCKET LAUNCHES MARS SCIENCE LAB PLAY | HI-DEF


VIDEO: ONBOARD CAMERA VIEW OF NOSE CONE JETTISON PLAY | HI-DEF


VIDEO: ONBOARD CAMERA VIEW OF THE STAGING EVENT PLAY | HI-DEF


VIDEO: ONBOARD VIEW OF ROCKET RELEASING MSL PLAY


VIDEO: LAUNCH DECLARED A SUCCESS PLAY



VIDEO: LAUNCH REPLAYS: OUR VIEW OF LIFTOFF PLAY | HI-DEF


VIDEO: LAUNCH REPLAYS: VAB ROOF PLAY | HI-DEF


VIDEO: LAUNCH REPLAYS: PATRICK AFB PLAY | HI-DEF


VIDEO: LAUNCH REPLAYS: SOUTH OF THE PAD PLAY | HI-DEF


VIDEO: LAUNCH REPLAYS: THE BEACH TRACKER PLAY | HI-DEF


VIDEO: LAUNCH REPLAYS: SHUTTLE PAD CAMERA PLAY | HI-DEF


VIDEO: LAUNCH REPLAYS: SHUTTLE WATER TOWER PLAY | HI-DEF


VIDEO: LAUNCH REPLAYS: TRACKER WEST OF THE PAD PLAY | HI-DEF


VIDEO: LAUNCH REPLAYS: CLOSE-UP ON UMBILICALS PLAY | HI-DEF


VIDEO: LAUNCH REPLAYS: COMPLEX 41 VIF PLAY | HI-DEF


VIDEO: LAUNCH REPLAYS: THE PRESS SITE PLAY | HI-DEF



VIDEO: PRE-LAUNCH INTERVIEW WITH PROJECT MANAGER PLAY | HI-DEF


VIDEO: NARRATED PREVIEW OF ATLAS 5 ASCENT PROFILE PLAY | HI-DEF


VIDEO: ROCKET'S LAUNCH CAMPAIGN HIGHLIGHTS PLAY | HI-DEF


VIDEO: MSL'S LAUNCH CAMPAIGN HIGHLIGHTS PLAY | HI-DEF


VIDEO: SPACECRAFT CLEANROOM TOUR PLAY | HI-DEF



VIDEO: ATLAS ROCKET ROLLS OUT TO LAUNCH PAD PLAY | HI-DEF


VIDEO: TIME-LAPSE VIEWS OF ROCKET ROLLOUT PLAY | HI-DEF



VIDEO: THE PRE-LAUNCH NEWS CONFERENCE PLAY


VIDEO: CURIOSITY ROVER SCIENCE BRIEFING PLAY


VIDEO: LOOKING FOR LIFE IN THE UNIVERSE PLAY


VIDEO: WHAT WE KNOW ABOUT THE RED PLANET PLAY


VIDEO: ROBOTICS AND HUMANS TO MARS TOGETHER PLAY



VIDEO: PREVIEW OF ENTRY, DESCENT AND LANDING PLAY | HI-DEF


VIDEO: PREVIEW OF CURIOSITY ROVER EXPLORING MARS PLAY | HI-DEF


VIDEO: A FLYOVER OF THE GALE CRATER LANDING SITE PLAY | HI-DEF



VIDEO: NUCLEAR GENERATOR HOISTED TO ROVER PLAY | HI-DEF


VIDEO: MARS SCIENCE LAB MOUNTED ATOP ATLAS 5 PLAY | HI-DEF


VIDEO: MOVING MSL TO ATLAS ROCKET HANGAR PLAY | HI-DEF


VIDEO: SPACECRAFT PLACED ABOARD TRANSPORTER PLAY | HI-DEF



VIDEO: APPLYING MISSION LOGOS ON THE FAIRING PLAY | HI-DEF


VIDEO: MSL ENCAPSULATED IN ROCKET'S NOSE CONE PLAY | HI-DEF


VIDEO: FINAL LOOK AT SPACECRAFT BEFORE SHROUDING PLAY | HI-DEF



VIDEO: HEAT SHIELD INSTALLED ONTO SPACECRAFT PLAY | HI-DEF


VIDEO: BEAUTY SHOTS OF SPACECRAFT PACKED UP PLAY | HI-DEF


VIDEO: ATTACHING THE RING-LIKE CRUISE STAGE PLAY | HI-DEF


VIDEO: PARACHUTE-EQUIPPED BACKSHELL INSTALLED PLAY | HI-DEF


VIDEO: SKYCRANE AND CURIOSITY MATED TOGETHER PLAY | HI-DEF



VIDEO: TWO-HALVES OF ROCKET NOSE CONE ARRIVES PLAY | HI-DEF


VIDEO: CENTAUR UPPER STAGE HOISTED ATOP ATLAS PLAY | HI-DEF


VIDEO: FINAL SOLID ROCKET BOOSTER ATTACHED PLAY | HI-DEF


VIDEO: FIRST OF FOUR SOLID BOOSTERS MOUNTED PLAY | HI-DEF


VIDEO: FIRST STAGE ERECTED ON MOBILE LAUNCHER PLAY | HI-DEF


VIDEO: STAGES DRIVEN FROM HARBOR TO THE ASOC PLAY | HI-DEF


VIDEO: ROCKET ARRIVES ABOARD SEA-GOING VESSEL PLAY | HI-DEF



VIDEO: STOWING ROVER'S INSTRUMENTED ROBOT ARM PLAY | HI-DEF


VIDEO: DEPLOYING CURIOSITY'S SIX WHEELS ON EARTH PLAY | HI-DEF


VIDEO: MMRTG PUT BACK INTO STORAGE AT SPACEPORT PLAY | HI-DEF


VIDEO: NUCLEAR GENERATOR FIT-CHECK ON THE ROVER PLAY | HI-DEF


VIDEO: ROVER'S NUCLEAR POWER SOURCE ARRIVES PLAY | HI-DEF


VIDEO: SPIN-TESTING THE RING-LIKE CRUISE STAGE PLAY | HI-DEF



VIDEO: UNCOVERING CURIOSITY ROVER IN CLEANROOM PLAY | HI-DEF


VIDEO: UNVEILING THE ROCKET-POWERED SKYCRANE PLAY | HI-DEF


VIDEO: UNBOXING THE ROVER FROM SHIPPING CRATE PLAY | HI-DEF


VIDEO: ROVER HAULED FROM RUNWAY TO PHSF FACILITY PLAY | HI-DEF


VIDEO: MARS ROVER ARRIVES AT KENNEDY SPACE CENTER PLAY | HI-DEF



VIDEO: DESCENT WEIGHTS INSTALLED ON BACKSHELL PLAY | HI-DEF


VIDEO: SOLAR ARRAY PANELS ATTACHED TO CRUISE RING PLAY | HI-DEF


SUBSCRIBE NOW