NASA conquers Curiosity computer concerns
BY STEPHEN CLARK
SPACEFLIGHT NOW
Posted: March 19, 2013


HOUSTON -- Sidelined by computer glitches since late February, NASA's Curiosity rover is on track to resume research on Mars after exiting a science-halting safe mode, officials said Tuesday.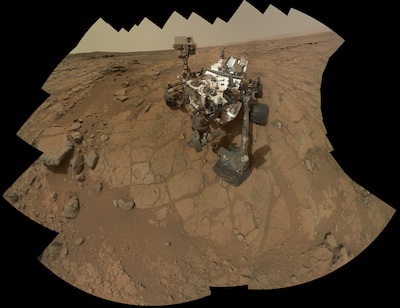 The Curiosity rover used a camera at the end of its robotic arm to take this self-portrait. Credit: NASA/JPL-Caltech/MSSS



Two safe mode events suspended Curiosity's science activities since Feb. 27. Engineers have diagnosed the cause of a safe mode disruption that occurred Saturday, and officials have a workaround in place to keep the rover from experiencing a fault like one that happened in late February.

The rover was scheduled to resume science operations as soon as Monday, according to John Grotzinger, Curiosity's project scientist at the Jet Propulsion Laboratory in Pasadena, Calif.

But the rover fell into safe mode Saturday when an on-board computer was trying to delete unnecessary files from its computer as part of standard housekeeping activities.

The computer placed the rover into safe mode when a command file failed a size-check by the rover's protective software, NASA said in a statement. Controllers discovered a software bug that attached an unrelated file to the file scheduled for deletion, causing the size mismatch.

After a straightforward fix, the rover is out of safe mode, a type of precautionary standby state, NASA announced Tuesday.

Controllers expect to restore the rover to full operability later this week and begin further analysis of rock samples acquired by Curiosity's drill.

Curiosity's science activities have been suspended since the rover entered an apparently unrelated safe mode Feb. 27. Engineers blamed the glitch in late February on corrupted memory, which prompted NASA to swap the rover from its A-side computer to a redundant B-side computer.

Engineers aren't sure what caused the memory problem, but officials have verified the A-side computer is ready to take over should a similar problem occur on the B-side computer.

"We don't know exactly what caused it yet, whether it's a hardware issue or whether it was a radiation event," Grotzinger said. "However, the engineers do know where the corruption is, and they know how to map around it."

Grotzinger discussed the rover's status Monday at the 44th Lunar and Planetary Science Conference near Houston.

Officials want to ensure both of Curiosity's computers are healthy before Mars reaches the opposite side of the sun from Earth, an event known as solar conjunction. Because Mars will pass directly behind the sun as viewed from Earth, controllers will be unable to send commands to Curiosity for four weeks beginning April 4.

"The project has also been able to upload some patches to the software on the B-side, so that what occurred on the A-side won't happen on the B-side. We feel like we're good to go with that," Grotzinger said.

Before the solar conjunction halts communications with the rover, scientists want Curiosity to complete another on-board analysis of powder extracted by the rover's drill from sedimentary mudstone at a location named Yellowknife Bay inside the Gale Crater landing site.

Curiosity's Chemistry and Mineralogy experiment, or CheMin, and the Surface Analysis at Mars, or SAM, instrument packages measure the mineral and chemical make-up of samples collected by the rover's scoop and drill.

The on-board lab's first look at the powdered drill sample detected the chemical signature of a watery environment thought to have once been habitable for microbial life. The first analysis used only a fraction of the powder gathered by the first drill activity in February.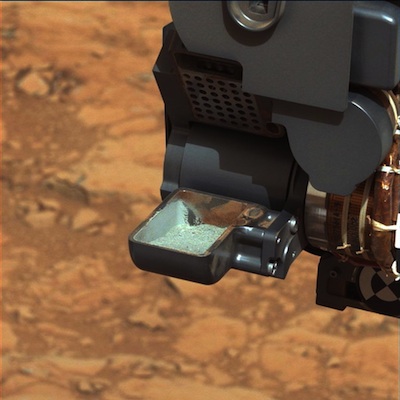 This image from NASA's Curiosity rover shows the first sample of powdered rock extracted by the rover's drill. Part of the sample was dumped into the rover's CheMin and SAM instruments, and another portion of the powder will by analyzed later this month. Credit: NASA/JPL-Caltech/MSSS



Grotzinger said a second analysis of the same sample is important to verify the result.

"You get to repeat what you did the first time and make sure it's real," he told Spaceflight Now. "Scientists do that all the time. The other thing is once we get comfortable with that, we can change the parameters of the experiment, so we can run it under different conditions and get a different result."

Controllers will program low-intensity science observations, such as weather monitoring and imaging with the rover's cameras, for Curiosity during the solar conjunction. Curiosity will transmit the data back to engineers when it is back in radio contact with Earth.

"During that time, we don't get anything because Mars is behind the sun and we don't even communicate. We don't even get any engineering data during that time," Grotzinger said.

After the conjunction ends in late April, Grotzinger said Curiosity will likely drill another hole in bedrock near its current location at Yellowknife Bay, then drive toward Mount Sharp, the rover's ultimate destination.

Mount Sharp is a three-mile-high mound at the center of Gale Crater, and data collected by Mars orbiters show the peak consists of layered clays which give researchers a glimpse into a wide chunk of the red planet's geological history.

Curiosity's primary science goal is to search for organic material, which could be embedded in Mount Sharp's sedimentary layers.


Additional coverage for subscribers:


VIDEO: THE MARS SCIENCE LAB FULL LAUNCH EXPERIENCE PLAY | HI-DEF


VIDEO: ATLAS 5 ROCKET LAUNCHES MARS SCIENCE LAB PLAY | HI-DEF


VIDEO: ONBOARD CAMERA VIEW OF NOSE CONE JETTISON PLAY | HI-DEF


VIDEO: ONBOARD CAMERA VIEW OF THE STAGING EVENT PLAY | HI-DEF


VIDEO: ONBOARD VIEW OF ROCKET RELEASING MSL PLAY


VIDEO: LAUNCH DECLARED A SUCCESS PLAY



VIDEO: LAUNCH REPLAYS: OUR VIEW OF LIFTOFF PLAY | HI-DEF


VIDEO: LAUNCH REPLAYS: VAB ROOF PLAY | HI-DEF


VIDEO: LAUNCH REPLAYS: PATRICK AFB PLAY | HI-DEF


VIDEO: LAUNCH REPLAYS: SOUTH OF THE PAD PLAY | HI-DEF


VIDEO: LAUNCH REPLAYS: THE BEACH TRACKER PLAY | HI-DEF


VIDEO: LAUNCH REPLAYS: SHUTTLE PAD CAMERA PLAY | HI-DEF


VIDEO: LAUNCH REPLAYS: SHUTTLE WATER TOWER PLAY | HI-DEF


VIDEO: LAUNCH REPLAYS: TRACKER WEST OF THE PAD PLAY | HI-DEF


VIDEO: LAUNCH REPLAYS: CLOSE-UP ON UMBILICALS PLAY | HI-DEF


VIDEO: LAUNCH REPLAYS: COMPLEX 41 VIF PLAY | HI-DEF


VIDEO: LAUNCH REPLAYS: THE PRESS SITE PLAY | HI-DEF



VIDEO: PRE-LAUNCH INTERVIEW WITH PROJECT MANAGER PLAY | HI-DEF


VIDEO: NARRATED PREVIEW OF ATLAS 5 ASCENT PROFILE PLAY | HI-DEF


VIDEO: ROCKET'S LAUNCH CAMPAIGN HIGHLIGHTS PLAY | HI-DEF


VIDEO: MSL'S LAUNCH CAMPAIGN HIGHLIGHTS PLAY | HI-DEF


VIDEO: SPACECRAFT CLEANROOM TOUR PLAY | HI-DEF



VIDEO: ATLAS ROCKET ROLLS OUT TO LAUNCH PAD PLAY | HI-DEF


VIDEO: TIME-LAPSE VIEWS OF ROCKET ROLLOUT PLAY | HI-DEF



VIDEO: THE PRE-LAUNCH NEWS CONFERENCE PLAY


VIDEO: CURIOSITY ROVER SCIENCE BRIEFING PLAY


VIDEO: LOOKING FOR LIFE IN THE UNIVERSE PLAY


VIDEO: WHAT WE KNOW ABOUT THE RED PLANET PLAY


VIDEO: ROBOTICS AND HUMANS TO MARS TOGETHER PLAY



VIDEO: PREVIEW OF ENTRY, DESCENT AND LANDING PLAY | HI-DEF


VIDEO: PREVIEW OF CURIOSITY ROVER EXPLORING MARS PLAY | HI-DEF


VIDEO: A FLYOVER OF THE GALE CRATER LANDING SITE PLAY | HI-DEF



VIDEO: NUCLEAR GENERATOR HOISTED TO ROVER PLAY | HI-DEF


VIDEO: MARS SCIENCE LAB MOUNTED ATOP ATLAS 5 PLAY | HI-DEF


VIDEO: MOVING MSL TO ATLAS ROCKET HANGAR PLAY | HI-DEF


VIDEO: SPACECRAFT PLACED ABOARD TRANSPORTER PLAY | HI-DEF



VIDEO: APPLYING MISSION LOGOS ON THE FAIRING PLAY | HI-DEF


VIDEO: MSL ENCAPSULATED IN ROCKET'S NOSE CONE PLAY | HI-DEF


VIDEO: FINAL LOOK AT SPACECRAFT BEFORE SHROUDING PLAY | HI-DEF



VIDEO: HEAT SHIELD INSTALLED ONTO SPACECRAFT PLAY | HI-DEF


VIDEO: BEAUTY SHOTS OF SPACECRAFT PACKED UP PLAY | HI-DEF


VIDEO: ATTACHING THE RING-LIKE CRUISE STAGE PLAY | HI-DEF


VIDEO: PARACHUTE-EQUIPPED BACKSHELL INSTALLED PLAY | HI-DEF


VIDEO: SKYCRANE AND CURIOSITY MATED TOGETHER PLAY | HI-DEF



VIDEO: TWO-HALVES OF ROCKET NOSE CONE ARRIVES PLAY | HI-DEF


VIDEO: CENTAUR UPPER STAGE HOISTED ATOP ATLAS PLAY | HI-DEF


VIDEO: FINAL SOLID ROCKET BOOSTER ATTACHED PLAY | HI-DEF


VIDEO: FIRST OF FOUR SOLID BOOSTERS MOUNTED PLAY | HI-DEF


VIDEO: FIRST STAGE ERECTED ON MOBILE LAUNCHER PLAY | HI-DEF


VIDEO: STAGES DRIVEN FROM HARBOR TO THE ASOC PLAY | HI-DEF


VIDEO: ROCKET ARRIVES ABOARD SEA-GOING VESSEL PLAY | HI-DEF



VIDEO: STOWING ROVER'S INSTRUMENTED ROBOT ARM PLAY | HI-DEF


VIDEO: DEPLOYING CURIOSITY'S SIX WHEELS ON EARTH PLAY | HI-DEF


VIDEO: MMRTG PUT BACK INTO STORAGE AT SPACEPORT PLAY | HI-DEF


VIDEO: NUCLEAR GENERATOR FIT-CHECK ON THE ROVER PLAY | HI-DEF


VIDEO: ROVER'S NUCLEAR POWER SOURCE ARRIVES PLAY | HI-DEF


VIDEO: SPIN-TESTING THE RING-LIKE CRUISE STAGE PLAY | HI-DEF



VIDEO: UNCOVERING CURIOSITY ROVER IN CLEANROOM PLAY | HI-DEF


VIDEO: UNVEILING THE ROCKET-POWERED SKYCRANE PLAY | HI-DEF


VIDEO: UNBOXING THE ROVER FROM SHIPPING CRATE PLAY | HI-DEF


VIDEO: ROVER HAULED FROM RUNWAY TO PHSF FACILITY PLAY | HI-DEF


VIDEO: MARS ROVER ARRIVES AT KENNEDY SPACE CENTER PLAY | HI-DEF



VIDEO: DESCENT WEIGHTS INSTALLED ON BACKSHELL PLAY | HI-DEF


VIDEO: SOLAR ARRAY PANELS ATTACHED TO CRUISE RING PLAY | HI-DEF


SUBSCRIBE NOW