Mars rover finds habitable environment in distant past
BY WILLIAM HARWOOD
STORY WRITTEN FOR CBS NEWS "SPACE PLACE" & USED WITH PERMISSION
Posted: March 12, 2013


Analyzing powdered samples drilled from the interior of a sedimentary rock, the Curiosity Mars rover has detected traces of the chemicals and compounds necessary for a habitable environment in the red planet's distant past, scientists reported Tuesday.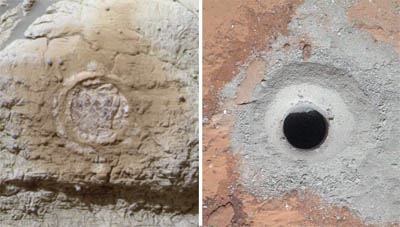 This set of images shows the results from the rock abrasion tool from NASA's Mars rover Opportunity (left) and the drill from Curiosity (right). Note how the rock grindings from Opportunity are brownish red, indicating the presence of hematite, a strongly oxidized iron-bearing mineral.Credit: NASA/JPL-Caltech/Cornell/MSSS



Whether life ever managed to evolve on Mars remains an open question, but the environment characterized by Curiosity's instruments, an area where water once flowed and pooled, could have supported microbial life as it is known on Earth.

"The key thing here is an environment a microbe could have lived in and might have even prospered in," John Grotzinger, the Mars Science Laboratory project scientist, said during a news conference at NASA Headquarters.

Answering questions later, he added that "we have found a habitable environment that is so benign and supportive of life that probably if this water was around and you had been on the planet, you would have been able to drink it."

Asked if Mars might have been habitable at the same time life was developing on Earth, Grotzinger said "we're talking about older than 3 billion years ago, and we're probably looking at a situation where plus or minus a couple of hundred million years, it's about the time we start seeing the first record of life preserved on Earth."

Exploring the rocky floor of Gale Crater near its landing site, Curiosity used its impact drill for the first time earlier this year, boring into fine-grain mudstone in an area known as Yellowknife Bay where water once flowed and percolated.

Powdered rock from the interior of the target mudstone then was fed into the rover's analytical instruments for a detailed chemical analysis.

It was the first time in the history of Mars exploration that pristine samples from the interior of a rock, unaffected by weathering and other environmental factors, have been collected.

Based on analysis by Curiosity's Chemistry and Mineralogy experiment (CheMin) and the Surface Analysis at Mars (SAM) instrument package, researchers believe they have detected the chemical signature -- sulfur, nitrogen, hydrogen, oxygen, phosphorus and carbon -- of a stream or lakebed environment that was habitable when the material was deposited.

"We've been able to take this to the next level of understanding whether or not Mars was habitable," said Michael Meyer, lead Mars scientist at NASA headquarters.

"It's not just a broad brush, oh yeah, there's water and yeah, there's rocks," he said. "We actually know ... water was there for a significant amount of time, that it was neutral, that it wasn't too salty. There was plenty of water for microorganisms to use, if they were there."

Grotzinger said the rover team will have to wait until May to take another drill sample because the positions of Earth and Mars in their orbits around the sun will make communications difficult during April.

Engineers also want to complete troubleshooting to figure out what caused a memory glitch with one of Curiosity's two redundant flight computers. Science operations have been suspended pending work to recover the corrupted memory and engineers are optimistic the problem will be resolved soon.

At least one additional drill sample is wanted to expand on the initial results and to help make sure any traces of Earth's environment that might have made it to Mars aboard Curiosity have been flushed from the system. Scientists also want to search for additional signs of organic carbon, one of the essential ingredients of life as it is known on Earth.

Depending on the results, additional samples could be collected, but Grotzinger said the team is eager to begin the long-awaited trek to Mount Sharp, a towering mound of sedimentary rock in the center of Gale Crater that remains the mission's primary objective.

"What we can do now, with the issue of habitability in the bag, we can undertake a more systematic search for a brighter carbon signal," Grotzinger said. "The search for organic carbon is an (objective) of this mission and you want to do this as deliberately as possible. You don't want to just wander around and try stuff out."

The problem is that "sometimes when you make these minerals and chemicals, they actually use the organics," Grotzinger said. "So they can be degraded. And then you leave the rock sitting around for a couple of billion years and it's getting bombarded by radiation.

"This is not a simple problem, and it's going to take us a while," he said. "But I think the mission is up to it, and we're really excited to get started on that now."


Additional coverage for subscribers:


VIDEO: THE MARS SCIENCE LAB FULL LAUNCH EXPERIENCE PLAY | HI-DEF


VIDEO: ATLAS 5 ROCKET LAUNCHES MARS SCIENCE LAB PLAY | HI-DEF


VIDEO: ONBOARD CAMERA VIEW OF NOSE CONE JETTISON PLAY | HI-DEF


VIDEO: ONBOARD CAMERA VIEW OF THE STAGING EVENT PLAY | HI-DEF


VIDEO: ONBOARD VIEW OF ROCKET RELEASING MSL PLAY


VIDEO: LAUNCH DECLARED A SUCCESS PLAY



VIDEO: LAUNCH REPLAYS: OUR VIEW OF LIFTOFF PLAY | HI-DEF


VIDEO: LAUNCH REPLAYS: VAB ROOF PLAY | HI-DEF


VIDEO: LAUNCH REPLAYS: PATRICK AFB PLAY | HI-DEF


VIDEO: LAUNCH REPLAYS: SOUTH OF THE PAD PLAY | HI-DEF


VIDEO: LAUNCH REPLAYS: THE BEACH TRACKER PLAY | HI-DEF


VIDEO: LAUNCH REPLAYS: SHUTTLE PAD CAMERA PLAY | HI-DEF


VIDEO: LAUNCH REPLAYS: SHUTTLE WATER TOWER PLAY | HI-DEF


VIDEO: LAUNCH REPLAYS: TRACKER WEST OF THE PAD PLAY | HI-DEF


VIDEO: LAUNCH REPLAYS: CLOSE-UP ON UMBILICALS PLAY | HI-DEF


VIDEO: LAUNCH REPLAYS: COMPLEX 41 VIF PLAY | HI-DEF


VIDEO: LAUNCH REPLAYS: THE PRESS SITE PLAY | HI-DEF



VIDEO: PRE-LAUNCH INTERVIEW WITH PROJECT MANAGER PLAY | HI-DEF


VIDEO: NARRATED PREVIEW OF ATLAS 5 ASCENT PROFILE PLAY | HI-DEF


VIDEO: ROCKET'S LAUNCH CAMPAIGN HIGHLIGHTS PLAY | HI-DEF


VIDEO: MSL'S LAUNCH CAMPAIGN HIGHLIGHTS PLAY | HI-DEF


VIDEO: SPACECRAFT CLEANROOM TOUR PLAY | HI-DEF



VIDEO: ATLAS ROCKET ROLLS OUT TO LAUNCH PAD PLAY | HI-DEF


VIDEO: TIME-LAPSE VIEWS OF ROCKET ROLLOUT PLAY | HI-DEF



VIDEO: THE PRE-LAUNCH NEWS CONFERENCE PLAY


VIDEO: CURIOSITY ROVER SCIENCE BRIEFING PLAY


VIDEO: LOOKING FOR LIFE IN THE UNIVERSE PLAY


VIDEO: WHAT WE KNOW ABOUT THE RED PLANET PLAY


VIDEO: ROBOTICS AND HUMANS TO MARS TOGETHER PLAY



VIDEO: PREVIEW OF ENTRY, DESCENT AND LANDING PLAY | HI-DEF


VIDEO: PREVIEW OF CURIOSITY ROVER EXPLORING MARS PLAY | HI-DEF


VIDEO: A FLYOVER OF THE GALE CRATER LANDING SITE PLAY | HI-DEF



VIDEO: NUCLEAR GENERATOR HOISTED TO ROVER PLAY | HI-DEF


VIDEO: MARS SCIENCE LAB MOUNTED ATOP ATLAS 5 PLAY | HI-DEF


VIDEO: MOVING MSL TO ATLAS ROCKET HANGAR PLAY | HI-DEF


VIDEO: SPACECRAFT PLACED ABOARD TRANSPORTER PLAY | HI-DEF



VIDEO: APPLYING MISSION LOGOS ON THE FAIRING PLAY | HI-DEF


VIDEO: MSL ENCAPSULATED IN ROCKET'S NOSE CONE PLAY | HI-DEF


VIDEO: FINAL LOOK AT SPACECRAFT BEFORE SHROUDING PLAY | HI-DEF



VIDEO: HEAT SHIELD INSTALLED ONTO SPACECRAFT PLAY | HI-DEF


VIDEO: BEAUTY SHOTS OF SPACECRAFT PACKED UP PLAY | HI-DEF


VIDEO: ATTACHING THE RING-LIKE CRUISE STAGE PLAY | HI-DEF


VIDEO: PARACHUTE-EQUIPPED BACKSHELL INSTALLED PLAY | HI-DEF


VIDEO: SKYCRANE AND CURIOSITY MATED TOGETHER PLAY | HI-DEF



VIDEO: TWO-HALVES OF ROCKET NOSE CONE ARRIVES PLAY | HI-DEF


VIDEO: CENTAUR UPPER STAGE HOISTED ATOP ATLAS PLAY | HI-DEF


VIDEO: FINAL SOLID ROCKET BOOSTER ATTACHED PLAY | HI-DEF


VIDEO: FIRST OF FOUR SOLID BOOSTERS MOUNTED PLAY | HI-DEF


VIDEO: FIRST STAGE ERECTED ON MOBILE LAUNCHER PLAY | HI-DEF


VIDEO: STAGES DRIVEN FROM HARBOR TO THE ASOC PLAY | HI-DEF


VIDEO: ROCKET ARRIVES ABOARD SEA-GOING VESSEL PLAY | HI-DEF



VIDEO: STOWING ROVER'S INSTRUMENTED ROBOT ARM PLAY | HI-DEF


VIDEO: DEPLOYING CURIOSITY'S SIX WHEELS ON EARTH PLAY | HI-DEF


VIDEO: MMRTG PUT BACK INTO STORAGE AT SPACEPORT PLAY | HI-DEF


VIDEO: NUCLEAR GENERATOR FIT-CHECK ON THE ROVER PLAY | HI-DEF


VIDEO: ROVER'S NUCLEAR POWER SOURCE ARRIVES PLAY | HI-DEF


VIDEO: SPIN-TESTING THE RING-LIKE CRUISE STAGE PLAY | HI-DEF



VIDEO: UNCOVERING CURIOSITY ROVER IN CLEANROOM PLAY | HI-DEF


VIDEO: UNVEILING THE ROCKET-POWERED SKYCRANE PLAY | HI-DEF


VIDEO: UNBOXING THE ROVER FROM SHIPPING CRATE PLAY | HI-DEF


VIDEO: ROVER HAULED FROM RUNWAY TO PHSF FACILITY PLAY | HI-DEF


VIDEO: MARS ROVER ARRIVES AT KENNEDY SPACE CENTER PLAY | HI-DEF



VIDEO: DESCENT WEIGHTS INSTALLED ON BACKSHELL PLAY | HI-DEF


VIDEO: SOLAR ARRAY PANELS ATTACHED TO CRUISE RING PLAY | HI-DEF


SUBSCRIBE NOW