Curiosity sniffs Martian air, but finds no methane
BY STEPHEN CLARK
SPACEFLIGHT NOW
Posted: November 2, 2012


Scientists on Friday reported the Curiosity rover's first whiffs of the Martian atmosphere have turned up no sign of methane, an object of fascination from many scientists due to its ramifications on the search for life on Mars.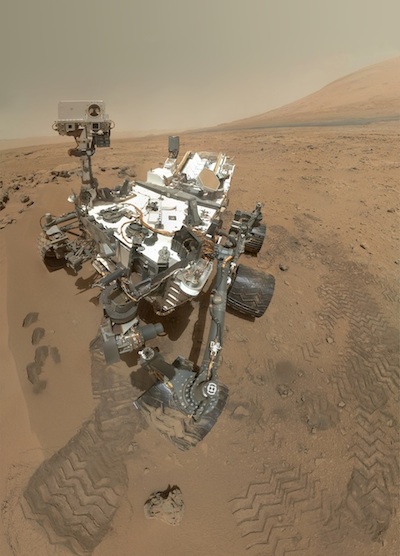 Curiosity's self-portrait. Credit: NASA/JPL-Caltech/MSSS



Observations from Earth and from Europe's Mars Express orbiter have pointed toward off-and-on methane in the red planet's atmosphere. A tunable laser spectrometer on Curiosity ingested Martian air on four nights since August to weigh in on the methane question.

"The bottom line is that we have no detection of methane so far," said Chris Webster, a scientist at NASA's Jet Propulsion Laboratory. "But we intend to keep looking in the months ahead since Mars may continue to hold surprises for us."

The announcement Friday may well suppress the hopes of many scientists. Potential sources of Martian methane could be microbial life or geologic interactions between water and rocks.

More than 90 percent of methane in Earth's atmosphere comes from biological activity.

But scientists said they were not surprised by the results of Curiosity's initial search for methane. The team did not go into the mission with any expectations, according to Sushil Atreya from the University of Michigan, co-investigator for the rover's Sample Analysis at Mars - or SAM - instrument.

After initial methane detections from ground-based data in 2003, follow-up observations showed the methane almost completely vanished by 2006, indicating its concentrations could change with Martian seasons.

Scientists expected methane would stay in the Martian atmosphere for up to 300 years, but the extremely variability of the measurements indicate Mars must have unexpected methane sinks - regions or methods in which the gas is absorbed or destroyed.

While earlier measurements detected methane abundances of up to 50 parts per billion, Curiosity's search found no methane down to at least 5 parts per billion, Webster said.

"At this time, we don't have a positive detection of methane on Mars," Atreya said. "But that could change over time, depending on how methane is produced and how it is destroyed on Mars."

Scientists said they would use the SAM instrument for more atmospheric measurements over the next few months in hopes of catching a whiff of methane as Martian seasons change.

SAM's tunable laser spectrometer has 100 times better spectral resolution than any other instrument which has ever studied the Mars methane mystery, according to Webster.

The spectrometer's first atmospheric measurement detected a higher concentration of methane, but scientists believe the signature was from air from Earth still inside the instrument chamber.

Later measurements cleansed the chamber of Earth air, and the methane signal dropped, Webster said.

"No matter what we find in the end, it will be a significant result," Atreya said. So stay tuned. The story of methane has just begun and its not over."

Officials said the next step for the SAM instrument is to feed the sensor its first soil sample for analysis.


Additional coverage for subscribers:


VIDEO: THE MARS SCIENCE LAB FULL LAUNCH EXPERIENCE PLAY | HI-DEF


VIDEO: ATLAS 5 ROCKET LAUNCHES MARS SCIENCE LAB PLAY | HI-DEF


VIDEO: ONBOARD CAMERA VIEW OF NOSE CONE JETTISON PLAY | HI-DEF


VIDEO: ONBOARD CAMERA VIEW OF THE STAGING EVENT PLAY | HI-DEF


VIDEO: ONBOARD VIEW OF ROCKET RELEASING MSL PLAY


VIDEO: LAUNCH DECLARED A SUCCESS PLAY



VIDEO: LAUNCH REPLAYS: OUR VIEW OF LIFTOFF PLAY | HI-DEF


VIDEO: LAUNCH REPLAYS: VAB ROOF PLAY | HI-DEF


VIDEO: LAUNCH REPLAYS: PATRICK AFB PLAY | HI-DEF


VIDEO: LAUNCH REPLAYS: SOUTH OF THE PAD PLAY | HI-DEF


VIDEO: LAUNCH REPLAYS: THE BEACH TRACKER PLAY | HI-DEF


VIDEO: LAUNCH REPLAYS: SHUTTLE PAD CAMERA PLAY | HI-DEF


VIDEO: LAUNCH REPLAYS: SHUTTLE WATER TOWER PLAY | HI-DEF


VIDEO: LAUNCH REPLAYS: TRACKER WEST OF THE PAD PLAY | HI-DEF


VIDEO: LAUNCH REPLAYS: CLOSE-UP ON UMBILICALS PLAY | HI-DEF


VIDEO: LAUNCH REPLAYS: COMPLEX 41 VIF PLAY | HI-DEF


VIDEO: LAUNCH REPLAYS: THE PRESS SITE PLAY | HI-DEF



VIDEO: PRE-LAUNCH INTERVIEW WITH PROJECT MANAGER PLAY | HI-DEF


VIDEO: NARRATED PREVIEW OF ATLAS 5 ASCENT PROFILE PLAY | HI-DEF


VIDEO: ROCKET'S LAUNCH CAMPAIGN HIGHLIGHTS PLAY | HI-DEF


VIDEO: MSL'S LAUNCH CAMPAIGN HIGHLIGHTS PLAY | HI-DEF


VIDEO: SPACECRAFT CLEANROOM TOUR PLAY | HI-DEF



VIDEO: ATLAS ROCKET ROLLS OUT TO LAUNCH PAD PLAY | HI-DEF


VIDEO: TIME-LAPSE VIEWS OF ROCKET ROLLOUT PLAY | HI-DEF



VIDEO: THE PRE-LAUNCH NEWS CONFERENCE PLAY


VIDEO: CURIOSITY ROVER SCIENCE BRIEFING PLAY


VIDEO: LOOKING FOR LIFE IN THE UNIVERSE PLAY


VIDEO: WHAT WE KNOW ABOUT THE RED PLANET PLAY


VIDEO: ROBOTICS AND HUMANS TO MARS TOGETHER PLAY



VIDEO: PREVIEW OF ENTRY, DESCENT AND LANDING PLAY | HI-DEF


VIDEO: PREVIEW OF CURIOSITY ROVER EXPLORING MARS PLAY | HI-DEF


VIDEO: A FLYOVER OF THE GALE CRATER LANDING SITE PLAY | HI-DEF



VIDEO: NUCLEAR GENERATOR HOISTED TO ROVER PLAY | HI-DEF


VIDEO: MARS SCIENCE LAB MOUNTED ATOP ATLAS 5 PLAY | HI-DEF


VIDEO: MOVING MSL TO ATLAS ROCKET HANGAR PLAY | HI-DEF


VIDEO: SPACECRAFT PLACED ABOARD TRANSPORTER PLAY | HI-DEF



VIDEO: APPLYING MISSION LOGOS ON THE FAIRING PLAY | HI-DEF


VIDEO: MSL ENCAPSULATED IN ROCKET'S NOSE CONE PLAY | HI-DEF


VIDEO: FINAL LOOK AT SPACECRAFT BEFORE SHROUDING PLAY | HI-DEF



VIDEO: HEAT SHIELD INSTALLED ONTO SPACECRAFT PLAY | HI-DEF


VIDEO: BEAUTY SHOTS OF SPACECRAFT PACKED UP PLAY | HI-DEF


VIDEO: ATTACHING THE RING-LIKE CRUISE STAGE PLAY | HI-DEF


VIDEO: PARACHUTE-EQUIPPED BACKSHELL INSTALLED PLAY | HI-DEF


VIDEO: SKYCRANE AND CURIOSITY MATED TOGETHER PLAY | HI-DEF



VIDEO: TWO-HALVES OF ROCKET NOSE CONE ARRIVES PLAY | HI-DEF


VIDEO: CENTAUR UPPER STAGE HOISTED ATOP ATLAS PLAY | HI-DEF


VIDEO: FINAL SOLID ROCKET BOOSTER ATTACHED PLAY | HI-DEF


VIDEO: FIRST OF FOUR SOLID BOOSTERS MOUNTED PLAY | HI-DEF


VIDEO: FIRST STAGE ERECTED ON MOBILE LAUNCHER PLAY | HI-DEF


VIDEO: STAGES DRIVEN FROM HARBOR TO THE ASOC PLAY | HI-DEF


VIDEO: ROCKET ARRIVES ABOARD SEA-GOING VESSEL PLAY | HI-DEF



VIDEO: STOWING ROVER'S INSTRUMENTED ROBOT ARM PLAY | HI-DEF


VIDEO: DEPLOYING CURIOSITY'S SIX WHEELS ON EARTH PLAY | HI-DEF


VIDEO: MMRTG PUT BACK INTO STORAGE AT SPACEPORT PLAY | HI-DEF


VIDEO: NUCLEAR GENERATOR FIT-CHECK ON THE ROVER PLAY | HI-DEF


VIDEO: ROVER'S NUCLEAR POWER SOURCE ARRIVES PLAY | HI-DEF


VIDEO: SPIN-TESTING THE RING-LIKE CRUISE STAGE PLAY | HI-DEF



VIDEO: UNCOVERING CURIOSITY ROVER IN CLEANROOM PLAY | HI-DEF


VIDEO: UNVEILING THE ROCKET-POWERED SKYCRANE PLAY | HI-DEF


VIDEO: UNBOXING THE ROVER FROM SHIPPING CRATE PLAY | HI-DEF


VIDEO: ROVER HAULED FROM RUNWAY TO PHSF FACILITY PLAY | HI-DEF


VIDEO: MARS ROVER ARRIVES AT KENNEDY SPACE CENTER PLAY | HI-DEF



VIDEO: DESCENT WEIGHTS INSTALLED ON BACKSHELL PLAY | HI-DEF


VIDEO: SOLAR ARRAY PANELS ATTACHED TO CRUISE RING PLAY | HI-DEF


SUBSCRIBE NOW