Mars craft bring weather stations to the red planet
BY STEPHEN CLARK
SPACEFLIGHT NOW
Posted: August 27, 2012


Amid its rock-zapping duties and choreographed test drives, the Curiosity rover's weather station is logging sharp temperature swings, wind gusts and pressure changes to create an enduring record of Martian climate.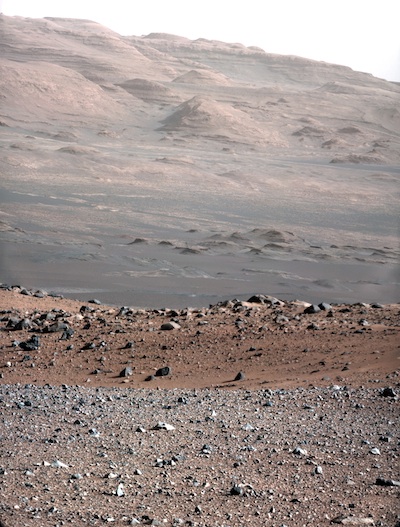 Credit: NASA/JPL-Caltech/MSSS



Every lander NASA has dispatched to Mars has carried weather instruments, but the sensors aboard Curiosity have better accuracy and measure more conditions than any mission before.

The weather station, provided by Spain with participation from Finland, includes a collection of sensors to track temperatures, winds, air pressure, relative humidity, and ultraviolet radiation.

An instrumented package on Curiosity's vertical mast has recorded temperatures soaring near 32 degrees Fahrenheit in the afternoon on Mars. Early morning lows have fallen below minus 100 degrees Fahrenheit.

The ground temperatures beneath the rover, measured using an infrared detector, varies even more than the air temperature. During peak heating, the ground temperature reaches above freezing.

Pressure readings have averaged around 7 millibars - less than 1 percent of the pressure at sea level on Earth. Winds so far have been light and variable, according to Curiosity's weather data.

The relative humidity averages less than 10 percent.

Once operational, REMS data will be posted daily here.

"We're understanding what it's like to be in late winter and early spring on Mars," said Ashwin Vasavada, deputy project scientist for the Curiosity mission. "Fantastic data so far."

Curiosity's landing site in Gale crater, which is positioned just south of the Martian equator, is now in winter. Spring begins with an equinox in September.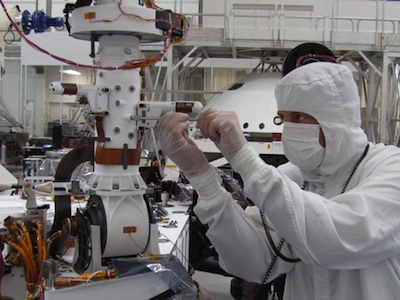 The REMS boom in pre-flight imagery. Credit: NASA



The Spanish-led meteorological suite - formally known as the Rover Environmental Monitoring Station, or REMS - is designed to take measurements at least five minutes of every hour during Curiosity's two-year mission.

"It will be operational for a long period of time," said Javier Gomez-Elvira, REMS principal investigator at the Center for Astrobiology in Madrid. "We need to send data every hour, every day, and every month for the years it is on Mars."

One of the instrument's wind sensors is not functional, and although the cause of the glitch may never be known for sure, officials attribute the failure to damage the instrument likely received during Curiosity's rocket-assisted touchdown on Aug. 6.

The rover's rocket pack may have launched pebbles or rocks airborne, and some debris may have struck the wind sensor's delicate exposed circuitry on a boom mounted on Curiosity's mast, according to Vasavada, who said the failure would degrade, but not eliminate, the mission's ability to measure wind speed and direction.

"The wind parameter is quite important to describe Mars meteorology, understand the atmosphere around the rover and the convective process," Gomez-Elvira said. "Many scientific aspects involve the wind."


Additional coverage for subscribers:


VIDEO: THE MARS SCIENCE LAB FULL LAUNCH EXPERIENCE PLAY | HI-DEF


VIDEO: ATLAS 5 ROCKET LAUNCHES MARS SCIENCE LAB PLAY | HI-DEF


VIDEO: ONBOARD CAMERA VIEW OF NOSE CONE JETTISON PLAY | HI-DEF


VIDEO: ONBOARD CAMERA VIEW OF THE STAGING EVENT PLAY | HI-DEF


VIDEO: ONBOARD VIEW OF ROCKET RELEASING MSL PLAY


VIDEO: LAUNCH DECLARED A SUCCESS PLAY



VIDEO: LAUNCH REPLAYS: OUR VIEW OF LIFTOFF PLAY | HI-DEF


VIDEO: LAUNCH REPLAYS: VAB ROOF PLAY | HI-DEF


VIDEO: LAUNCH REPLAYS: PATRICK AFB PLAY | HI-DEF


VIDEO: LAUNCH REPLAYS: SOUTH OF THE PAD PLAY | HI-DEF


VIDEO: LAUNCH REPLAYS: THE BEACH TRACKER PLAY | HI-DEF


VIDEO: LAUNCH REPLAYS: SHUTTLE PAD CAMERA PLAY | HI-DEF


VIDEO: LAUNCH REPLAYS: SHUTTLE WATER TOWER PLAY | HI-DEF


VIDEO: LAUNCH REPLAYS: TRACKER WEST OF THE PAD PLAY | HI-DEF


VIDEO: LAUNCH REPLAYS: CLOSE-UP ON UMBILICALS PLAY | HI-DEF


VIDEO: LAUNCH REPLAYS: COMPLEX 41 VIF PLAY | HI-DEF


VIDEO: LAUNCH REPLAYS: THE PRESS SITE PLAY | HI-DEF



VIDEO: PRE-LAUNCH INTERVIEW WITH PROJECT MANAGER PLAY | HI-DEF


VIDEO: NARRATED PREVIEW OF ATLAS 5 ASCENT PROFILE PLAY | HI-DEF


VIDEO: ROCKET'S LAUNCH CAMPAIGN HIGHLIGHTS PLAY | HI-DEF


VIDEO: MSL'S LAUNCH CAMPAIGN HIGHLIGHTS PLAY | HI-DEF


VIDEO: SPACECRAFT CLEANROOM TOUR PLAY | HI-DEF



VIDEO: ATLAS ROCKET ROLLS OUT TO LAUNCH PAD PLAY | HI-DEF


VIDEO: TIME-LAPSE VIEWS OF ROCKET ROLLOUT PLAY | HI-DEF



VIDEO: THE PRE-LAUNCH NEWS CONFERENCE PLAY


VIDEO: CURIOSITY ROVER SCIENCE BRIEFING PLAY


VIDEO: LOOKING FOR LIFE IN THE UNIVERSE PLAY


VIDEO: WHAT WE KNOW ABOUT THE RED PLANET PLAY


VIDEO: ROBOTICS AND HUMANS TO MARS TOGETHER PLAY



VIDEO: PREVIEW OF ENTRY, DESCENT AND LANDING PLAY | HI-DEF


VIDEO: PREVIEW OF CURIOSITY ROVER EXPLORING MARS PLAY | HI-DEF


VIDEO: A FLYOVER OF THE GALE CRATER LANDING SITE PLAY | HI-DEF



VIDEO: NUCLEAR GENERATOR HOISTED TO ROVER PLAY | HI-DEF


VIDEO: MARS SCIENCE LAB MOUNTED ATOP ATLAS 5 PLAY | HI-DEF


VIDEO: MOVING MSL TO ATLAS ROCKET HANGAR PLAY | HI-DEF


VIDEO: SPACECRAFT PLACED ABOARD TRANSPORTER PLAY | HI-DEF



VIDEO: APPLYING MISSION LOGOS ON THE FAIRING PLAY | HI-DEF


VIDEO: MSL ENCAPSULATED IN ROCKET'S NOSE CONE PLAY | HI-DEF


VIDEO: FINAL LOOK AT SPACECRAFT BEFORE SHROUDING PLAY | HI-DEF



VIDEO: HEAT SHIELD INSTALLED ONTO SPACECRAFT PLAY | HI-DEF


VIDEO: BEAUTY SHOTS OF SPACECRAFT PACKED UP PLAY | HI-DEF


VIDEO: ATTACHING THE RING-LIKE CRUISE STAGE PLAY | HI-DEF


VIDEO: PARACHUTE-EQUIPPED BACKSHELL INSTALLED PLAY | HI-DEF


VIDEO: SKYCRANE AND CURIOSITY MATED TOGETHER PLAY | HI-DEF



VIDEO: TWO-HALVES OF ROCKET NOSE CONE ARRIVES PLAY | HI-DEF


VIDEO: CENTAUR UPPER STAGE HOISTED ATOP ATLAS PLAY | HI-DEF


VIDEO: FINAL SOLID ROCKET BOOSTER ATTACHED PLAY | HI-DEF


VIDEO: FIRST OF FOUR SOLID BOOSTERS MOUNTED PLAY | HI-DEF


VIDEO: FIRST STAGE ERECTED ON MOBILE LAUNCHER PLAY | HI-DEF


VIDEO: STAGES DRIVEN FROM HARBOR TO THE ASOC PLAY | HI-DEF


VIDEO: ROCKET ARRIVES ABOARD SEA-GOING VESSEL PLAY | HI-DEF



VIDEO: STOWING ROVER'S INSTRUMENTED ROBOT ARM PLAY | HI-DEF


VIDEO: DEPLOYING CURIOSITY'S SIX WHEELS ON EARTH PLAY | HI-DEF


VIDEO: MMRTG PUT BACK INTO STORAGE AT SPACEPORT PLAY | HI-DEF


VIDEO: NUCLEAR GENERATOR FIT-CHECK ON THE ROVER PLAY | HI-DEF


VIDEO: ROVER'S NUCLEAR POWER SOURCE ARRIVES PLAY | HI-DEF


VIDEO: SPIN-TESTING THE RING-LIKE CRUISE STAGE PLAY | HI-DEF



VIDEO: UNCOVERING CURIOSITY ROVER IN CLEANROOM PLAY | HI-DEF


VIDEO: UNVEILING THE ROCKET-POWERED SKYCRANE PLAY | HI-DEF


VIDEO: UNBOXING THE ROVER FROM SHIPPING CRATE PLAY | HI-DEF


VIDEO: ROVER HAULED FROM RUNWAY TO PHSF FACILITY PLAY | HI-DEF


VIDEO: MARS ROVER ARRIVES AT KENNEDY SPACE CENTER PLAY | HI-DEF



VIDEO: DESCENT WEIGHTS INSTALLED ON BACKSHELL PLAY | HI-DEF


VIDEO: SOLAR ARRAY PANELS ATTACHED TO CRUISE RING PLAY | HI-DEF


SUBSCRIBE NOW