Major news from Mars rover to be announced Tuesday
BY SPACEFLIGHT NOW
Posted: March 1, 2004


Tuesday promises to be a pivotal day in Mars exploration as NASA announces "significant findings" from the Opportunity rover.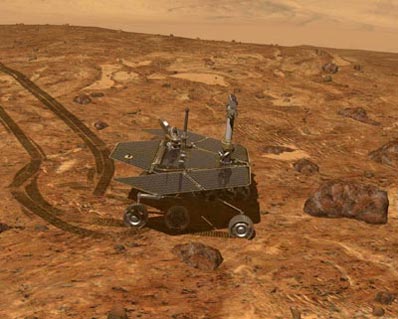 An artist's concept of Mars Exploration Rover. Credit: NASA/JPL



The $400 million craft landed in the Meridiani Planum equatorial region of Mars on January 25, scoring an interplanetary hole in one by coming to rest inside a bowl-shaped crater. Exposed bedrock in the crater walls has been the subject of examination by Opportunity, in addition to the soil, odd spherical objects and the presence of a mineral, called gray hematite, that typically forms in water.

Opportunity and its twin rover Spirit working on the opposite side of Mars were dispatched as robotic geologists to find evidence that the planet once had water. If water existed on Mars, the planet may have supported life.

NASA has scheduled a news conference for Tuesday at 2 p.m. EST (1900 GMT) from agency headquarters in Washington. The event will be carried live on NASA Television.

Ed Weiler, NASA's associate administrator for space science, will make opening remarks. The news conference panelists include:
Professor Steve Squyres, Mars Exploration Rover principal investigator from Cornell University


Professor John Grotzinger, rover science team geologist from Massachusetts Institute of Technology


Benton C. Clark III, rover science team member and chief scientist of space exploration at Lockheed Martin Space Systems


Joy Crisp, rover project scientist at NASA's Jet Propulsion Laboratory


Jim Garvin, NASA's lead scientist for Mars and the Moon




Status quicklook

Check the status center for complete coverage.