Opportunity rover a true Marsmobile
BY WILLIAM HARWOOD
STORY WRITTEN FOR CBS NEWS "SPACE PLACE" & USED WITH PERMISSION
Posted: January 31, 2004


Mission Control at the Jet Propulsion Laboratory erupted in cheers and applause one more time early today as the Opportunity rover crawled off its lander and onto the dark, dusty floor of a martian crater.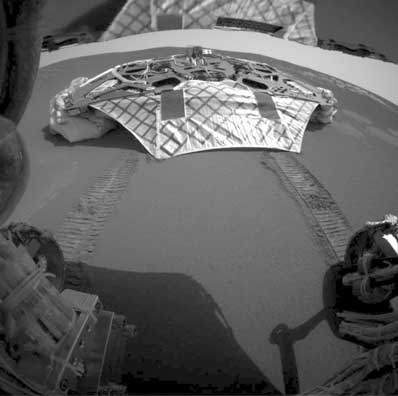 Opportunity looks back at empty lander after drive off. Credit: NASA/JPL
Download a larger version of this image here.



"Uh, that would be two for two, Flight," a controller said as data reached Earth confirming Opportunity's short trip.

"Two for two," agreed flight director Chris Lewicki. "One dozen wheels on soil."

Seconds later, a photograph looking back toward the Challenger Memorial Station lander appeared on control room monitors, prompting a now familiar round of excited cheers, applause and hugs. A view from the rover's forward-facing camera showed low-lying slabs of martian bedrock straight ahead, a high-priority target for initial science observations.

"And it looks like astrobot survived the trip," Lewicki said.

Opportunity thus joined the identical Spirit rover on the martian surface, completing two roll offs in less than a month. It took engineers 12 workdays to get Spirit off its lander, but just seven for Opportunity.

"We knew it was going to be a good day," said mission manager Matt Wallace. "The rover woke up fit and healthy to Bruce Springsteen's 'Born to Run.' Really, from the time Opportunity was first born, only about two years ago, this vehicle has been a blue-collar, hard-working machine. She's got the scars to prove it. But like the team that designed her, she would not quit and she's where she should be on Meriadani Planum."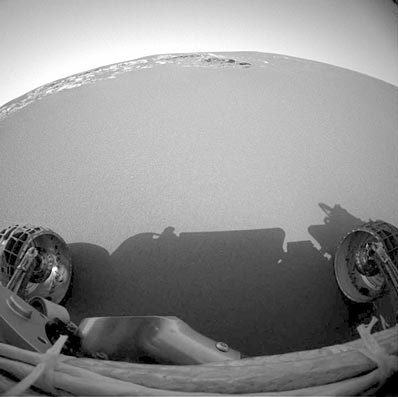 Opportunity's forward-looking view shows the bedrock outcrop. Credit: NASA/JPL
Download a larger version of this image here.



Kevin Burke, the engineer in charge of Opportunity's roll off sent the commands to initiate the three-meter move about 90 minutes before first motion. The 83-second move began at 4:50:07 a.m. EST.

"In my wildest dreams, I never thought they'd let a mechanical engineer touch a computer in Mission Control," Burke laughed. "It was pretty darn neat, I must say. We've done it a billion times in the test bed. ... But it's a little different to hit that button and send that command millions of miles away. That's true commitment.

On the science front, data from Opportunity's Thermal Emission Spectrometer confirm the presence of hematite in the soil near the lander. Hematite forms in the presence of water on Earth and it may provide clues about the role of water in Mars' past.


Video coverage for subscribers only:


VIDEO: MISSION CONTROL SENDS COMMAND FOR TODAY'S DRIVE QT


VIDEO: OPPORTUNITY'S DRIVE OFF LANDER IS CONFIRMED QT


VIDEO: IMAGES RECEIVED FROM ROVER SHOWING EMPTY LANDER QT


VIDEO: TODAY'S POST-DRIVE NEWS CONFERENCE QT


VIDEO: HEMATITE MINERAL FOUND AT LANDING SITE QT



VIDEO: FIRST MICROSCOPIC IMAGES OF MARS ROCK EXPLAINED QT


VIDEO: 3-D MODEL OF OPPORTUNITY'S LANDING SITE CRATER QT


VIDEO: FRIDAY'S ROVER STATUS AND SCIENCE NEWS CONFERENCE QT



MORE: PREVIOUS MISSION COVERAGE!


SUBSCRIBE NOW