Opportunity rover successfully lands
BY WILLIAM HARWOOD
STORY WRITTEN FOR CBS NEWS "SPACE PLACE" & USED WITH PERMISSION
Posted: January 25, 2004


With California Gov. Arnold Schwarzenegger and former Vice President Al Gore looking on, NASA's Opportunity lander slammed into the martian atmosphere and bounced to an airbag-cushioned touchdown early Sunday, joining the crippled-but-recovering Spirit rover on the surface of the red planet.

"We are two for two!" said project manager Pete Theisinger. "Twenty four hours ago, closer to 36 maybe, I sat up on this stage and told you we had a serious problem with Spirit and we had Opportunity a day away from the riskiest part of its venture. And here we are tonight with Spirit, we think, on a path to recovery and we've successfully landed Opportunity on Mars. This is clearly an E ticket, that's for sure."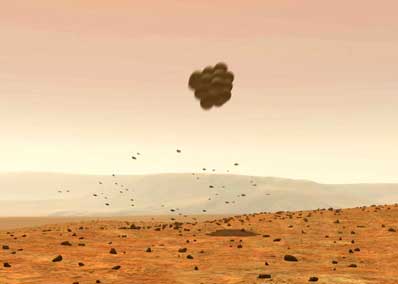 An illustration of Mars Exploration Rover making its bouncing landing on the surface. Credit: NASA/JPL



Opportunity's nail-biting, six-minute descent came off like clockwork, a virtual replay of Spirit's flawless entry, descent and landing Jan. 3 at Gusev Crater, a broad impact basin that once harbored a vast lake. But Opportunity bounced down on an altogether different type of place, a smooth, hematite-strewn plain on the other side of the planet that may hold geologic clues about how long water might have persisted on the surface in the distant past.

As data came in during Opportunity's descent, flight controllers at NASA's Jet Propulsion Laboratory in Pasadena, Calif., burst into cheers and applause as engineers Wayne Lee and Rob Manning, the entry, descent and landing manager, called out key milestones. Because Mars currently is more than 100 million miles away, the drama playing out in mission control was 11 minutes behind the actual events on Mars.

But it was dramatic nonetheless.

"What a night! I mean, as the old saying goes, it's far better to be lucky than good," said NASA Administrator Sean O'Keefe. "But you know, the harder we work, the luckier we seem to get. This team is absolutely phenomenal. No one dared dream we'd be able to pull off batting a thousand. ... This team is the best in the world, no doubt about it."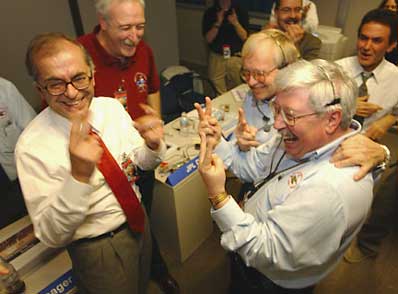 NASA officials celebrate "two for two" as the second Mars Exploration Rover, Opportunity, lands on the red planet. Credit: NASA/Bill Ingalls



Opportunity slammed into the upper atmosphere of Mars at midnight, plunging toward the ground at 12,000 mph. Forty-two seconds later, at an altitude of 26.5 miles, atmospheric friction generated peak heating followed seconds later by maximum deceleration, a force equal to 6.3 times Earth's gravity at sea level.

Then, just before 12:04 a.m., the lander deployed its braking parachute.

"At this time, the parachute should have deployed," Lee said, monitoring data on a computer screen. "We are awaiting confirmation that has occurred. At this time, the vehicle should be going subsonic. Current altitude 25,000 feet..."

"Accel one tone," Manning said, referring to the reception of simple diagnostic tones being radioed from Opportunity.

"The heat shield should be..." Lee began.

"Parachute deploy!" Manning interrupted, prompting a round of cheers and applause.

Lee: We have positive indication of parachute deploy.

Manning: The parachute deploy event semaphore has been detected.

Lee: Currently at an altitude of 18,000 feet, at this time, the radar should be active. We expect the radar will lock up onto the ground...

Polly Estabrook: Heat shield, heat shield Manning: Heat shield separation detected.

Lee: We have confirmation from the spacecraft that the flight software has attempted to jettison the heat shield. That is expected. Current altitude 15,000 feet, current velocity 185 miles per hour.

Manning: The lander separation event has been detected.

Lee: The radar should lock on the ground approximately 15 seconds from now. Current altitude 11,000 feet, current velocity 180 miles per hour. Currently decelerating at zero-point-four Gs. Current altitude 9,352 feet. Velocity 175 miles per hour. At this time, we are passing 8,000 feet in altitude, we expect the radar should have locked up onto the ground by now. We expect the airbags will inflate approximately 20 seconds from now. Current altitude 5,000 feet, 168 miles per hour... 4,000 feet.

Unknown: There we go.

Manning: Radar solution matrix 21.

Unknown: Yeah, yeah! (excited cheers)

Lee: 3,000 feet. Uh, the radar has locked up on the ground, we have our retro rocket firing solution. Retro rocket ignition on my mark... Mark! At this time, the retro rocket...

Manning: Has fired. (wild applause and cheers break out)

Lee: We have confirmation the retro rockets have ignited. We are now awaiting confirmation of positive signals bouncing on the ground. At this time, we are five minutes 55 seconds after entry, we should be bouncing on the ground.

It was 12:05 a.m. EST.

Unknown: Whoo! (exhaling)

Unknown: Yeah, whoo Manning: We're getting a bouncing signal.

Several in unison: Yeah!" (more wild applause)

Lee: We're seeing, we're getting bouncing signals from the spacecraft, we're obviously alive on Mars. However, this bouncing will take place for another 10 minutes...

Manning: We've lost lock. Hold on...

Lee: We have a momentary loss of signal as the spacecraft is bouncing on the surface, it is difficult to maintain lock. We need to reacquire the signal to have a positive confirmation of a safe landing. Uh, as the spacecraft is bouncing on the surface of Mars, rolling around, the antennas are pointed at many different orientations.

Estabrook: We're seeing it on the LPC (left polarization channel)We see it on the LPC Manning: We're seeing it on the LPC (more applause and cheers). Very strong in LCP.

Lee: We have a very strong signal in the left-hand polarization channel, indicating we've had a safe (lander?)

Manning: (Garble) a signal on the RPC as well. Both, both channels.

Unknown: Beautiful

Manning: We're on Mars, everybody.

A few moments later, Manning and Richard Cook, a senior rover manager, embraced and Lee held up a broom, indicating a clean sweep for NASA's two rover landings. A few minutes after that, Schwarzenegger and Gore walked through the flight control consoles, shaking hands with the entry team and offering their own congratulations.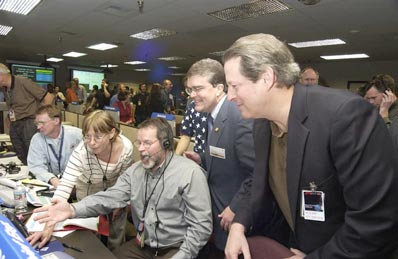 Polly Estabrook, Rob Manning and former Vice President Al Gore in the control center just after touchdown. Credit: NASA/JPL



Opportunity, which landed 15 miles downrange from the center of its 46-mile-long landing ellipse, had its hands full. First, it had to deflate and pull in its no-longer-needed airbags before righting itself and opening the protective petals that have been folded around the rover since launch. Once exposed to the martian environment, Opportunity's flight computer was programmed to unfold its solar arrays and to deploy the mast supporting the rover's panoramic camera.

If the "critical deploy" activities go smoothly, it's possible the first black-and-white navigation camera images could start showing up in mission control between 4 a.m. and 5 a.m. EST or so. But that may be an overly optimistic schedule.

Here's the immediate timeline of major events. These milestones will be off a bit because Opportunity ended up resting on one of the lander's side petals:

EST............EVENT

01:26:25 a.m...Deploy primary solar array
01:26:43 a.m...Deploy secondary solar array
01:38:01 a.m...Begin deployment of
				pancam mast assembly
02:25:59 a.m...Earth sets
03:17:17 a.m...Last normal critical deploy	
				completion time
03:38:46 a.m...Mars Odyssey rises
03:55:03 a.m...Mars Odyssey sets
03:57:42 a.m...Rover shutdown
04:05:00 a.m...Playback of Mars Odyssey
				data (possible pictures)
05:04:04 a.m...Sunset

At the post-landing news conference, O'Keefe pulled out a bottle of champagne and proposed a toast "to the Mars Exploration Rover team, the best in the world!" When he toasted the team after Spirit's landing Jan. 3, some reporters wondered if the celebration might have been a bit premature. Ed Weiler, NASA's associate administrator for space flight, has repeatedly told reporters the time for champagne would be at the end of the mission, not the beginning. As O'Keefe poured his toast early today, Weiler barely smiled. But he warmed up a bit when he got his chance to say a few words.
"I wouldn't be in character if I didn't remind everybody, this is just one more critical milestone," Weiler said. "As we learned with Spirit, things do go bad. We've got a lot of critical deployments (coming). ... There's a long road to go yet, but this was one heck of a critical milestone."


Video coverage for subscribers only:


VIDEO: CONTROLLERS ANNOUNCE CRUISE STAGE JETTISON QT


VIDEO: LIVE LANDING COVERAGE FROM ENTRY TO TOUCHDOWN QT


VIDEO: OPPORTUNITY'S FIRST IMAGES RECEIVED ON EARTH QT


VIDEO: FIRST COLOR IMAGERY FROM OPPORTUNITY UNVEILED QT


VIDEO: SCIENCE LEADER NARRATES THE FIRST BATCH OF IMAGES QT


VIDEO: POST-LANDING NEWS CONFERENCE QT



VIDEO: SATURDAY'S SPIRIT AND OPPORTUNITY UPDATE BRIEFING QT


VIDEO: PROJECT OFFICIALS HAVE 'FIRESIDE CHAT' W/REPORTERS QT


VIDEO: NASA ADMINISTRATOR HOLDS INFORMAL NEWS BRIEFING QT



VIDEO: FRIDAY'S SPIRIT STATUS AND LANDING REVIEW BRIEFING QT


VIDEO: ANIMATION OF SPIRIT'S DESCENT WITH NARRATION QT


VIDEO: DESCENT RE-ENACTMENT USING REAL DATA W/NARRATION QT


VIDEO: SPIRIT LANDING SITE & HARDWARE SEEN FROM ORBIT QT



VIDEO: FRIDAY'S SCIENCE PREVIEW OF OPPORTUNITY ROVER QT


VIDEO: THURSDAY'S BRIEFING ON LOSS OF COMMUNICATIONS QT


MORE: PREVIOUS MISSION COVERAGE!


SUBSCRIBE NOW